Current Affairs 03 April 2019 Digest 5: State of Global Air-2019 Report; UN, EU Report on global hunger
State of Global Air-2019 report said that in 2017, exposure to PM 2.5 pollution was found to be the third leading risk factor globally for Type 2 diabetes.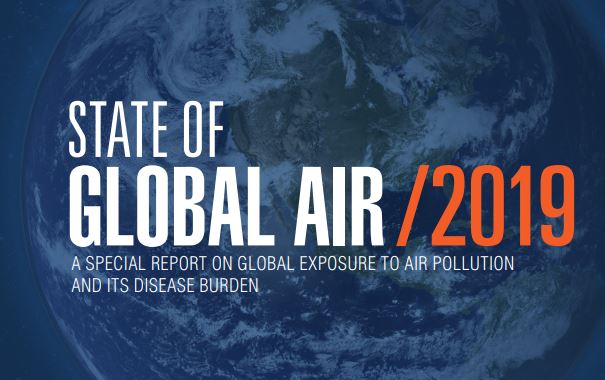 Image: stateofglobalair.org
Story 1: State of Global Air-2019 Report released
Two US based institutes Health Effects Institute (HEI) and Institute for Health Metrics and Evaluation (IHME) recently released a detailed report on quality of the global air with title, "State of Global Air-2019". Report indicates that India and China are collectively accounted for more than fifty percent of global 5 million deaths due to air pollution.
State of Global Air 2019 report also said that in 2017, exposure to PM 2.5 pollution was found to be the third leading risk factor globally for Type 2 diabetes.
India specific findings
A recent analysis by HEI found that major PM2.5 sources in India include household burning of solid fuels; dust from construction, roads, and other activities; industrial and power plant burning of coal; brick production; transportation; and diesel-powered equipment. The relative importance of various sources of PM2.5 in China was quite different, with a separate study identifying the major sources as industrial and power plant burning of coal and other fuels; transportation; household burning of biomass; open burning of agricultural fields; and household burning of coal for cooking and heating.
An estimated 846 million people in India (60% of the population) and 452 million people in China (32% of the population) were exposed to household air pollution in 2017.
Pollution Sources (GBD MAPS) project found that in India, household burning of biomass was responsible for about 24% of the total population-weighted PM2.5 concentrations in 2015.
Diabetes and Air Pollution
According to the report by Health Effects Institute (HEI) and Institute of Health Metrics and Evaluation Globally, such exposure contributed to about 2.76 lakh deaths and 15.2 million life years lost to disability in 2017.
This burden was highest in India, where it accounted for 55,000 deaths and 2.7 million life years lost.
The economic costs of diabetes are substantial — estimated as 1.8% of worldwide gross domestic product in 2015 and pose a growing challenge to health care systems in countries at all levels of development.
Type 2 Diabetes represents a substantial, growing, and costly health burden. In 2017, the disease accounted for more than 1 million deaths globally and burdens have increased by 175% and 141%, respectively, since 1990.
Global Findings
Study shows a strong inverse relationship between a country's level of social and economic development and the PM2.5 exposures experienced by its population; that is, less developed countries suffer PM2.5 exposures that are four to five times those of more-developed countries.
In 2017, annual PM2.5 exposures were highest in South Asia, where Nepal, India, Bangladesh and Pakistan had the highest exposures.
Bhutan's exposure level was the lowest in the region but was still above WHO's first interim target.
The 10 countries with the lowest national PM2.5 exposure levels were the Maldives, United States, Norway, Estonia, Iceland, Canada, Sweden, New Zealand, Brunei, and Finland.
Ozone pollution is a continuing challenge in more developed countries and is increasing in less developed areas, posing new air quality concerns.
Air pollution collectively reduced life expectancy by 1 year and 8 months on average worldwide, a global impact rivaling that of smoking. This means a child born today will die 20 months sooner, on average, than would be expected in the absence of air pollution.
Global measures to reduce household emission
In China, the government banned the use of coal for household cooking and heating in municipalities around Beijing in favour of a switch to natural gas. The effort stemmed from the emissions benchmarks established in China's Air Pollution Prevention and Control Action Plan, issued in 2013. Although households represent a relatively small proportion of China's overall coal use, in-home coal stoves lack the filtering systems used by coal-fired power plants, making homes an important contributor to coal-related emissions.
In India, a sweeping government effort seeks to shift more households to liquefied petroleum gas (LPG) instead of biomass fuels. While many families can afford subsidized LPG fuel, the fee for installing a household LPG hookup can be prohibitive. The government initiative, known as Pradhan Mantri Ujjwala Yojana (PMUY), provided LPG connections to 35 million poor families free of charge between 2016 and early 2018 and aims to provide 80 million connections by 2020.
In Ghana, the government has worked to promote adoption of LPG for three decades. While the proportion of people cooking with solid fuels has declined since 1990, when 95% of the population relied on such fuels, it still remains high (73% in 2017). As part of its Sustainable Energy for All Action Plan, Ghana's government aims to provide 50% of the country's population with LPG access by 2020. In a related effort, the government launched the Rural LPG promotion program in 2013 to focus on increasing LPG use in rural areas where solid fuels are the most common source of energy.
Story 2: Acute hunger affecting over 100 million people worldwide: UN, EU Report
The Food and Agriculture Organization (FAO), World Food Programme (WFP) and EU "Global Report on Food Crises 2019", shows that more than 100 million people worldwide are facing acute hunger and number is rising. Report finds that around 113 million people in 53 countries experienced acute food insecurity in 2018, compared to 124 million in 2017.
According to the report, from 2014 to 2020, the EU will have provided nearly 9 billion Euros for initiatives on food and nutrition security and sustainable agriculture in over 60 countries.
Key findings
The figure of 113 million people facing food crises is down slightly from the 124 million figure for 2017. However, the number of people in the world facing food crises has remained well over 100 million in the last three years, and the number of countries affected has risen. Moreover, an additional 143 million people in another 42 countries are just one step away from facing acute hunger.
Nearly two-thirds of those facing acute hunger are in just 8 countries: Afghanistan, the Democratic Republic of the Congo, Ethiopia, Nigeria, South Sudan, Sudan, Syria and Yemen. In 17 countries, acute hunger either remained the same or increased.
Climate and natural disasters pushed another 29 million people into acute food insecurity in 2018. And 13 countries – including North Korea and Venezuela – are not in the analysis because of data gaps.
Background
The Global Report is produced each year by the Global Network Against Food Crises, which is made up of international humanitarian and development partners. This year's report is being presented at a two-day high-level event, 'Food and agriculture in times of crisis' that held at Brussels.
What is acute food insecurity?
Acute food insecurity is when a person's inability to consume adequate food puts their lives or livelihoods in immediate danger. It draws on internationally accepted measures of extreme hunger, such as the Integrated Food Security Phase Classification (IPC) and the Cadre Harmonisé.
What is chronic hunger?
Chronic hunger is when a person is unable to consume enough food to maintain a normal, active lifestyle over an extended period. The FAO's most recent State of Food Security and Nutrition report, in September 2018, found that 821 million people on the planet are going hungry.