Current Affairs 05 April 2019 Digest 1: Asian Development Outlook 2019; Hawking's Theory of Dark Matter denied
As per the ADB report, since oil prices rose and Asian currencies depreciated, inflation edged up last year but remained low by historical standards.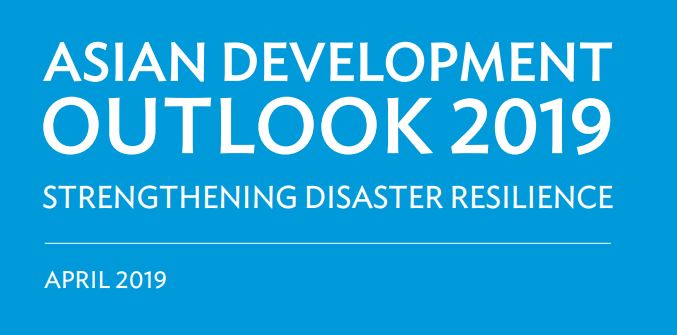 Asian Development Outlook-2019
Story 1: ADB publishes Asian Development Outlook 2019
Asian Development Bank (ADB) has published its 'Asian Development Outlook 2019' report on April 3, 2019. Growth in developing Asia is projected to soften to 5.7% in 2019 and 5.6% in 2020. Excluding Asia's high-income newly industrialized economies, growth is expected to slip from 6.4% in 2018 to 6.2% in 2019 and 6.1% in 2020.
As per the ADB report, since oil prices rose and Asian currencies depreciated, inflation edged up last year but remained low by historical standards. In light of stable commodity prices, inflation is anticipated to remain subdued at 2.5% in both 2019 and 2020.
India specific highlights
ADB has cut India's growth forecast to 7.2% for 2019-20 because of a slower-than-expected pickup in investment demand.
The growth rate in Financial Year 2020-21 is likely to be 7.3%.
Growth in India is forecast to pick up a bit to 7.2% in 2019and 7.3% in 2020 on recovery in agriculture and stronger domestic demand, with reform having strengthened the health of banks and corporations, and as the implementation of a value-added tax makes domestic firms and products more competitive.
The inflation is expected to average around 4% in the first half of FY2019, and therefore the Reserve Bank would have some room for lowering policy rates further increasing credit.
Outlook by other regions
Only 20 of 45 individual economies are projected to see growth accelerate in 2019.
By sub-region, aggregate growth rates in Central Asia, East Asia, and Southeast Asia are expected to decelerate, while South Asia and the Pacific will bounce back from slowdown in 2018.
In East Asian economy growth in East Asia decelerated by 0.2% to 6.0% in 2018, weighed down by weakening external trade and moderating investment in the People's Republic of China (PRC) but sustained by resilient domestic consumption.
According to the ADB report, Pakistan and Sri Lanka, however, are currently reining in fiscal and external imbalances by implementing a broad range of economic reforms.
Growth in Armenia slowed from an exceptionally strong 7.5% in 2017 to 5.2% with lower industry production and contraction in agriculture.
In Turkmenistan, growth slowed as fiscal consolidation trimmed expansion outside of the large hydrocarbon economy. Growth was unchanged in Georgia at 4.8% and in Kazakhstan at 4.1%.
Story 2: Scientists Ruled Out Hawking's Theory for Source of Dark Matter
A group of scientists have ruled out Stephen Hawking's theory for mysterious dark matter. This team of scientists were including two scientists from the Inter-University Centre for Astronomy and Astrophysics (IUCAA), Pune.
Noted scientist Stephen Hawking proposed a theory that primordial black holes are a source of dark matter. Their study was published in the journal Nature Astronomy on April 1, 2019.
Key Highlights
According to the scientists, in our solar system, Mercury takes just 88 days to complete one revolution around the Sun. While, Neptune takes 165 years for the same journey.
Laws of gravity expect us to see stars closer to the centre of a galaxy go around faster than stars at the edge. However, in most galaxies, both the innermost and outermost stars take almost the same time to complete one revolution.
It shows that there is something not invisible but enveloping the galaxies and giving bit extra push to the outer stars, and speeding them up.
This entity has remained as one of the unresolved puzzles in cosmology since the 1930s. It is named as `Dark Matter'.
How the experiment was done?
A group of astronomers at the Kavli Institute for the Physics and Mathematics of the Universe decided to test this theory by using the Subaru Telescope in Hawaii to look at the nearby Andromeda galaxy. If tiny black holes are out there somewhere, they reasoned, then some of them would be guaranteed to pass in front of some of the stars in Andromeda, distorting it slightly. That distortion could be spotted by the telescope.
Over a period of seven hours, the astronomers stared at Andromeda and hoped to catch the telltale flicker of light that signified a miniature black hole. If Hawking's hypothesis was right, then you'd expect to see around a thousand such flickers. They saw one.
Hawking's opinion

Stephen Hawking investigated in 1971. He computed that the mass of the primordial black holes could range from as low as one-hundredth of a milligram to as high as more than the mass of a thousand Suns. Before this, two Soviet physicists, Yakov Borisovich Zel'dovich and Igor Dmitriyevich Novikov, showed that at the initial instant of the big bang, the densities would have been very high at many points, resulting in the formation of small black holes. They were named `primordial black holes'.