Current Affairs 29 March 2019 Digest 1: EU bans single use plastics; WMO Report
European Parliament banned plastic cutlery, cotton buds, straws and stirrers as part of a sweeping law against plastic waste that despoils beaches and pollutes oceans.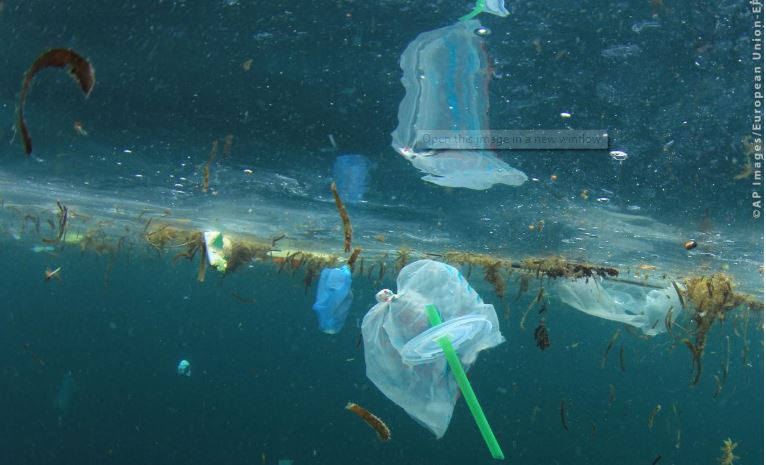 ©AP images/European Union-EP
Story 1: European Union bans single use of plastics
European Parliament on March 28, 2019 has voted to ban single-use plastic products. It includes plastic cutlery, cotton buds, straws and stirrers as part of a sweeping law against plastic waste that despoils beaches and pollutes oceans. At the sitting in Strasbourg, 560 MEPs (Members of European Parliament) voted in favour of the recent agreement hammered out with EU ministers, 35 against, with 28 abstentions.
The vote by MEPs (Members of European Parliament) strengthens the way for prohibiting single-use plastics to come into force by 2021 in all EU member states. Also, United Kingdom would have to follow the rules if it took part in and extended the Brexit transition period.
EU's ban on plastic use
European Union member states will have to introduce measures to reduce the use of plastic food containers and plastic lids for hot drinks.
By 2025, plastic bottles should be made of 25% recycled content, and by 2029 90% of them should be recycled.
Wet wipes, sanitary towels, tobacco filters and cups will be labelled if they are made with plastic.
Packaging will warn consumers of environmental damage they do by disposing of these items incorrectly.
The "polluter pays" principle will be extended to manufacturers of fishing nets so that companies – but not fishing crews – pay the cost of nets lost at sea.
Plastic waste in Europe
According to the report by European Parliament, Europeans generate 25m tonnes of plastic waste, but less than 30% is collected for recycling. More than 80% of marine litter is plastic.
The production of plastic has grown exponentially in just a few decades - from 1.5 million of tonnes in 1950 to 322 million of tonnes in 2015 worldwide – and with it the amount of plastic waste.
Some 30% of all the generated plastic waste is collected for recycling in Europe.
It is estimated that 95% of the value of plastic packaging material is lost to the economy after a short first-use cycle.
Half of the plastic collected for recycling is exported to be treated in countries outside the EU. Reasons for the exportation include the lack of capacity, technology or financial resources to treat the waste locally.
What is "polluter pays" principle?
The 'polluters pays' principle is the commonly accepted practice that those who produce pollution should bear the costs of managing it to prevent damage to human health or the environment. For instance, a factory that produces a potentially poisonous substance as a byproduct of its activities is usually held responsible for its safe disposal.
The polluter pays principle was set out in the Treaty on the Functioning of the European Union and Directive 2004/35/EC of the European Parliament on April 21, 2004 with regard to the prevention and remedying of environmental damage is based on this principle. The directive entered into force on April 30, 2004.
Story 2: State of the Climate Report released by WMO
World Meteorological Organization (WMO), a UN agency, released its annual 'State of the Climate Report' on March 28, 2019. The WMO statement on the State of the Global Climate in 2018, its 25th anniversary edition, highlights record sea level rise, as well as exceptionally high land and ocean temperatures over the past four years. This warming trend has lasted since the start of this century and is expected to continue.
As per the report, carbon dioxide levels, which were at 357.0 parts per million when the statement was first published in 1994, keep rising to 405.5 parts per million in 2017. For 2018 and 2019, greenhouse gas concentrations are expected to increase further.
State of the Climate Report: Major Highlights
The last four years were the warmest on record, concentrations of carbon dioxide in the atmosphere are at record levels and rising, and a global average sea level rise of 3.7 millimetres in 2018 outstripped the average annual increase over the past three decades.
For 2018 and 2019, greenhouse gas concentrations are expected to increase further.
Global average surface temperature in 2018 approximately 1°C above the pre-industrial baseline.
In 2018, most of the natural hazards which affected nearly 62 million people were associated with extreme weather and climate events.
The Indian state of Kerala suffered the heaviest rainfall and worst flooding in nearly a century.
More than 1600 death were associated with intense heat waves and wildfires in Europe, Japan and USA, where they were associated with record economic damages of nearly USD 24 billion in USA only.
Climate indicators in WMO report
Ocean heat: 2018 saw new records for ocean heat content in the upper 700 metres (data record started in from 1955) and upper 2000m (data record started in 2005), topping the previous record set in 2017.
Sea level: Sea level continues to rise at an accelerated rate. Global Mean Sea Level (GMSL) for 2018 was around 3.7 millimetres higher than in 2017 and the highest on record. Over the period January 1993 to December 2018, the average rate of rise is 3.15 ± 0.3 mm yr-1 while the estimated acceleration is 0.1 mm yr-2.
Ocean acidification: In the past decade, the oceans absorbed around 30% of anthropogenic CO2 emissions. Absorbed CO2 reacts with seawater and changes the pH of the ocean. This process is known as ocean acidification, which can affect the ability of marine organisms such as molluscs and reef-building corals, to build and maintain shells and skeletal material.
Sea ice: Arctic sea-ice extent was well below average throughout 2018 and was at record-low levels for the first two months of the year. The annual maximum occurred in mid-March and was the third lowest March extent in the 1979-2018 satellite record.
About WMO
The World Meteorological Organization is an intergovernmental organization with a membership of 192 Member States and Territories. Its current Secretary-General is Petteri Taalas and the President of the World Meteorological Congress, its supreme body, is David Grimes.It was founded on March 23, 1950. Headquarter of WMO is located at Geneva, Switzerland.