Current Affairs in Short: 05 August 2019
Lalit Kala Akademi, National Academy of Art, celebrated its 65th Foundation Day in New Delhi.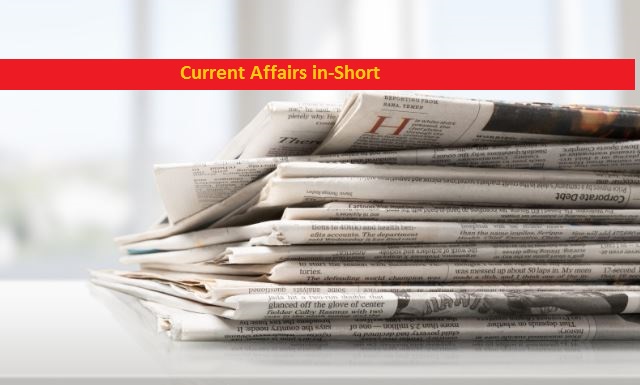 Current Affairs in-short
Lalit Kala Akademi celebrates 65th Foundation Day
• Lalit Kala Akademi, National Academy of Art, celebrated its 65th Foundation Day in New Delhi today.
• Lalit Kala Akademi or National Academy of Art was established in New Delhi in 1954 by the government to promote and propagate understanding of Indian art, in and outside the country.
• The Academy provides scholarships, fellowship programmes and organizes art-related exhibitions in India and overseas. The artwork and painting exhibitions will be open for public till the 12th of this month.
Vinesh Phogat wins third successive gold in Warsaw
• India's star woman wrestler Vinesh Phogat has bagged gold in women's 53kg category of the Poland Open wrestling tournament in Warsaw.
• In the 53 kg category, this was her third consecutive gold, at Grand Prix of Spain and at the Yasar Dogu International at Istanbul, Turkey last month.
• Vinesh Phogat prevailed 3-2 over local wrestler Roksana in the final of the competition.
SC orders shifting of Unnao rape survivor & her lawyer to Delhi
• The Supreme Court ordered that the Unnao rape survivor, who suffered critical injuries in a car-truck collision last week, be airlifted from Lucknow to New Delhi for better treatment at the AIIMS.
• The apex court had deferred the hearing on the issue of transfer of the woman and her injured lawyer, for further hearing on 9th of this month as no one on behalf of their families appeared and sought their transfer here.
• The bench took note of the submissions of lawyer D Ramakrishna Reddy, appearing for the victim, and ordered that she be transferred from the King George's Medical College in Lucknow to the AIIMS.
About 3600 Years Old Site found
• Archaeological Survey of India (ASI) announced that a rural settlement had thrived at Bharati Huda in Jalalpur village in Odisha's Cuttack district, about 3600 years ago.
• Inter-University Accelerator Centre (IUAC) discovered the age of the settlement after radiocarbon dating of charcoal samples found at the site.
• It was also found that residents of this settlement were dependent on agriculture and animal husbandry as attested by the findings of domesticated varieties of rice and jute and evidence of domesticated cattle.