Current Affairs in Short: 12 July 2018
India was ranked 57th in the latest Global Innovation Index (GII) rankings, which were released in New York on July 10, 2018. India was ranked 60th in the year 2017 and 81st in 2015.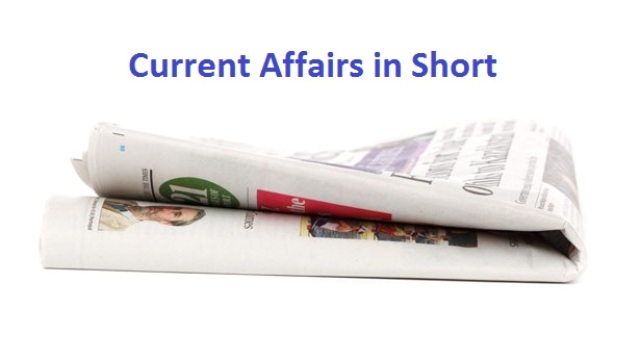 Current Affairs in Short: 12 July 2018
India climbs to 57th Position in Global Innovation Index Rankings

• India was ranked 57th in the latest Global Innovation Index (GII) rankings, which were released in New York on July 10, 2018.
• India was ranked 60th in the year 2017 and 81st in 2015.
• Hence, not only has India been able to maintain its top place in the central and South Asia region, but it has also been constantly moving up the global ranking.
• Globally, Switzerland continued to hold its number one position.
• Other countries that made it into the top 10 list include Netherlands, Sweden, UK, US, Finland, Denmark and Germany
• China scored 17th rank this year, which is an upgrade from its previous 44th rank in 2017.

Sri Lankan government approves capital punishment for drug offences

• The Sri Lankan Cabinet has unanimously approved a move to bring back capital punishment for drug-related crimes, paving way for the resumption of death penalty after nearly 40 years.
• Executions have not been carried out in Sri Lanka as successive Presidents in office since 1978 have refused to issue death warrants.
• Gamini Jayawickrema Perera, Minister of the Buddhist Order said, the government cannot allow inmates in prison to destroy the country by directing crimes adding that convicts carry out drug trade while still in prison.
• Although capital punishment is in the statute, Sri Lanka had stopped hangings since 1976. Death row prisoners spend life terms in jail.

Trump stuns NATO with demand to double defence spending

• US President Donald Trump has shocked his NATO allies at a summit in Brussels by demanding that members double their defence spending commitments.
• Trump suggested that the countries not only meet their commitment of two per cent of their GDP on defence spending, but that they increase it to four percent.
• On Trump's demand, Bulgarian President Rumen Radev said, NATO is not a stock exchange where one can buy security.
• Radev said, NATO is an alliance of sovereign countries united by strategic targets and common values.

Bihar government approves amendments in stringent provisions of Prohibition & Excise Act 2016
• Bihar government has approved amendments in stringent provisions of the Prohibition and Excise Act 2016.
• A Cabinet meeting chaired by Chief Minister Nitish Kumar on July 11, 2018 approved scrapping of harsh provisions to confiscate property including house, land and vehicle in case of recovery of liquor.
• After the Cabinet nod, Bihar Prohibition and Excise Act (Amendment) bill will be tabled in upcoming session of the state legislature.

Goa cabinet approves IT Policy 2018

• The Goa Cabinet on July 11, 2018 approved Information Technology policy 2018 which focuses on reverse migration and creation of around 10,000 jobs in the next five years.
• The IT policy would be formally unveiled by Union minister Ravi Shankar Prasad here on July 15.
• The Cabinet meeting, presided over by Chief Minister Manohar Parrikar, approved the IT policy which has provisions for growth and development of Goa, its human capital and to foster growth of smaller businesses.
• The policy aims at "reverse migration" of manpower in Goa and on generation of 8,000-10,000 job opportunities at different levels during the next five years.
• It has a provision for developing a Technology Park, ready-to-move warm shells, plug-and-play facilities, incubation centres with training for new and existing IT units.

Maharashtra government frames policy for benefit of senior citizens

• The Maharashtra government has come out with a detailed policy for senior citizens that lists the concessions and benefits they are entitled to.
• As per a government resolution (GR) issued on July 9, police should draw up a list of senior citizens who are living alone (without children) under every police station's limits, and visit them once a month to inquire about their well-being.
• Further, every district headquarters will have a helpline where senior citizens can call for help in emergency.
• Also, five per cent of the beds in government hospitals attached to medical colleges will be reserved for senior citizens.
• Private medical colleges and hospitals run by trusts will have to give 50 per cent concession in treatment cost to senior citizens.

Kolkata Police launches all-women patrolling team

• Aiming to combat and prevent crimes like molestation, eve-teasing and make public places safer for women, the Kolkata Police on July 11, 2018 launched a special all-women patrolling team called "The Winners".
• The primary job of these lady officers will be to assist their male counterpart in helping women having complaints of molestation or eve-teasing occurred on city streets.
• Moving around on their blue-white or pink-black scooters, they will also be of help in pulling up women accused of breaking traffic rules.
• The lady officers, who will be a part of the team, have all undergone training for the purpose at the Police Training School in the city.

PM inaugurates new ASI Headquarters in New Delhi

• The Prime Minister, Narendra Modi, inaugurated Dharohar Bhawan - the new Headquarters building of the Archaeological Survey of India (ASI), - at Tilak Marg in New Delhi on July 12, 2018.
• Speaking on the occasion, Modi said that the Archaeological Survey of India has performed significant work over the course of the last 150 years or so.
• The Prime Minister emphasized the importance of taking pride in our history, and in our rich archaeological heritage and said that people should take a lead in knowing about local history, and archaeology of their towns, cities and regions.
• India, UK to take forward the exchange of legal practitioners: MoU signed for enhancing bilateral cooperation in legal affairs.

India and UK to cooperate on global issues like governance of internet, cyber-crime and cyber-security

• Union Law & Justice Mister Ravi Shankar Prasad visited the United Kingdom from 6-10 July, 2018 at the invitation of David Gauke, Secretary of State for Justice, UK.
• During the visit, the two Ministers discussed taking forward the exchange of legal practitioners on the basis of reciprocity in accordance with the prevailing legal provisions in their respective countries.
• The two Ministers later signed a MoU for enhancing bilateral cooperation in legal affairs and to provide a framework for promoting greater co-operation between the judicial and legal professionals in both countries through exchange of expertise and training and exchange of information regarding current issues of international significance.
• The MoU also provides for establishment of a Joint Consultative Committee to facilitate such exchange.
• Besides, the two ministers reiterated their commitment to deepening bilateral cooperation in legal matters, including arbitration, legal training and exchange of best practices, taking advantage of the shared common law heritage of the two countries.