Current Affairs in Short: 27 July 2018
The Union Government has extended the due date for filing income tax returns for certain taxpayers by one month till August 31. Earlier the date for filing income tax returns for assessment Year 2018-19, was July 31.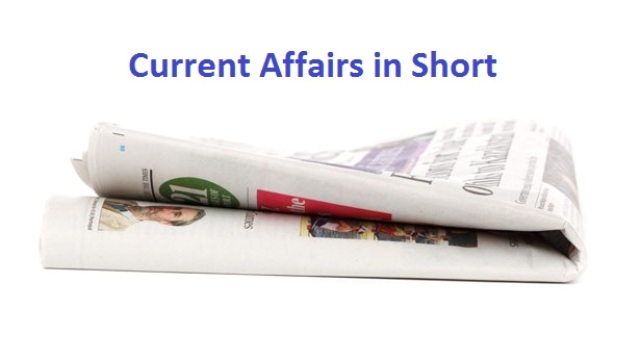 Current Affairs in Short: 27 July 2018
Government extends deadline for ITR filing to August 31 for certain category of taxpayers

• The Union Government has extended the due date for filing income tax returns for certain taxpayers by one month till August 31, 2018.
• Earlier the date for filing income tax returns for assessment Year 2018-19, was July 31.
• The decision will provide a relief to those taxpayers who are yet to file their income tax returns.

HRD Minister calls for increasing Gross Enrollment Ratio from 26% to 40% per cent

• Human Resources Development Minister Prakash Javadekar said on July 27, 2018 that lack in innovation and quality research is the foremost challenge for the country.
• The minister was chairing a three day National Conference of Vice-chancellors and Directors in New Delhi. He said that quality expansion and teaching reform is the need of the hour.
• Further, he emphasized on creating a positive and lively environment to enhance the quality of education in all central and private universities.
• The minister said, the country hosts many world-class educators who are working in silos and they need to break walls and come forward to share their knowledge.

SC directs Centre, States to provide time schedule for filling up vacancies of Information Commissioners

• The Supreme Court on July 27, 2018 expressed concern over vacancies at the Central Information Commission (CIC) and State Information Commissions (SIC) and directed the Centre and seven states to file an affidavit within four weeks giving a time schedule for filling up the positions.
• Asserting that at present there are four vacancies in the CIC and four more will be created by December this year, a bench of Justices A K Sikri and Ashok Bhushan also asked the Centre to explain why the posts in CIC remain vacant even as the advertisement for the same was issued in 2016.
• Expressing concern over pendency of cases in the SICs, the bench also asked seven states -- Maharashtra, Andhra Pradesh, Telangana, Gujarat, Kerala, Odisha and Karnataka -- to file an affidavit giving a time frame for filling up the vacant posts.
• The apex court said "strict view" will be taken if Centre or states default in filing the affidavit within four weeks.

Facebook market value plunges 119 billion in biggest loss in stock market history

• The shares of Facebook plunged in the biggest one-day drop in stock-market history on July 26, 2018.
• The 19 per-cent drop vapourised 119 billion US dollars of the company's stock-market value, resulting into CEO Mark Zuckerberg's worth fall by roughly 16 billion dollars.
• It was Facebook's worst trading day since going public in 2012, eclipsing Intel's decline of 91 billion US Dollars in September 2000.
• The collapse returned Facebook shares to a level last seen in early May when it still recovering from an earlier battering over its big data privacy scandal.

UK court rejects Vijay Mallya's attempt to appeal against verdict favouring Indian bank

• Fugitive businessman Vijay Mallya has lost his attempt to appeal against a UK High Court order in favour of 13 Indian banks to recover funds amounting to nearly 9,000 crore rupees.
• The UK's Court of Appeal refused permission to Mallya to appeal against the High Court order dated May 8, which gave right to Indian banks to enforce the Indian judgment against Mallya's assets in England and Wales.
• Mallya is separately undergoing an extradition trial in a UK court over fraud and money laundering charges by the Indian authorities.

Gujarat Government announces urban sanitation policy

• The Gujarat government on July 26, 2018 came out with an `Urban Sanitation and Cleanliness Policy' for better management of solid and liquid waste in cities. The policy aims at complete abolition of manual scavenging.
• Chief Minister Vijay Rupani said the policy seeks to streamline collection and disposal of all kinds of waste in cities and towns.
• The policy also puts a thrust on recycling of drainage water. It is in line with the National Urban Sanitation Policy.

Arunachal Pradesh Government to launch new health insurance scheme

• The Arunachal Pradesh Government announced on July 26, 2018 that it would soon replace the health insurance scheme conceived by the previous regime with a new one.
• The new Chief Minister's Arogya Arunachal Yojana (CMAAY) will enable citizens to avail cashless health services in empanelled hospitals.
• Once launched, the scheme will offer healthcare services of up to Rs 5 lakh per family per year.
• The vision is to accord quality and cashless healthcare services to the people of the state envisaging universal health care to all by 2020.