Current Affairs in Short: 31 October 2018
India's largest bank will reduce the daily cash withdrawal limit for Classic and Maestro debit cards to Rs 20,000 per day, from Rs 40,000 earlier from today, October 31.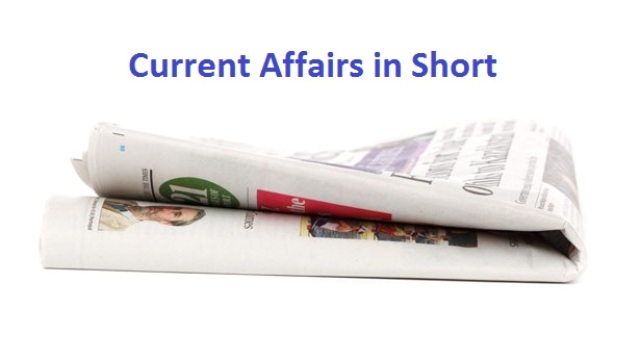 Current Affairs in Short: 31 October 2018
New SBI ATM withdrawal limits to come into effect

• The new ATM cash withdrawal rules for SBI account holders will come into effect from today, October 31, 2018.
• The country's largest bank will reduce the daily cash withdrawal limit for Classic and Maestro debit cards to Rs 20,000 per day, from Rs 40,000.
• SBI account holders having higher daily cash withdrawal requirements can apply for other debit card variants that have a higher daily withdrawal limit, the bank has said in a communication.
• There will be no changes in the daily withdrawal limits on other SBI debit cards.

Malala Yousafzai to be honoured by Harvard University

• Nobel Prize Winner Malala Yousafzai will be honoured by Harvard University for her work promoting girls' education. Harvard's Kennedy School said Yousafzai will be conferred with the 2018 Gleitsman Award at a ceremony on December 6.
• Yousafzai became the youngest person to win the Nobel Peace Prize in 2014 when she was recognized for her global work supporting schooling for all children.
• As a teen in Pakistan, she survived an assassination attempt by the Taliban. She later founded the nonprofit Malala Fund to support her work.
• Now aged 20, Yousafzai is a student at Oxford University in England. The Gleitsman Award provides 125,000 US dollars for activism that has improved quality of life around the world.

Government approves construction of over two lakh additional houses in urban areas under PMAY

• The government has approved the construction of over two lakh additional houses in urban areas under the Pradhan Mantri Awas Yojana.
• An official release said West Bengal has been sanctioned over one lakh affordable houses and Uttar Pradesh more than 50,000 houses.
• Andhra Pradesh has been sanctioned over 41,000 houses and Maharashtra over 20,000. Further, over 1,400 houses have been sanctioned for Nagaland and around 500 houses for Dadra and Nagar Haveli.

SC to Centre: Submit details of pricing of 36 Rafale fighter jets

• The Supreme Court on October 31, 2018 asked the Centre for pricing details of the 36 Rafale fighter jets India is buying from France in a sealed cover within 10 days but agreed that "strategic and confidential" information need not be disclosed.
• In its order, a three-judge bench headed by Chief Justice Ranjan Gogoi, gave some more leeway to the government that has been arguing that pricing details are so sensitive that they have not even been shared with Parliament.
• The Centre must bring details of the decision making process of the deal into the public domain, except those that are confidential and have strategic importance, the court said.
• The bench said the information must be shared by the government within 10 days and the petitioners could respond to it in the next seven days. It posted the matter for the next hearing on November 14.

Successful night trial of Agni-1 ballistic missile

• A night trial of India's indigenously developed nuclear-capable Agni-1 ballistic missile with a strike range of 700 km was successfully conducted on October 30, 2018 from a test range off Odisha coast as part of a user trial by the Army.
• The launch of the surface-to-surface missile was undertaken as a part of periodic training activity by the Strategic Forces Command (SFC) from Dr Abdul Kalam Island to consolidate operational readiness. The trail was adjudged as successful with all mission objectives being met.
• The trajectory of the trial was tracked by a battery of sophisticated radars, telemetry observation stations, electro-optic instruments and naval ships from its launch till the missile hit the target area with accuracy.
• Agni-I missile has a specialised navigation system which ensures it reaches the target with a high degree of accuracy and precision.
• The missile, which has already been inducted in to Armed Forces has proved its excellent performance in terms of range, accuracy and lethality.

Defence Minister flags off 'Run for Unity' in Chennai

• Defence Minister Nirmala Sitharaman on October 31, 2018 flagged off the 'Run for Unity,' an event organised to mark the birth anniversary of freedom fighter and India's first Home Minister, Sardar Vallabhai Patel, in Chennai, Tamil Nadu.
• Sitharaman, besides Tamil Nadu Ministers D Jayakumar and SP Velumani, participated in the event.
• The run was conducted to mark the dedication of the 'statue of unity' by Prime Minister Narendra Modi in Gujarat. The event saw a large participation from the youth.
Video: Check out the latest current affairs of this week