Current Affairs in Short: 8 October 2018
Indian Naval Officer Abhilash Tomy, who was representing India in Golden Globe Race 2018, one of the world's toughest endurance races, was brought to Visakhapatnam safely onboard INS Satpura on October 6, 2018.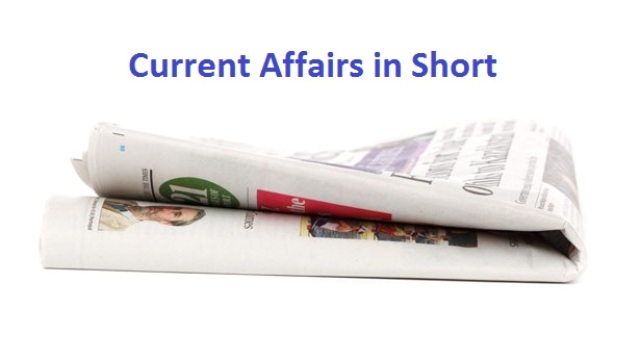 Current Affairs in Short: 8 October 2018
Navy Commander Abhilash Tomy returns safely to India

• Indian Naval Officer Abhilash Tomy, who was under medical observation at Ile Amsterdam, was brought to Visakhapatnam safely onboard INS Satpura on October 6, 2018. He was immediately shifted to the naval hospital for observation and medical assistance.
• The commander was representing India in Golden Globe Race (GGR)2018, one of the world's toughest endurance races, with no modern navigation aids. He was, in fact, the only invitee from Asia to participate in the prestigious and unique voyage.
• The race was flagged off on July 1, 2018 and on September 21, Commander Tomy's sailing vessel 'Thuriya' was dismasted when the boat was caught in a violent storm in the South Indian Ocean, approximately 1900 nautical miles West of Perth, Australia. He suffered a severe back injury and dropped out of the race.
• The Australian Rescue Coordination Centre at Canberra coordinated the rescue mission in conjunction with many agencies including the Australian Defence Department and the Indian Navy. The Indian Navy launched 'Operation Raksham' to rescue the injured officer.

Parliamentary panel questions airlines over excess luggage charge

• A parliamentary panel has questioned the top managements of all major private airlines in the country over an exorbitant rise in the excess luggage charge and asked them to submit a report comparing their fees with those of their foreign counterparts.
• During a recent meeting, the members of the Parliamentary Standing Committee on Transport, Tourism and Culture, suggested the government to draft a comprehensive policy on baggage charges and that the airlines should not be allowed to set the free-of-cost luggage carry limit.
• All private airlines allow only up to 15 kgs of luggage on domestic flights free of cost, while the state-owned Air India allows up to 25 kgs.
• The panel called the top managements of all major private airlines to brief the members over their recent decision to hike baggage charges and also dynamic pricing of air tickets.

King of mangoes 'Alphonso' gets GI tag

• The Union government has granted Geographical Indication (GI) tag to the Alphonso Mango from Ratnagiri, Sindhudurg and other adjoining areas in Maharashtra. The move will help identify the authenticity of this variety of fruit.
• A GI is a sign used on products that have a specific geographical origin and possess qualities or a reputation that are due to that origin.
• The king of mangoes, Alphonso, better known as 'Hapus' in Maharashtra, is in demand in domestic and international markets for its taste, pleasant fragrance and vibrant colour.
• The first product to get a GI tag in India was the Darjeeling tea in 2004. There are a total of 325 products from India that carry this indication including Mahabaleshwar Strawberry, Blue Pottery of Jaipur, Banarasi Sarees and Tirupati Laddus.

Pankaj Sharma appointed India's Ambassador to UN Conference on Disarmament

• Pankaj Sharma has been appointed as the ambassador and India's permanent representative to the United Nations Conference on Disarmament in Geneva.
• Sharma is currently the joint secretary (Disarmament and International Security Division) in the Ministry of External Affairs.
• He will replace Amandeep Gill. Sharma had replaced Gill as joint secretary of the Defense Information Systems Agency (DISA) division.

Government panel set to probe e-commerce firms' big discounts

• A 10-member panel set up by the corporate affairs ministry last week will examine the trends in digital economy, including steep discounts in online retailing and whether the e-tailers are subject to any restrictions in their access to dealerships from manufacturers.
• A review of the competition law that has just started is set to find out if the steep discounts offered by online retailers promotes competition or stifles it as alleged by their old school rivals.
• The conventional retailers who compete with e-tailers are strongly opposed to discounts offered by online sellers arguing that it is aimed at displacing brick-and-mortar dealers and will eventually affect consumer interest.
• The conventional traders are now readying their recommendations to the panel suggesting ways to put an end to discounted online sale of goods.
• The panel will examine the central and state government policies that do not foster principles of competition in letter and spirit.

Interpol chief Meng Hongwei resigns after detention in China

• The international police organisation Interpol announced on October 6, 2018 that it has received the resignation of its Chinese chief Meng Hongwei.
• According to a statement by Interpol, Meng has resigned with immediate effect and Senior Vice President Kim Jong Yang of South Korea has become acting president.
• Meng was missing since September 25 and Chinese Authority confirmed recently that he is being investigated for suspected breach of law.

Conviction can be based on voluntary extra-judicial confession: SC

• The Supreme Court of India has ruled that extra-judicial confession is a "weak piece of evidence", but can be acted upon to convict a person if a court is satisfied that it is voluntary.
• The SC bench comprising justices R Banumathi and Indira Banerjee said that in cases of extra-judicial confession, courts must ensure that the same inspires confidence and is corroborated by other prosecution evidence.
• The bench noted in its verdict that it was well settled that a conviction could be based on a voluntarily confession, but rule of prudence requires that wherever possible, it should be corroborated by independent evidence. "In order to accept an extra-judicial confession, it must be voluntary and must inspire confidence," the bench said.
• The verdict was delivered by the apex court that upheld the conviction of a former bank employee for offences under provisions of the Prevention of Corruption Act and Indian Penal Code (IPC) section, which deal with falsification of accounts.

NGO to launch 2nd edition of Jacqueline Builds to repair over 6,000 homes in Kerala

• A non-governmental organisation (NGO) 'Habitat for Humanity India' would be building and repairing over 6,000 homes of those affected by the unprecedented floods in Kerala.
• The initiative is being taken up by the NGO as part of the second edition of Jacqueline Builds - a unique campaign featuring Bollywood actress Jacqueline Fernandez.
• The second edition to be held in December 2018, would focus on rebuilding homes that were fully or partially damaged by the deluge.
• The campaign would have Jacqueline Fernandez visiting few flood-affected areas in Kerala and volunteering to construct and repair flood-affected homes. She would also urge her fans to come together to rebuild Kerala.
• The Habitat for Humanity India is actively involved in the relief operations in response to the floods and landslides in Kerala.

Himachal Government reduces bus fare by Rs 1

• The Himachal Pradesh government on October 6, 2018 announced a reduction in recently increased fare of the state roadways buses.
• The minimum bus fare was reduced to Rs 5 per km from the existing Rs 6 per km. The state government had on September 24 increased the minimum bus fare from Rs 3 per kilometer to Rs 6 per kilometer.
• The fare was hiked by 24.44 per cent in plain areas, while in the hilly region it was hiked by 20.69 per cent.
• The government's decision was criticised by opposition parties and they had announced to hold protests across the state against the hike.
• Following the protest, the state government brought the minimum fare from Rs 6 to Rs 5 to facilitate the commuters.

Vice President presents Ramineni foundation awards

• Vice President M Venkaiah Naidu on October 7, 2018 presented the Ramineni Foundation's outstanding person award to badminton coach Pullela Gopichand.
• He also presented special awards to Telugu literary wizard Garikapati Narasimha Rao, film director Nag Ashwin Reddy and writer C Venkata Ramana.
• The Ramineni Foundation, based in the US, was established in 1995 and it has ever since been honouring eminent persons for their achievements in various fields.
• The outstanding person award carries a cash prize worth Rs 2 lakh and the special awards carry cash prize worth Rs 1 lakh each.
Video: Check out the latest current affairs of this week