Brazil rejects G7 aid to fight Amazon rainforest fire, says "reforest Europe"
Brazil has rejected $22m aid by G7 nations to fight wildfires in the Amazon rainforest.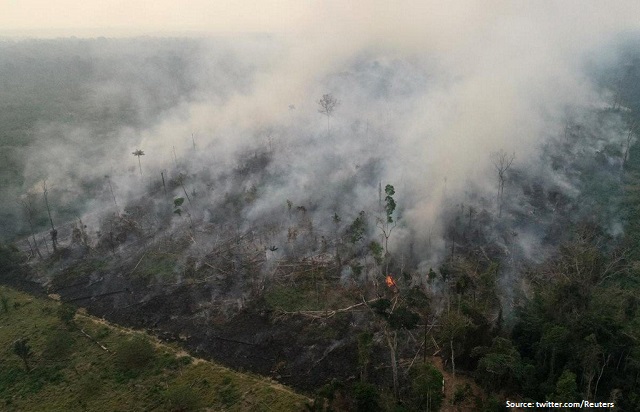 G7 to finance fire-fighting aircraft to tackle Amazon fire
Brazil has rejected the $22 million aid pledged by the G7 nations to fight the Amazon rainforest fire. Brazil's Chief of staff to President, Onyx Lorenzoni said, " We appreciate the offer but maybe those resources are more relevant to reforest Europe."
Earlier on Monday, the G7 had decided to send a fire-fighting aircraft to fight the fire at Amazon rainforest, which is the world's biggest rainforest. The G7 nations had pledged to spend roughly around $22 million in emergency aid to tackle the Amazon rainforest fire during their 45th G7 summit in Biarritz. The announcement was made by France's Emmanuel Macron and Chile's Sebastian Pinera on August 26, 2019.
The French President, Emmanuel Macron announced that the funding would be released immediately and could be spent on more fire-fighting planes to tackle the record-high wildfires in the Amazon. Macron also noted that the fires were almost two times the surface area of France. He further
The G7 that includes the United States, the United Kingdom, Canada, France, Germany, Italy and Japan also agreed to support a medium-term reforestation plan in the Amazon, which will be unveiled at the UN in September. The G7 member nations said that Brazil would have to agree to any reforestation plan, as would local communities.
Background

The G7 leaders decided to finance the fire-fighting aircraft to tackle the Amazon fire during their talks on the environment at Biarritz, which majorly focussed on the burning of Amazon.

The 2019 G7 host, France had made the Amazon fire one of the summit's key priorities and the French President even threatened to block a huge new trade deal between the European Union and Latin American unless Brazilian President Jair Bolsonaro decided to take serious steps to protect the Amazon.
Despite initial attempts to play down the forest fire and warnings to the international community to keep out of its affairs, Brazilian President Jair Bolsonaro finally caved in to the international pressure to save the Amazon and deployed two C-130 Hercules aircraft and 43000 troops to tackle the forest fire on August 25.

Almost 80,000 forest fires have been detected in Brazil since the beginning of 2019, covering more than half of the Amazon region. The Amazon rainforest, which contributes to about 20 percent of the earth's oxygen is burning and is at the risk of burning out completely if it is not put out soon. The Amazon, also known as the lungs of the world, is seen as a key player in the fight against climate crisis.
Download our Current Affairs & GK app for Competitive exam preparation. Click here for latest Current Affairs: Android|IOS