Google's 21st Birthday: Know all about it in 10 points
Google was founded by Larry Page and Sergey Brin in 1998 and now operates all over the world in over 100 languages.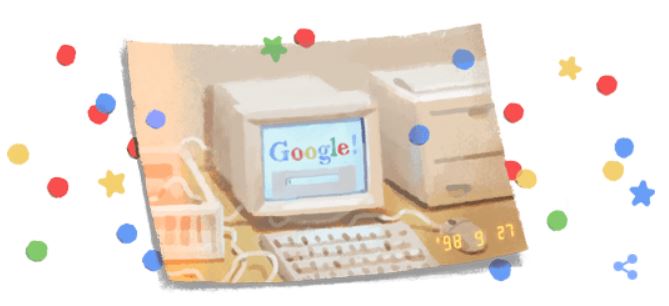 Google's 21st Birthday
Google has congratulated itself by creating a Doodle on its 21st birthday. Today's Google Doodle shows 20-year journey of the top search engine. Google was established by Stanford PhD students, Larry Page and Sergey Brin 21 years ago on 27 September 1998.
About Today's Google Doodle
An old computer is shown in today's Google doodle. In this caricature of a blurred photograph, besides a computer of that era, there are also a mouse and a printer. The image of this old computer has been decorated with dots and stars around it. In this doodle, Google has used a photo of its office. Some media reports are claiming that the photo that was taken on 27 September 1998.
10 Points about Google
• In 1998, the idea of creating a large scale internet based search engine came to the minds of Sergey Brin and Larry Page.
• They registered the domain name for Google on 15 September 1997, but the company was incorporated on 4 September 1998.
• Both were PhD students at Stanford University. Both these PhD students wrote that this search engine was named Google because Google's spelling is close to 10100.
• These spellings and numbers serve the purpose of large scale search engines.
• Today Google is operating in 100 languages. As of October 2016, Google has 70 offices in 40 countries.
• The first doodle was created by the company in honour of the Burning Man Festival. After making the first doodle, Google made it a tradition.
• Google is one of the biggest tech companies in the world along with Apple, Amazon and Facebook.
• The word Google in the Oxford English Dictionary informs that it means to use Google search engine to extract information from the internet.
• Google is answering trillions of search queries each year.
• In 2018, Google has celebrated its birthday on September 26. However, in 2004 and 2003, the date was Sept. 7 and Sept. 8, respectively.
About Google Doodle
The founders of Google Larry and Sergey decided in 1998 that they should decorate the logo to mark cultural moments. The first Doodle was created to mark the Burning Man Festival and then it became a tradition in Google. Google has created more than 4,000 Doodles to date. A team of professionals including designers, illustrators and technicians design these Doodles.
Download our Current Affairs & GK app for Competitive exam preparation. Click here for latest Current Affairs: Android|IOS