India and France sign 14 MoUs during visit of French President Emmanuel Macron
Both the sides agreed for a vibrant educational cooperation amongst Universities and academic institutes and encouraged them to increase the number and quality of student exchanges with the aim of reaching 10000 students by 2020.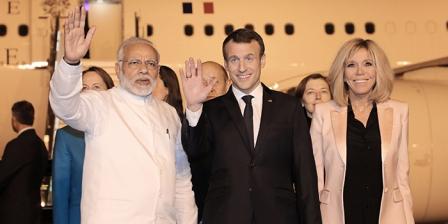 India and France sign 14 MoUs
India and France on March 10, 2018 signed 14 Memorandum of Understanding (MoUs) following the meeting between Prime Minister Narendra Modi and French President Emanuel Macron in New Delhi.

The MoUs call for cooperation in various fields such as nuclear energy, defence production, maritime security, space and education.
Here is the list of MoUs :
| | | |
| --- | --- | --- |
| S. No. | MoUs or Agreements | Implication |
| 1. | Agreement between India and France on the prevention of illicit consumption and reduction of illicit traffic in narcotic drugs, psychotropic substances and chemical precursors | It will facilitate in fighting illicit traffic and consumption of drugs and will also impact on financing of terrorism. |
| 2. | India-France agreement on Migration and Mobility Partnership | It will facilitate temporary rounded migration based on mobility and the support for a return of skills to the home country. |
| 3. | Agreement to facilitate Mutual Recognition of Academic Qualifications between India and France | It will facilitate the mutual recognition of educational qualifications between both the countries. |
| 4. | MoU between Ministry of Railways and SNCF Motilities, France on technical cooperation in the field of Railways | It will deepen the mutual cooperation and focus on priority areas of high speed and semi-high speed rail; station renovation modernisation of current operations and infrastructure. |
| 5. | Letter of Intent (LoI) for creation of a permanent Indo-French Railways Forum | This LoI between India and France aims to enhance the already existing cooperation by creating Indo-French Permanent Railway Forum. |
| 6. | Agreement regarding the provision of reciprocal logistics support between the Armed Forces of both countries | It will enable reciprocal provision of Logistic Support, Supplies and Services between the Armed Forces of the two countries during authorised port visits, joint exercises, joint training and disaster relief efforts. |
| 7. | MoU on cooperation in the field of Environment | It aims to establish a basis for exchange of information between the Governments and technical experts of the two countries in the field of environment and climate change. |
| 8. | Agreement on cooperation in the field of Sustainable Urban Development | It will allow exchange of information on smart city development, development of urban mass transportation systems, urban settlements and utilities, etc. |
| 9. | Agreement regarding the exchange and reciprocal protection of classified or protected information | It defines the common security regulations applicable to any exchange of classified and protected information. |
| 10. | Implementing Arrangement between Indian Space Research Organisation (ISRO) and Central National D'EtudesSpatiales (CNES) for pre-formulation studies of a Maritime Awareness Mission | It will provide end-to-end solution for detection, identification and monitoring of vessels in the areas of interest for France and India. |
| 11. | Industrial Way Forward Agreement between India's Nuclear Power Corporation of India Ltd and EDF, France | It prescribes a way forward for the implementation of the Jaitapur nuclear power project. |
| 12. | Bilateral Arrangement between India and France on cooperation in Hydrography and Maritime Cartography | It will encourage cooperation between the two countries in the field of hydrography, nautical documentation and maritime safety information. |
| 13. | Credit Facility Agreement of Euros 100 million for funding of the Smart City Projects through a Challenge Process | It will help fill the funding gap under the Smart City Mission and the funds provided by the Central and State Governments for the purpose. |
| 14. | MoU between National Institute of Solar Energy (NISE), Ministry of New & Renewable Energy and the National Solar Energy Institute (INES), France | Under this MoU, both countries will work on projects in member countries of International Solar Alliance in the areas of solar energy through transfer of technology and collaborative activities. |