Article 370 scrapped: Jammu-Kashmir Bifurcated
Article 370 has been revoked by the historic amendment tabled by Union Home Minister Amit Shah in the Rajya Sabha.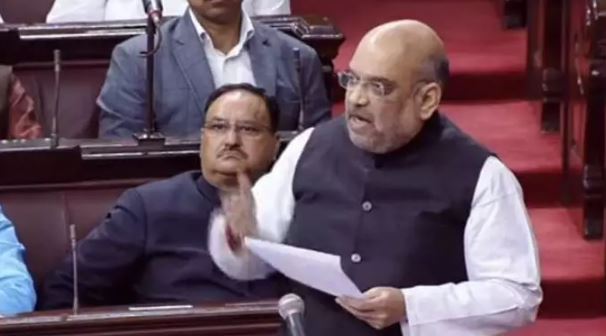 Union Home Minister Amit Shah
Union home minister Amit Shah moved a bill to bifurcate the Jammu & Kashmir into two Union Territories- Jammu & Kashmir and Ladakh. While Jammu and Kashmir will be a Union Territory with a legislature, while Ladakh region will be a Union Territory without a legislature. Earlier, Union Home Minister said in the Parliament that Article 370 will be withdrawn from Kashmir. Home Minister Amit Shah tabled Jammu and Kashmir Reservation Amendment Bill in Rajya Sabha.
President Ram Nath Kovind has approved the amendment and signed the recommendations tabled by Home Minister Amit Shah. According to the Amit Shah's brief speech in the house, only one part of Article 370 will remain unchanged while rest of all parts will be scrapped.
The Union Cabinet meeting has over while AIMIM MP Asaduddin Owaisi has given Adjournment Motion Notice in Lok Sabha over Kashmir issue. The government has deployed security forces in Srinagar in view of the imposition of section 144 CrPC from midnight August 5, 2019. Three major political leaders of Jammu and Kashmir Omar Abdullah, Mehbooba Mufti and Sajjad Lone were put under house arrest.
Amit Shah and other cabinet minister are currently headed to Parliament after attending a Cabinet meeting at Prime Minister Narendra Modi's residence in New Delhi. Amit Shah's announcement may be in connection with Article 370 and Article 35A which guarantee special provisions to Jammu and Kashmir.
Present Situation in Jammu & Kashmir
• The government has imposed section 144 from midnight of August 5 and all public gatherings have been banned.
• Mobile services and internet facilities have been suspended in several places while satellite phones were given to some key government officers.
• Massive security built-up in the state, as per the several media reports, about 35,000 military troops have been deployed in the valley.
• Omar Abdullah, Mehbooba Mufti and Sajjad Lone were put under house arrest without any deadline notice.
• According to government orders, all educational institutions shall remain closed.
• Identity cards have been issued for essential services and officials will be treated these passes as movement passes wherever required.
Background
The centre government has recently ordered to curtail the Amarnath Yatra and asked pilgrims and tourists to leave the Jammu and Kashmir region as soon as possible. Residents thronged the markets to stock on essentials and serpentine queues were everywhere outside shops and fuel stations. However, Governor of Jammu and Kashmir SP Malik said that centre government is not going to do anything with Article 35A of the constitution that gives exclusive rights to the state government.