J&K sets up administrative council under Lieutenant Governor GC Murmu
The Administrative Council will mainly function to dispose cases involving legislation.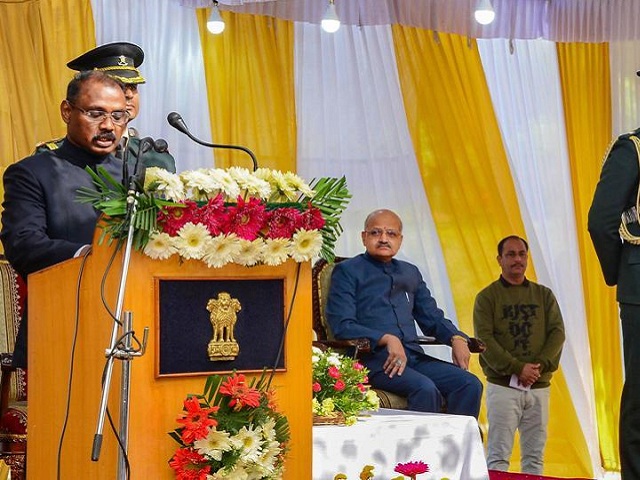 J&K Lieutenant Governor GC Murmu
Jammu and Kashmir Union Territory has constituted an administrative council to fulfill the functions of a government. The Lieutenant Governor of J&K, G C Murmu has been appointed as the council's chairman.
The announcement was made through a government order issued by the General Administration Department on November 19, 2019.
The order stated that the Chief Secretary of the UT will be the secretary to the Administrative Council, while the Lieutenant Governor's advisers will be its members.
Administrative council composition
Chairman: G C Murmu
Secretary: Chief Secretary of J&K UT
Members: Advisors of LG (KK Sharma and Farooq Khan)
Other Participants: Administrative secretaries of other departments (Finance, Development and Monitoring, Planning, General Administration and Law)
Note: The administrative secretaries may be invited to the council meetings as per requirement.
Administrative Council Duties
The Administrative Council will mainly function to dispose of cases mentioned in 'The Second Schedule (Amended) of the J&K Government Business Rules' or other related matters, which the Lieutenant Governor may seem fit to be placed before it.
Which kind of cases will be taken up by the Administrative Council?
Under the second schedule (amended entries) Rule 8, the cases that will be brought for disposal before the council includes those involving legislation such as the issue of ordinances, proposals to summon or prorogue or dissolve the legislature of the state and address of governor to the legislature.
The cases involving questions such as whether a member of the state's legislature is subject to any disqualification would also be heard by the council.
Other Details
Besides the constitution of the Administrative Council, Lieutenant Governor GC Murmu's two advisors, KK Sharma and Farooq Khan, were assigned the charge of different government departments.
KK Sharma was given the charge of tourism, education, public works (roads and buildings), planning, development and monitoring and industries.
On the other hand, Farooq Khan was given the charge of food, youth services, sports, tribal affairs, civil supplies and consumer affairs, election, ARI and training, cooperative, floriculture, labour and employment, Haj and Auqaf and social welfare.
Background
KK Sharma and Farooq Khan were appointed to the post of advisors of J&K's Lieutenant Governor on November 14. The formal order for the same was issued by the General Administration Department on November 15.
While KK Sharma is a former bureaucrat, Farooq Khan is a retired IPS officer. The formal order had stated that the advisors of the Lieutenant Governor would be exercising the power of a minister in the departments allocated to them.