Nepal collected 3000 kg waste from Everest; Bodhisattva figure unearthed - Current Affairs
Everest garbage include discarded fluorescent lights, climbing and camping equipment, empty gas canisters, food packaging, beer bottles etc.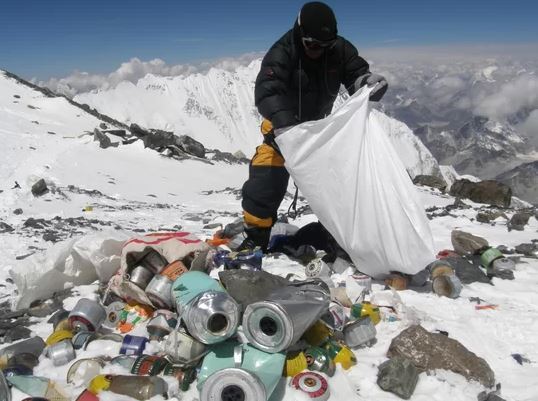 Representative Image
Story 1: Nepal collected 3,000 kg garbage from Mt Everest
Nepal has collected about 3,000 kilograms of solid waste from Mt. Everest since when Nepal launched an ambitious Everest Cleaning Campaign. This 45-day Everest Cleaning Campaign was launched on April 14, on Nepali New Year, and seeks to clean up 'world's highest garbage dump.' As per the Nepal government, 2,000 kg of garbage had been sent to Okhaldhunga while the remaining 1,000 kg were brought to Kathmandu using Nepali Army helicopters for disposal.
Items left behind by climbers and Sherpas include discarded fluorescent lights, climbing and camping equipment, empty gas canisters, food packaging, beer bottles, and a huge amount of human excrement.
Key Highlights
Every year, hundreds of climbers, Sherpas and high altitude porters make their way to Everest, leaving behind tonnes of both biodegradable and non-biodegradable waste.
The campaign will conclude on May 29, the day marked every year to commemorate the first summit of Everest by Edmund Hillary and Tenzing Norgay in 1953
The collected waste will then be "showcased" in Namche town, before being ferried down to Kathmandu, where it will once again be showcased on World Environment Day on June 5.
Under this campaign Nepal is trying to collect around 5,000-kg of garbage from Base Camp area, while 2,000-kg of garbage will be collected from the South Col region and around 3,000-kg will be collected from Camp II and Camp III area.
Background
There have been attempts in the past to clean up Everest, including a 2014 government-mandated provision making it mandatory for every climber to come down the peak with at least 8 kilogramme of garbage the amount of trash estimated to be produced by one climber.
Liked the article? Do watch our videos too!
Story 2: Bodhisattva figure unearthed from Phanigiri
Historians has recently unearthed a stucco figure at Phanigiri (Telangana), presume to be that of Bodhisattva, displayed in a museum on April 30, 2019 to create awareness about the history of Telangana. The excavation of the historic site at Phanigiri began on February 2 and during this field season, the most important finding is the unique stucco figure of Buddha, measuring 1.73 m in length.
Researchers believed that it is life size stucco Bodhisattva figure, which was created by craftsmen at Phanigiri at the peak of Ikshvaku dynasty rule, nearly 1700 year ago. Brown and white fragments of the statue covered with soil were laid out on two tables at the State Museum at Gunfoundry.
Bodhisattva
The word "bodhisattva" is a compound word formed from bodhi (spiritual awakening, enlightenment) and sattva (a being, essence, spirit). In Buddhism, a Bodhisattva is any person who is on the path towards Buddhahood but has not yet attained it. In early Buddhism, bodhisattva meant "the previous lives of a (or the) Buddha. Bodhisattva may also refer in Mahayana Buddhism to archetypal bodhisattvas: mythical beings such as Avalokiteshvara and Manjushri, who are objects of devotion.
Phanigiri Buddhist site
Phanigiri is a Buddhist site in Suryapet district, Telangana. It dates back to the 1st Century BCE. The place consists of a Buddhist complex which is adorned with a massive stupa along with two apsidal halls with stupas in it. Vardhamanukota, an early historic Buddhist site is located 8 kms from Phanigiri on the left bank of the rivulet Bikkeru or Aleru, on Phanigiri-Suryapet road.
The Buddihist site at phanigiri was selected for preliminary excavations in the year 1941 by Sri Khaja Mahamad Ahmad, the then Director, inviting Hon'ble Khusru Jung Bahadur member incharge of the Department and Begum Khusru Jung to visit the site and inaugurate the operations and continued upto 1944. The excavations for four field seasons i.e., 2001-2002, 2002-2003, 2004-2005 and 2006-2007 brought to light a Mahastupa, apsidal Chaityagrihas, Votive stupas, pillared congregation halls, viharas, platforms with staircases at various levels, sculptural panels with Brahmi label inscriptions of the Satavahana and Ikshvaku times.
Download our Current Affairs& GK app from Play Store/For Latest Current Affairs & GK, Click here