Niti Aayog's School Education Quality Index: Kerala tops, UP worst performer
NITI Aayog has prepared the School Education Quality Index (SEQI) based on the data of 2016-17.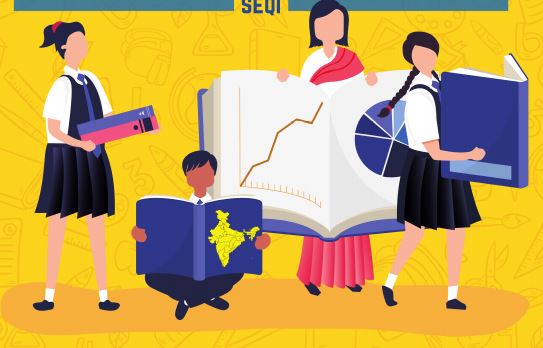 Image: niti.gov.in
Niti Aayog School Education Quality Index: Niti Aayog has released the 'School Education Quality Index' (SEQI) report. In this index, the quality of school education of 20 states has been ranked by number. In this list, Kerala is in the first place, Rajasthan second while Karnataka secured third place.
NITI Aayog has prepared this index based on the data of 2016-17. The index emphasizes the efforts of schools to increase the learning ability of students. Punjab and Jammu Kashmir are at the 18th and 19th position in the list.
States/UTs

Best 3 States

Large States

1. Kerala

2. Rajasthan

3. Karnataka

Small States

1. Manipur

2. Tripura

3. Goa

Union Territories

1. Chandigarh

2. Dadra and Nagar Haveli

3. Delhi
Key Highlights
• The list has been categorized into three parts – Large States, Small Sates and Union Territories.
• Top 3 states are Kerala, Rajasthan and Karnataka. And, top 3 bottom states are Punjab, Jammu and Kashmir and Uttar Pradesh.
• The smaller states which have been ranked separately include eight states - Manipur, Tripura, Goa, Mizoram, Nagaland, Sikkim, Meghalaya and Arunachal Pradesh.
• Uttar Pradesh is one of the largest states in the country but its performance in the field of education is unfortunate.
The names of 20 states with rankings
Kerala (1), Rajasthan (2), Karnataka(3), Andhra Pradesh (4), Gujarat (5), Assam (6), Maharashtra (7), Tamil Nadu (8), Himachal Pradesh (9), Uttarakhand (10), Haryana (11), Orissa (12), Chhattisgarh (13), Telangana (14), Madhya Pradesh (15), Jharkhand (16), Bihar (17), Punjab (18), Jammu Kashmir (19) and Uttar Pradesh (20).
Objectives of SEQI
SEQI aims to drive policy reforms that will improve the quality of school education. The index seeks to institutionalise a focus on enhancing education outcomes by driving improvements in learning levels, access, equity, infrastructure and governance processes. The index recognises that school education is a subject on the Concurrent List and that State-level leadership is crucial for improving outcomes in a cost-effective manner. The index will serve as a regular and transparent review of the status of school education quality across the States and UTs.
Download our Current Affairs & GK app for Competitive exam preparation. Click here for latest Current Affairs: Android|IOS
Take Weekly Tests on app for exam prep and compete with others. Download Current Affairs and GK app
एग्जाम की तैयारी के लिए ऐप पर वीकली टेस्ट लें और दूसरों के साथ प्रतिस्पर्धा करें। डाउनलोड करें करेंट अफेयर्स ऐप
Android
IOS