Om Birla: New designated Lok Sabha Speaker from NDA
Om Birla is set to be Lok Sabha Speaker of 17th Lok Sabha. Om Birla is two time Member of Parliament from Kota, Rajasthan.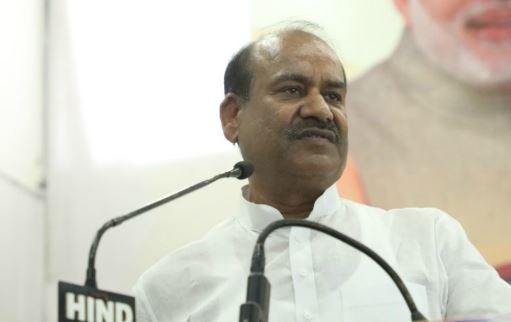 Om Birla
Om Birla has been named as the new Lok Sabha Speaker by the NDA. He is elected Member of Parliament from Kota, Rajasthan. Om Birla will file nomination for Lok Sabha speaker elections today. As soon as the new Speaker is appointed, Virendra Kumar's role will cease to exist.
Om Birla will be replacing the erstwhile Lok Sabha Speaker Sumitra Mahajan, who did not contest the recent elections. In the 2019 Lok Sabha election, BJP's Om Birla defeated Congress's Ramnarayan Meena with a huge margin of over 2.5 lakh votes in the Kota-Bundi Lok Sabha seat. Prime Minister Narendra Modi and BJP President Amit Shah had collectively come with Om Birla's name as their choice for the post of the Lok Sabha Speaker.
About Om Birla
• Om Birla (born 23 November 1962) is an MP from the Kota-Bundi constituency of Rajasthan state. He was a three time Member of Rajasthan Legislative Assembly from Kota South. He is currently in the race for Lok Sabha 17th lok sabha speaker post.
• Om Birla won his first assembly elections contesting from Kota South in 2003. He defeated Shanti Dhariwal from Congress by a margin of 10,101 votes.
• Before becoming a Member of Parliament, he won his third assembly election against Pankaj Mehta (Congress) by close to 50,000 votes in 2013.
• He contested the 16th Lok Sabha elections from Kota-Bundi constituency and secured a victory by a margin of 2,000,782 against a Congress candidate in 2014.
• Apart from this, he was a member of the Standing Committee on Energy in Parliament, member of Committee on Petitions and Consultative Committee for Ministry of Social Justice and Empowerment.
Lok Sabha Speaker Elections
Newly elected Members of Parliament from the Lok Sabha elect the Speaker among them. It is desired Speaker should be someone who understands Lok Sabha functions and it is someone accepted among the ruling and opposition parties. MP's propose a name to Pro tem speaker. These names are notified to President of India. President through their aid Secretary- General notifies the election date. If only one name is proposed, Speaker is elected without any formal vote. However, if more than one nomination received, elections are called. MPs vote for their candidate on such date notified by President. Successful candidate is elected as Speaker of the Lok Sabha until next general election.
Also Read: Meet BJP working President: J P Nadda