Meet BJP working President: J P Nadda
J P Nadda has been appointed as working president of the Bharatiya Janata Party. Decision was taken in a BJP parliamentary board meeting.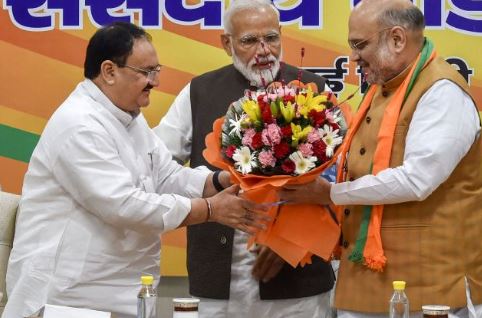 J P Nadda appointed as working President of BJP
J P Nadda has appointed as BJP's working president during the party's parliamentary board meeting on June 17, 2019. Parliamentary board is highest decision-making body of the BJP. This is for the first time that the BJP has appointed a working president however Amit Shah will remain BJP chief.
The meeting was attended by Prime Minister Narendra Modi, home minister Amit Shah and defence minister Rajnath Singh, who are all members of the BJP's parliamentary board. J P Nadda's appointment as the working president of the ruling party was being speculated after he was not made a member of the Union council of ministers. J P Nadda was in-charge of UP for 2019 Lok Sabha elections and BJP performed impressively in the state.
About Political rise of J P Nadda
• J P Nadda was first elected to the Himachal Pradesh Legislative Assembly in the election of 1993, he was subsequently re-elected in 1998.
• After Prem Kumar Dhumal formed a Himachal Pradesh government, he inducted Nadda in his cabinet, as cabinet minister responsible for Forest, Environment, Science and Technology, from 2008 to 2010.
• In 2012, he got elected to Rajya Sabha but before that Nadda was brought to the national team by Nitin Gadkari in 2010.
• Nadda had stepped down as a forest minister owing to his differences with CM Dhumal. Come 2012, and he was chosen unopposed as the Rajya Sabha member from Himachal Pradesh.
• In 2014, during a cabinet reshuffle, Prime Minister Narendra Modi made Nadda, the Minister of Health.
• He started his political career as a student leader of the ABVP in Bihar and has closely worked with Narendra Modi, Amit Shah and Nitin Gadkari. Those days his father was serving as the vice-chancellor of the Patna University.
• J P Nadda was appointed as the president of the BJP's youth wing, the Bharatiya Janata Yuva Morcha (BJYM) in 1991 at the age of 31.
List of BJP Presidents

S.No.

Name

Term

1.

Atal Bihari Vajpayee

1980–1986

2.

L. K. Advani

1986–1991

3.

Murli Manohar Joshi

1991–1993

4.

L. K. Advani

1993–1998

5.

Kushabhau Thakre

1998–2000

6.

Bangaru Laxman

2000–2001

7.

Jana Krishnamurthi

2001–2002

8.

Venkaiah Naidu

2002–2004

9.

L. K. Advani

2004–2005

10.

Nitin Gadakari

2009-2013

11.

Rajnath Singh

2013-2014

12.

Amit Shah

2014 to Present

13.

J P Nadda

2019 to Present
Also Read: Encephalitis kills 100 kids in Bihar, doctors claim extreme heat and humidity