Presence of Chamki is shameful for us: PM Modi in Rajya Sabha
Prime Minister Narendra Modi in Rajya Sabha said that voters are very aware now, they not only know what is happening in Lok Sabha but also what is happening in Rajya Sabha.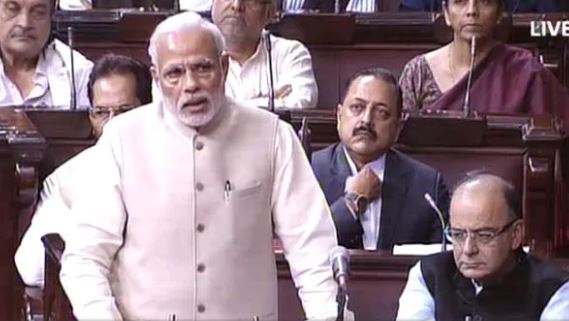 File Photo
Prime Minister Narendra Modi addressed the Rajya Sabha on June 26, 2019 replying to the Motion Of Thanks On the President's Address. He spoke about Chamki Fever, BJP's massive victory in 2019 Lok Sabha elections, NRC, EVM controversy and simultaneous polls.
PM Modi's Speech in Rajya Sabha about Chamki fever
• The deaths in Bihar due to Acute Encephalitis or Chamki Fever are unfortunate and a matter of shame for us.
• It is after a long time that a government with a full majority was elected once again with a full majority. In this mandate we see the desire of the people for stability. Infact, this trend of stable governments is being seen in various states too.
• We need to take the issue seriously. People should be made aware of vaccination, safety, and other health benefits. I believe that this is a sad state. Today it is one state, can happen in another state tomorrow.
• The need of the hour is to strengthen Ayushman Bharat. We want our poor to get top quality and affordable treatment. I am in constant touch with the state government and I am sure we will collectively come out of this crisis soon.
PM Modi on other issues
• The lynching in Jharkhand has pained me. It has saddened others too. But, some people in the Rajya Sabha are calling Jharkhand a hub of lynching. Is this fair? Why are they insulting a state. None of us have the right to insult the state of Jharkhand
• You (Congress) take credit for everything; will you not take credit for NRC? Rajiv Gandhi had accepted NRC in the Assam accord. Then Supreme Court had to intervene. Also, the top court directed us so we have implemented it.
• PM Modi in Rajya Sabha says the government has got a mandate to govern and make policy, the opposition has got the mandate to oppose, but no one has got a mandate to obstruct. "We must all work for the benefit of India and Indians," he adds.
• There are 226 districts in the country where there is water crisis. Now I am trying to mobilize everyone to tackle this, how we can give priority to water in MPLAD funds. We also have to make society aware on water issues. A Jal Shakti ministry has also been setup.
Read | NRC Assam: 1.02 Lakh people excluded from additional draft, Find names here