Top 10 Weekly Current Affairs: 15 April to 20 April 2019
India's Manu Sawhney has taken charge as the new Chief Executive of the International Cricket Council. Sawhney will work alongside incumbent ICC Chief Executive Dave Richardson, who will step down after the World Cup in July 2019.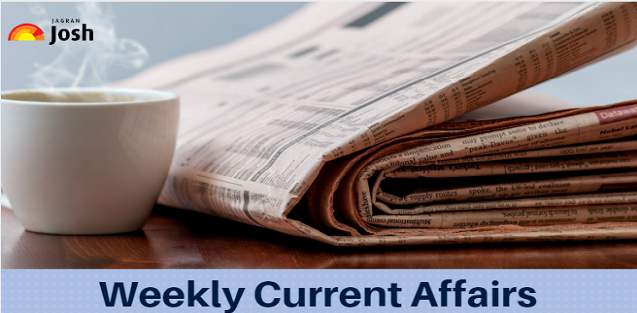 Top 10 Weekly Current Affairs: 15 April to 20 April 2019
UAE honours PM Narendra Modi with Zayed Medal

The United Arab Emirates (UAE) on April 4, 2019 honoured PM Narendra Modi with its highest decoration, Zayed Medal in recognition of his "pivotal role" in strengthening ties between the two nations.

The Crown Prince of Abu Dhabi, Mohammed Bin Zayed Al Nahyan tweeted "We have historical and comprehensive strategic ties with India, reinforced by the pivotal role of my dear friend, Prime Minister Narendra Modi, who gave these relations a big boost. In appreciation of his efforts, the UAE President grants him the Zayed Medal."
Manu Sawhney takes charge as ICC CEO

India's Manu Sawhney on April 1, 2019 took charge as the new Chief Executive of the International Cricket Council. Sawhney will work alongside incumbent ICC Chief Executive Dave Richardson, who will step down after the World Cup in July 2019.

Sawhney, former Managing Director of ESPN Star Sports, has already been working alongside outgoing Chief Executive Richardson for the last six weeks to ensure a smooth transition. Richardson will remain with the ICC until July as originally planned to oversee the delivery of the World Cup in the United Kingdom.
UN, EU Report on global hunger

The Food and Agriculture Organization (FAO), World Food Programme (WFP) and EU "Global Report on Food Crises 2019", shows that more than 100 million people worldwide are facing acute hunger and number is rising. Report finds that around 113 million people in 53 countries experienced acute food insecurity in 2018, compared to 124 million in 2017.

According to the report, from 2014 to 2020, the EU will have provided nearly 9 billion Euros for initiatives on food and nutrition security and sustainable agriculture in over 60 countries. Nearly two-thirds of those facing acute hunger are in just 8 countries: Afghanistan, the Democratic Republic of the Congo, Ethiopia, Nigeria, South Sudan, Sudan, Syria and Yemen. In 17 countries, acute hunger either remained the same or increased.
UN appoints investigation head for Myanmar

The UN Secretary-General, Antonio Guterres on April 2, 2019 announced the appointment of Nicholas Koumjian of the United States as the head of the Independent Investigative Mechanism for Myanmar.

International criminal justice lawyer Nicholas Koumjian will serve as the first head of the Independent Investigative Mechanism (IIM) for Myanmar, which was established by the Human Rights Council on September 27, 2018 and welcomed by the UN General Assembly in December 2018. Koumjian brings to the position over 35 years of experience as a prosecutor, including almost 20 years of experience in the field of international criminal justice.

The United Nations has appointed the American prosecutor to lead the effort to collect and analyse evidence that Myanmar perpetrated crimes against humanity against Rohingyas- the ethnic minority community, over the last eight years.
Palestinian President Mahmoud Abbas swears in new government
Palestinian President Mahmoud Abbas on April 13, 2019 sworn in a new government headed by Mohammad Shtayyeh, a long-time ally from his Fatah party. Mohammad Shtayyeh was administered the oath as the new Prime Minister of Palestine in Ramallah, in the Israeli-occupied West Bank.
The new cabinet was also sworn in on the occasion. The appointment was opposed by Hamas, the Palestinian movement that governs the besieged Gaza Strip. The Islamist group viewed it as a blow to unity efforts.
What is VVPAT Machine with EVM; How does VVPAT work?

The Voter Verifiable Paper Audit Trail (VVPAT) is a method of providing feedback to voters using a ballot less voting system. The VVPAT is an independent printer system attached with Electronic Voting Machine (EVM) that allows the voters to verify that their votes are cast as intended. It generates a paper slip every time a voter casts his vote, recording the party to whom the vote was made.

The VVPAT helps to detect potential election fraud or malfunction in the Electronic Voting Machine. It provides a means to audit the stored electronic results. It serves as an additional barrier to change or destroy votes.
Indonesia kicks off largest one-day elections to elect new President

Indonesia on April 17, 2019 kicked off one of the world's biggest one-day elections to pick a new president and parliament after a six-month campaign.

The polls have pitted incumbent President Joko Widodo against ex-general Prabowo Subianto in a race to lead the nation. President Joko Widodo, who is a clear favourite, is seeking re-election against former general Prabowo Subianto, whom he narrowly defeated in the last election, in 2014. While most opinion polls give Widodo a double-digit lead, but the opposition says the race is much closer.
Jet Airways suspends operations with last Amritsar flight; 20,000 jobs at stake

Cash-strapped Jet Airways on April 17, 2019 suspended all its domestic and international flights indefinitely with immediate effect after the lenders refused to release emergency funds for the carrier.

Once India's top airlines, Jet Airways flew its last flight on Amritsar-Mumbai-Delhi route at 10:30 pm on April 17 after flying for 25 years. The grounding of Jet's operations has put the future of over 20,000 employees at stake who were left with no work at hand. Jet Airways also owes to lessors, suppliers, pilots and oil companies.
TIME's 100 Most Influential People list released

The TIME's 100 Most Influential People-2019 list was released on April 17, 2019 naming the world's most influential pioneers, artists, leaders, titans and icons of the year. Reliance Industries Chairman Mukesh Ambani, public-interest litigators Arundhati Katju and Menaka Guruswamy, who spearheaded a historic legal battle for LGBTQ rights in India, are among the Indians who have been included by TIME in its 100 most influential people in the world list.

The list includes Indian-American comedian and TV host Hasan Minhaj, US President Donald Trump, Pope Francis, Chinese President Xi Jinping, Pakistan Prime Minister Imran Khan, iconic golfer Tiger Woods and Facebook founder Mark Zuckerberg.
US approves sale of 24 MH 60 helicopters to India

The United States has approved the sale of 24 multi-role MH-60 'Romeo' Seahawk helicopters to India at an estimated cost of 2.4 billion US dollars. The announcement was made by the US State Department on April 2, 2019.

The MH-60 Romeo Seahawk helicopter is considered to be the world's most advanced maritime helicopter. Built by Lockheed Martin, the helicopters are designed to hunt down submarines, as well as knock out ships and conduct search-and-rescue operations at sea.

They will provide the Indian defence forces with the capability to perform anti-surface and anti-submarine warfare missions along with the ability to perform secondary missions including vertical replenishment, search and rescue and communications relay.