Top 10 Weekly Current Affairs: 8 April to 13 April 2019
The General Elections 2019 commenced on April 11, 2019 as the first phase of voting began for 91 Parliamentary constituencies, out of the total 543 constituencies, spread over 18 States and 2 Union Territories.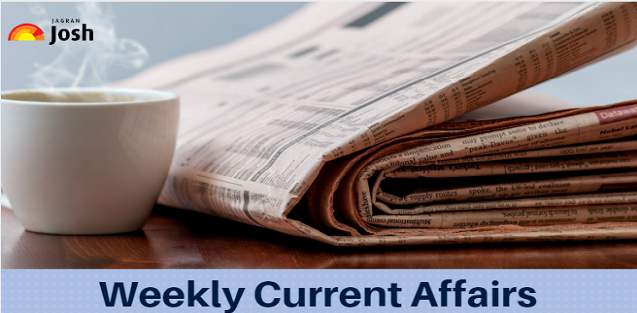 Top 10 Weekly Current Affairs: 8 April to 13 April 2019
Russia confers highest Order on PM Modi

Russia on April 12, 2019 announced that it had honoured Indian Prime Minister Narendra Modi with the Order of St Andrew the Apostle, the highest order of the Russian Federation, for promoting partnership and friendly relations between the two countries.

PM Modi has been decorated with the order for exceptional services in promoting a special and privileged strategic partnership between Russia and India and friendly relations between the Russian and Indian people. The information was shared by the Russian Embassy in India.
First phase voting begins in 91 constituencies including Uttar Pradesh, Maharashtra

The General Elections 2019 commenced on April 11, 2019 as the first phase of voting began for 91 Parliamentary constituencies, out of the total 543 constituencies, spread over 18 States and 2 Union Territories.

The voting for Lok Sabha Elections 2019 is being held in all parliamentary constituencies of Andhra Pradesh, Telangana, Arunachal Pradesh, Meghalaya, Mizoram, Nagaland, Sikkim, Andaman & Nicobar Islands, Lakshadweep, and Uttarakhand.

The Polling is being held for some parliamentary constituencies of Assam, Bihar, Chhattisgarh, Jammu and Kashmir, Maharashtra, Manipur, Odisha, Tripura, Uttar Pradesh and West Bengal.
How to vote in Lok Sabha Elections 2019?

The voting for the first phase of General Elections 2019 to elect people's representatives in 91 Parliamentary constituencies for the 17th Lok Sabha got underway on April 11, 2019. Over 14 crore 20 lakh and 54 thousand voters are expected to vote today to decide fate of 1279 candidates.

If you are above 18 years of age as on January 1, 2019, you are eligible to exercise your right to vote. In order to vote in India, one needs to fill an application 'Form 6' and submit it to the Electoral Registration Officer in his or her Assembly Constituency. After proper verification, person is included in the electoral roll as a voter. One can also apply for a voters' ID on the Election Commission's website.
Libyan Crisis explained

Libya has been torn by violence and political instability since long-time ruler Muammar Gaddafi was toppled and killed by rebels in 2011. The crisis was triggered by the Arab Spring protests, a series of anti-government protests, uprisings and armed rebellions that spread across the Middle East in late 2010.

The protests led to a civil war, which invited intervention from a multinational coalition led by NATO forces to protect civilians against attacks by the government's forces.

Sudan crisis explained

Sudan's long-time president Omar al-Bashir has been removed from office and arrested following months of protests against Bashir's regime. With this act three-decade rule of Sudanese president Omar Hassan al-Bashir has ended on April 11, 2019.

In a television address, Defense Minister Ahmed Awad Ibn Awf said the 75-year-old leader has been arrested and put in a safe place. The army general also announced the dissolution of the government, the suspension of the 2005 constitution, along with a three-month state of emergency. He also said Sudan's airspace will be closed for 24 hours. He added that elections would be conducted at the end of the transitional period.
Election Commission stalls release of PM Modi biopic

The Election Commission of India on April 10, 2019 banned the release of any biopic, including a film on Prime Minister Narendra Modi, which was scheduled to release on April 11, the same day when the seven-phase Lok Sabha elections are scheduled to begin.

The EC said in a statement that any biopic material in nature of biography subserving the purpose of any political entity or any individual entity connected to it, which has potential to disturb level playing field during the election, should not be displayed in electronic media including cinematograph during the operation of the Model Code of Conduct.
First ever image of Black Hole released

Astronomers took the first ever image of a black hole located in a distant galaxy on April 10, 2019. The image was captured by the Event Horizon Telescope (EHT), a network of eight linked telescopes. Until now, every image of a black hole has been an artist's impression.

The 'Event Horizon Telescope' (EHT) project began in 2012 to observe the immediate environment of a black hole using a global network of telescopes. The project targeted two supermassive black holes residing at the center of different galaxies.
Jurisdiction no bar in dowry harassment case: SC

The Supreme Court on April 9, 2019 ruled that a woman, who fled her marital or matrimonial home due to cruelty of dowry harassment, can file a case of dowry harassment against her husband and in-laws from the place she has taken shelter under Section 498 of the Indian Penal Code (IPC).

The bench led by Chief Justice Ranjan Gogoi relaxed Section 177 of the Code of Criminal Procedure (CrPC), which mandates that criminal cases can be filed and tried only in courts within whose jurisdiction the crime occurred.
President Kovind releases NIRF and ARIIA-2019

The President of India, Ram Nath Kovind, released National Institutional Ranking Framework -2019 (NIRF) and presented the India Rankings awards to the top eight institutions in different categories at a function held in New Delhi on April 8, 2019.

He also released the Atal Ranking of Institutions on Innovation Achievements (ARIIA) and presented the ARIIA awards to the top two institutions. IIT Madras ranked on top in overall category in NIRF-2019 while Miranda House College of Delhi University ranked number one in ARIIA.
India highest recipient of remittances in 2018

India was positioned as the world's top recipient of remittances with its diaspora sending USD 79 billion back home in 2018, according to the World Bank's latest Migration and Development Brief.

India managed to retain its top spot in remittances by registering a significant flow of remittances from USD 62.7 billion in 2016 to USD 65.3 billion 2017 and to USD 79 billion in 2018, a significant growth over the last three years.

The remittances in 2018 grew by over 14 percent in India, where natural disasters like Kerala floods likely boosted the financial help that migrants sent to their families.
Merger of Lakshmi Vilas Bank with Indiabulls Housing

The Board of private sector lender, Lakshmi Vilas Bank Ltd (LVB) on April 5, 2019 approved its merger with the mortgage financier, Indiabulls Housing Finance Ltd in an all stock deal.

As per the 'Scheme of Amalgamation' approved by the LVB board, for every 100 shares of Laxmi Vilas Bank held, shareholders will receive 14 shares of Indiabulls Housing Finance. The merger now awaits the approval of the Reserve Bank of India.