Top 10 Weekly Current Affairs: 9 September to 14 September 2019
Ace Indian boxer Mary Kom is the first female athlete to be recommended for the Padma Vibhushan.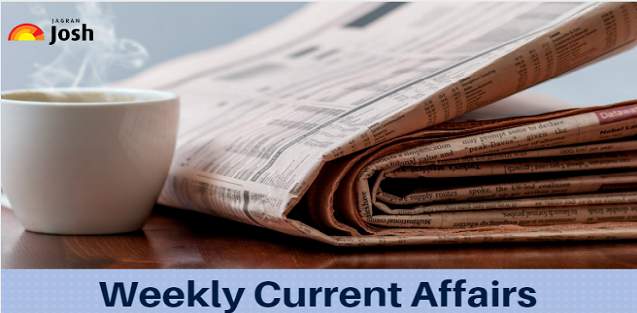 Weekly Current Affairs
1. India's reply at UNHRC: "Pakistan epicenter of terrorism, conducts cross-border terrorism as alternate diplomacy"

India hit out at Pakistan at the UNHRC with a short yet crisp statement. India clarified in clear terms that sovereign decisions like J&K legislation is entirely internal to India and it will not accept interference in its internal affairs. India strongly rebutted Pakistan's claims by saying, "silence only emboldens terrorists and Pakistan is the epicentre of global terrorism."
2. Mary Kom recommended for Padma Vibhushan, PV Sindhu for Padma Bhushan: All women Padma awards
Mary Kom has been recommended for the Padma Vibhushan Award, India's second-highest civilian award. PV Sindhu's name has been suggested for the Padma Bhushan Award. Ace Indian boxer Mary Kom is the first female athlete to be recommended for the Padma Vibhushan. Mary Kom is a six-time World Champion and 2012 Olympic bronze medalist. She is also the first Indian female boxer to win gold at the Asian Games (2014) and Commonwealth Games (2018).
3. Odd-Even rule to be implemented in Delhi from 4-15 November
The Chief Minister of Delhi Arvind Kejriwal has re-introduced odd-even scheme in Delhi. This scheme will be implemented on Delhi's roads from November 4 to 15. Under the odd-even scheme, cars with licence plates ending in an odd number and even number will be allowed to ply on alternate days. The scheme was implemented for the first time in 2016. However, the scheme had got into controversies over exemptions granted to various categories of vehicles.
4. Jack Ma retirement: Jack Ma to step down as Chairman of Alibaba
Alibaba Chairman Jack Ma will step down from his position on September 10, 2019. Jack Ma's retirement will mark the end of an era for Alibaba and mark a new beginning. Daniel Zhang, Alibaba's CEO, will replace Jack Ma as Executive Chairman of the group.
5. Water discovered on a potentially habitable super-Earth!
Water has been found by scientists in the atmosphere of a potentially habitable super-Earth. The exoplanet, named K2-18b, is twice the size and eight times the mass of Earth. K2-18b is the first planet outside the solar system in the habitable zone of its star. The exoplanet also lies within the habitable zone of its star, which means it will have the right temperature for liquid water to exist on the surface of the planet and potentially support life.
6. 9/11: 18 years since America's worst terrorist attack
Today is the 18th anniversary of the 9/11 terror attacks on the World Trade Centre. The attacks were one of the worst terrorist attacks on American soil. On September 11, 2001, four-passenger airliners were hijacked by militants and two of the planes were crashed into the twin towers of the World Trade Centre.
7. World reaction to Chandrayaan 2: "Space is hard, we commend ISRO's attempt to land Chandrayaan 2 mission," NASA
World reaction to Chandrayaan 2: Chandrayaan-2's lander module, Vikram lander was scheduled to make its historic moon landing near the Moon's South Pole in the early hours, between 1.30-2.30 am of September 7. Few seconds before the final touchdown, ISRO's Mission Control Centre lost contact with the Vikram Lander. Despite the setback, world leaders and foreign space agencies including NASA applauded ISRO for its Chandrayaan 2 mission achievements.
8. 100 Days of Modi Government 2.0: "First 100 days marked by development, trust and big changes," says PM Modi
The first 100 days of Modi Government 2.0 have been of "development, trust and big changes" in the country, said Prime Minister Narendra Modi during a big rally in Rohtak, Haryana on September 8, 2019.
9. UNCCD COP14: What is it and why is it relevant?
Prime Minister Narendra Modi addressed a high-level segment meeting at the gathering at the Conference of Parties (COP14) to United Nations Convention to Combat Desertification (UNCCD). He said that climate change was leading to land degradation of various kinds.
10. Donald Trump-Taliban secret talks cancelled: Explained
US President Donald Trump revealed on September 8, 2019 that he has called off his planned secret meeting with top Taliban leaders after they admitted to an attack in Kabul that killed a US soldier and 11 others. Trump tweeted saying, "Unbeknownst to almost everyone, the major Taliban leaders and, separately, the President of Afghanistan, were going to secretly meet with me at Camp David on Sunday."
Download our Current Affairs & GK app for Competitive exam preparation. Click here for latest Current Affairs: Android|IOS