Top 5 Current Affairs: 12 September 2017
Belgian astrophysicist Michael Gillon was awarded for his work that has helped in finding new solar systems of planet Earth using robotic telescopes, instead of much more costly satellites. German couple Germans Aleida and Jan Assmann were recognised for presenting collective memory as a requirement for the formation of the identity of religious and political communities.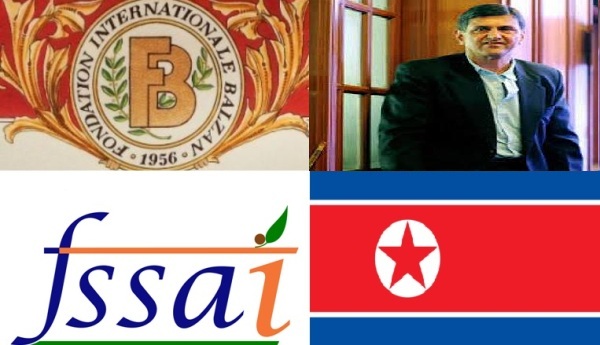 Top 5 Current Affairs: 12 September 2017
2 US scientists, Indian economist among 2017 Balzan Prize awardees
The International Balzan Foundation on 11 September 2017 announced the winners of the 2017 Balzan Prize. This year, Indian economist Bina Agarwal was recognised among other awardees for her work on women's contributions to agriculture in India.
James P Allison of the University of Texas MD Anderson Cancer Center and Robert D Schreiber of the Washington University School of Medicine were awarded for Immunological Approaches in Cancer Therapy that enhanced the survival of patients with metastatic melanoma.
Indian Economist Bina Agarwal of University of Manchester (UK) was recognised in the Gender Studies category for her heroic work studying women's contributions to agriculture in India.

FSSAI launches online platform for food inspection, sampling
Food Safety and Standards Authority of India, FSSAI, has launched a nationwide online platform to bring in transparency in food safety inspection and sampling. The food regulator in a letter written to all states on 11 September 2017 asked them to adopt this system as it would help eliminate discrepancy and make food safety officers accountable.
The web-based 'FoSCoRIS' system will bring together all key stakeholders food businesses, food safety officers, designated officers, state food safety commissioners on a nation-wide IT platform and data related to inspection, sampling and test result data will be shared seamlessly by all the officials.
BAI to confer first Lifetime Achievement award on Prakash Padukone

The renowned Indian Badminton legend Prakash Padukone has been selected for the first life time award by Badminton Association of India.
The award carries a cash prize of 10 lakh rupees with a citation which will be presented to him at New Delhi very soon.
Padukone had won the 1980 All England, besides bagging a bronze at the 1983 World Championship in Copenhagen. He also won a gold medal at the 1978 Commonwealth Games. He was bestowed with the Arjuna award in 1972 and the Padma Shri in 1982.
United Nations Security Council adopts new North Korea sanctions

The United Nations Security Council (UNSC) on 11 September 2017 unanimously adopted a set of new sanctions on North Korea over its recent nuclear test in violation of previous Security Council resolutions.
The fresh resolution curtails the country's oil supply by almost 30 per cent and bans all its textile exports worth USD 800 million. It also takes steps to stop North Koreans working abroad from sending their earnings back to the country and provides new tools for combating smuggling of prohibited products by sea.
Union Government reconstitutes six Committees of Cabinet

The Union Government on 11 September 2017 reconstituted six Committees of the Cabinet after recent ministry reshuffle.
Defence Minister Nirmala Sitharaman and railway minister Piyush Goyal have been included in the Cabinet Committee on Political Affairs (CCPA), reaffirming their elevation in the Union Cabinet.
Sitharaman and Goyal, along with petroleum minister Dharmendra Pradhan, have also been included as permanent members of the Cabinet Committee on Economic Affairs (CCEA).