Top Current Affairs Quiz: 21 August 2019
The day's updated quizzes cover topics such as Chandrayaan-2, Team India's new test jersey, Brexit date and new report on water crisis among others.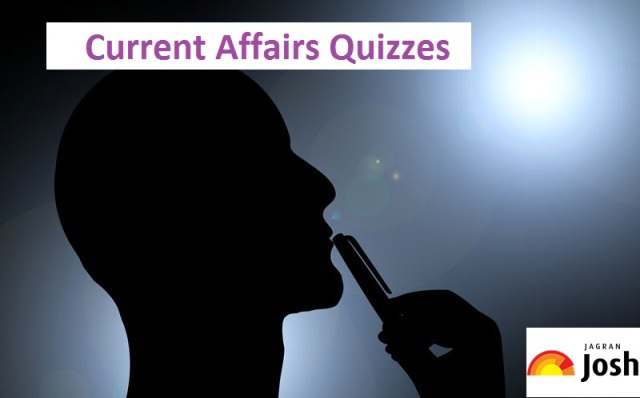 Top Current Affairs Quiz
21 August 2019: The Current Affairs Quizzes section of Jagranjosh aims to help every competitive exam aspirant to revise the day at ease. The day's updated quizzes cover topics such as Chandrayaan-2, Team India's new test jersey, Brexit date and new report on water crisis among others.
1. When will Chandrayaan-2 lander Vikram be separated from the orbiter?
a) 2 September
b) 3 September
c) 4 September
d) 5 September
2. Which organization recently handed over Mobile Metallic Ramp (MMR) to the Indian Army?
a) ISRO
b) DRDO
c) JBL
d) L&T
3. Which organization recently released a report 'Quality Unknown: The Invisible Water Crisis'?
a) UNESCO
b) UNICEF
c) WHO
d) World Bank
4. What is the name of former Madhya Pradesh CM who passed away recently?
a) Jeetan Ram
b) Ajeet Sarkar
c) Babulal Gaur
d) Varun Saxena
5. India signed six MoUs to expand cooperation in the fields of geology, defence and arts & culture with which nation on August 21, 2019?
a) Mozambique
b) Zambia
c) Peru
d) Egypt
6. Team Indian skipper Virat Kohli has which among the following numbers written at the back of his new test jersey?
a) 18
b) 44
c) 99
d) 23
7. Under major new proposals, the Defence minister has approved re-location of how many Army officers from Army headquarters to the field army?
a) 305
b) 407
c) 303
d) 206
8. British Prime Minister Boris Johnson has finalized which date for Brexit?
a) September 30th
b) October 1st
c) October 31st
d) November 30th
9. According to the latest report of the World Health Organization, which infectious disease outbreak is increasing rapidly in the world?
a) Measles
b) Chicken pox
c) Malaria
d) Cholera
10. Which state's transport Minister launched live tracking system for the public buses?
a) Karnataka
b) Uttar Pradesh
c) Maharashtra
d) Delhi
Answers
1. (a) 2 September
The Vikram lander will separate from the Chandrayaan-2 orbiter on September 02, 2019, marking a special day for ISRO. Following this, orbit maneuvers will be performed on Vikram to place it in a 100 km X 30 km orbit around the Moon.
2. (b) DRDO
Defence Research and Development Organisation (DRDO) has developed an indigenous Mobile Metallic Ramp (MMR). This Mobile Metallic Ramp (MMR) has a a load-bearing capacity of 70 metric ton (MT).
3. (d) World Bank
As per the report 'Quality Unknown: The Invisible Water Crisis'released by World Bank there is direct relation between water pollution and economic growth. According to the analysis by the World Bank, poor water quality is affecting economic growth and worsening health conditions.
4. (c) Babulal Gaur
Former Chief Minister of Madhya Pradesh Babulal Gaur died in Bhopal on Wednesday morning. The 89-year-old was admitted to the hospital on August 7 in a critical condition after his blood pressure dropped. He was CM of the state from August 2004 to November 2005.
5. (b) Zambia
India and Zambia signed six Memorandums of Understanding (MoUs) in several areas including geology, defence, arts and culture during Zambian President Edgar Chagwa Lungu's state visit to India.
6. (a) 18
Team India has revealed new test jerseys that have the names of the players and their preferred numbers at the back of the jersey. Virat Kohli was seen wearing number 18 at the back, while Test vice-captain Ajinkya Rahane was seen sporting number 3 jersey.
7. (d) 206
Union Defence Minister Rajnath Singh has approved the proposal to re-locate of 206 army officers from the Army Headquarters and make them available additionally to the formations/units of the Field Army.
8. (c) October 31st
British Prime Minister Boris Johnson stated recently that the United Kingdom will leave the European Union on October 31, 2019. Johnson stated that the Brexit referendum must be respected and that the government is making sure that the country is ready for Brexit on the set date.
9. (a) Measles
WHO suggests that there are major measles outbreaks currently occurring in Angola, Cameroon, Chad, Kazakhstan, Nigeria, Philippines, South Sudan and Thailand. In the WHO European region, there were approximately 90,000 cases reported in the first six months of 2019.
10. (c) Maharashtra
Maharashtra Transport Minister Diwakar Raote launched a tracking system for MSRTC buses which will allow people to have real-time information about their commute. The Maharashtra State Road Transport Corporation has over 18,000 buses in its fleet and carries more than 67 lakh passengers daily, he informed.