UMMID initiative to tackle inherited genetic diseases of newborn babies
UMMID initiative aims to create awareness about genetic disorders and establish molecular diagnostics in hospitals.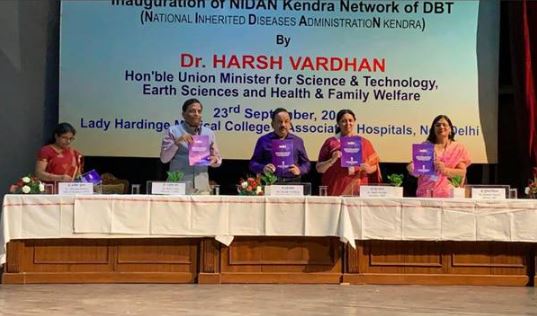 Government launches 'UMMID' initiative
Minister of Science, Technology and Earth Sciences, Dr. Harsh Vardhan inaugurated five diagnostic centres under the program Unique Methods of Management and treatment of Inherited Disorders (UMMID) to tackle the menace of genetic diseases in newborns. This initiative of the government will help the future generation in treating and preventing these diseases caused by genetic disorders. Also, National Inherited Diseases Administration (NIDAN) kendras have been established under UMMID scheme.
Dr. Harsh Vardhan informed that according to an estimate, about 4.95 lakh children are born with hereditary diseases every year in the country. These children have the right to get proper treatment. He also said that it is the responsibility of the government to take measures to bring down the number of children suffering from congenital diseases.
Objective
• Speaking on the occasion Dr. Harsh Vardhan said that this new initiative aims at creating awareness about genetic disorders and establish molecular diagnostics in hospitals so that the benefits of developments in medical genetics could reach patients.
• Under this scheme 75 new medical colleges will be opened in the country by 2022.
• About 115 districts have been identified in the rural areas where these centers will be started soon.
• These centres will provide counselling, prenatal testing/diagnosis and management in government hospitals of the country.
• Harsh Vardhan started the operation of five 'diagnosis centres' in Delhi, Jodhpur, Hyderabad and Kolkata for the treatment and research of diseases based on congenital disorders. In Delhi, these centres have been started at the Lady Hardinge Medical College and the Medical and Research Institute located at the Air Force Center.
Methodology
In NIDAN centres, potential patients or parents of such disorders will be identified and counselled by the experts before the birth of the children. Counselling sessions after the birth of the child will also be provided if required. NIDAN centres will create awareness to normalize the life of children suffering from disorders.
Download our Current Affairs & GK app for Competitive exam preparation. Click here for latest Current Affairs: Android|IOS
Take Weekly Tests on app for exam prep and compete with others. Download Current Affairs and GK app
एग्जाम की तैयारी के लिए ऐप पर वीकली टेस्ट लें और दूसरों के साथ प्रतिस्पर्धा करें। डाउनलोड करें करेंट अफेयर्स ऐप
Android
IOS