Union Budget 2019: Financial Sector, Fiscal Expenditure & Taxation Reforms
The Interim Budget 2019 furthers the agenda of the Modi Government for the all-inclusive growth of the nation. Though it announces the launch of a few schemes such as Pradhan Mantri Shram-Yogi Maandhan and Pradhan Mantri Kisan Samman Nidhi, it also takes us through the various schemes already introduced by the Narendra Modi-led government in the past years.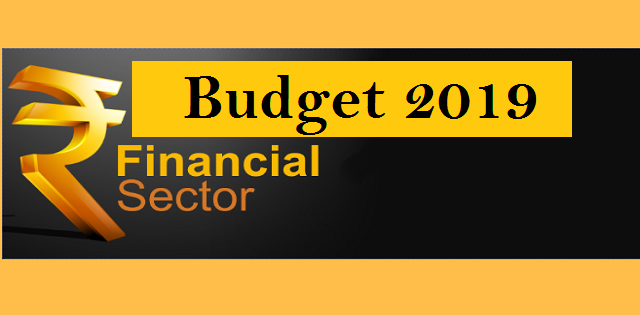 Union Budget 2019: Financial Sector, Fiscal Expenditure & Taxation Reforms
Finance Minister Piyush Goyal presented the Interim Budget 2019-20 on February 1, 2019. It was the last Budget of the Modi Government before the 2019 Lok Sabha elections.

This year, the government presented the Interim Budget, also known as 'Vote on Account' as it is close to the end of its term. An interim budget is usually passed by the Lok Sabha without discussion.

As per the Interim Budget or Vote on Account, the government seeks the approval of Parliament to meet its expenditure for the first four months (January-April) of the fiscal year with no changes in the taxation structure, until a new government takes over and presents a full Budget of the year in July 2019.
The Budget 2019 has identified Financial Sector as key driver of the economy. Accordingly, Piyush Goyal announced following initiatives:
Financial Reforms

• Around 34 crore Jan Dhan accounts were opened during 2014-18.

• The Budget speech also mentioned the government's big financial decision of demonetisation. The move succeeded in eliminating the black money. Demonetisation and other moves were able to bring back Rs 1,36,000 crores of cash to banks.

• More than one crore people filed income tax returns post demonetisation.

• Over 338000 shell companies were detected and their directors were disqualified.
Fiscal Expenditure
• The Interim Budget pegs the Fiscal Deficit at 3.4 percent.

• Total expenditure rises from revised estimates Rs 24,57,235 crore in 2018-19 to Rs 27,84,200 crore in 2019-20, a rise of Rs 3,26,965 crore.

• Capital Expenditure for 2019-20 is estimated to be Rs 3,36,292 crore.

• Centrally Sponsored Schemes (CSS) are proposed were allocated with Rs 3,27,679 crore in 2019-20 as against Rs 3,04,849 crore in 2018-19 revised estimates.

• Allocation for National Education Mission is being increased from Rs 32,334 crore in 2018-19 revised estimates to Rs 38,572 crore in 2019-20.

• Allocation for Integrated Child Development Scheme (ICDS) is being increased from Rs 23,357 crore in 2018-19 revised estimates to Rs 27,584 crore in 2019-20.
Taxation Reforms

• The direct tax collection has been increased substantially. The number of returns filed have increased from 3.79 crore to 6.85 crore, showing 80 percent growth in tax base since four years. In 2018-19, 99.54 percent of the income-tax returns were accepted as they were filed.
• From now on, all returns will be processed in 24 hours and refund will be initiated at the earliest.
• The entire process will be done in the back-end so that a tax payer need not interact with an official, thus, reducing time.
• With the efforts of the GST Council, the Goods & Services Tax (GST) resulted in increased tax base and increased collection.
• Cinema goers who were subjected to multiple taxes up to 50 percent are mostly paying much lower tax at 12 percent now.
• Exemptions from GST for small businesses has been doubled from Rs 20 lakh to Rs 40 lakh.
• Businesses comprising over 90 percent of GST payers will be allowed to file quarterly return soon.
• The GST collection for January 2019 is estimated at Rs 1.03 lakh crore.
• The government abolished the duties on 36 capital goods. Indian Customs is introducing full digitization.
Individual tax payers with taxable income of up to Rs 5 lakh will get full tax rebate from now on.
Those earning Rs 6.5 lakh will not have to pay tax, if they invested in specified savings such as PF, PPF, etc.
However, the tax slabs will remain unchanged.
This move will benefit around 3 crore middle class tax payers.
For salaried persons, Standard Deduction is being raised from the current Rs 40,000 to Rs 50,000.
The Tax Deducted at Source (TDS) on fixed deposits and postal deposits will be exempted for interest earned up to Rs 40,000 from Rs 10,000 currently.
The rent up to Rs 2.4 lakh will be exempted from TDS.
The benefit of capital gains of up to Rs 2 crore will be increased to investment on two residential houses. This benefit can be availed only once in a lifetime.
The benefit of the section 80IBA of Income Tax Act will be extended for one more year for availing of the affordable housing.
Section 80IBA of Income Tax Act, 1961: Section 80IBA deals with 100 percent deductions for the builders promoting affordable housing schemes subject to fulfilment of a few conditions.
Union Budget 2019: All you want to know about the Budget; Process of Budget approval