Vande Bharat Express: PM Modi launches India's first semi-high speed train
Vande Bharat Express has 16 air-conditioned coaches, of which 2 are executive class coaches. The total seating capacity is 1,128 passengers. There are seats in the driving coach as well.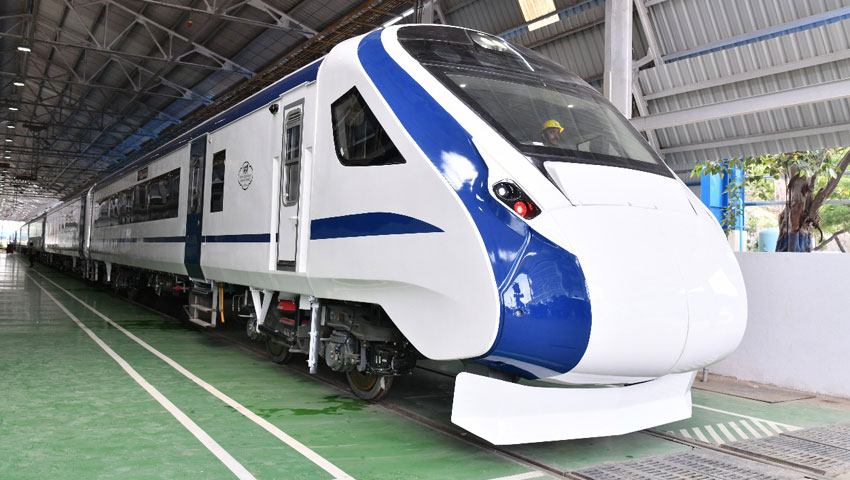 Vande Bharat Express: PM Modi launches India's first semi-high speed train
Prime Minister Narendra Modi on February 15, 2019 flagged off India's first Semi High Speed Train, 'Vande Bharat Express' on New Delhi-Kanpur-Allahabad-Varanasi route from the New Delhi Railway Station.

With maximum speed of 160 kmph, Vande Bharat Express or Train-18 offers travel classes like Shatabdi Train but with better facilities with a totally new travel experience to passengers.
Vande Bharat Express is regarded as a successor to the 30-year-old Shatabdi Express. Shatabdi was introduced in 1988 and is presently running on over 20 routes connecting metros with other important cities.
PM Modi condemned the Pulwama terror attack
While launching the train, the Prime Minister condemned the Pulwama terror attack and said, "A befitting reply will be given to the perpetrators of the heinous attack and their patrons. No force will succeed in disturbing peace, progress and stability of India".
In the deadliest attack ever on security forces in Jammu and Kashmir, over 40 Central Reserve Police Force (CRPF) personnel were martyred and several other were injured after a Jaish suicide bomber rammed a vehicle carrying over 100 kg of explosives into a CRPF convoy of over 70 vehicles in Pulwama district on February 14, 2019.
More than 2000 CRPF personnel were travelling in a convoy of 78 vehicles when they were ambushed on the Srinagar-Jammu highway at Latoomode in Awantipora in South Kashmir.
Pakistan-based Jaish-e-Mohammed terror group claimed responsibility for the attack and the suicide bomber was identified as Adil Ahmed.
New Delhi-Varanasi train journey to be covered in 8 hours

The Vande Bharat Express will cover the distance between New Delhi and Varanasi in 8 hours at speed of 160 kmph and will run on all days except Mondays and Thursdays.
Make in India: Vande Bharat Express developed by Integral Coach Factory
Integral Coach Factory (ICF), Chennai, a Railways Production unit, has been the force behind the complete in-house design and manufacture, computer modelling and working of the Vande Bharat Express with the help of large number of suppliers for system integration in just 18 months, in keeping with the vision of Prime Minister's vision of "Make in India".
The major systems of the train have been designed and built in India. It offers matching global standards of performance, safety and passenger comfort and yet costing less than half of global prices.
Features of Vande Bharat Express
• Touted as the Next Generation Shatabdi Express, Vande Bharat Express is the first long-distance train without separate locomotive (engine) and is driven by a self-propulsion module.
• It is capable of running at a speed of up to 160 kmph. It will cut travel time by 15 percent compared to the Shatabdi Express.
• The train has been developed by the Chennai-based Integral Coach Factory (ICF) at an investment of nearly Rs 100 crore.
• It is fully air-conditioned train and is equipped with CCTV cameras.
• It has 16 coaches with Chair Car type configuration with 2 Executive Class Chair Cars and 14 Chair Cars.
• It has two executive compartments in the middle with 52 seats each and the trailer coaches would have 78 seats each.
• It has soft lighting, automatic doors, footsteps and GPS-based audio-visual Passenger Information System.
• It has intelligent braking system with power regeneration for better energy efficiency thereby making it cost, energy and environment efficient.
• The footstep in a coach's doorway slides outward when the train stops at a station enabling passengers to board or deboard safely with comfort.
• The train offers some features to enhance passenger comfort which include inter-connected fully sealed gangways, automatic doors with retractable footsteps, onboard Wi-Fi and infotainment, and modular toilets with bio-vacuum systems.
• It also has provision of Divyang-friendly facilities.
• It also features rotational seats which can be aligned in the direction of travel (executive class), roller blinds and diffused LED lighting, and disabled-friendly toilets.
• All toilets are bio-vacuum type.
• The lighting is dual mode - diffused for general illumination and personal for every seat.
• Every coach has a pantry with facility to serve hot meals, hot and cold beverages.
• The insulation is meant to keep heat and noise to very low levels for additional passenger comfort.
• Adding up the green footprints, the train has regenerative braking system in the coaches which can save up to 30 percent of electrical energy.
• Speed, Safety and Service are the hallmarks of this train.