What is Bru-Reang refugee crisis? Amit Shah signs historic agreement for permanent settlement
Bru-Reang tribals fled from Mizoram and took shelter in Tripura's refugee camps in 1997.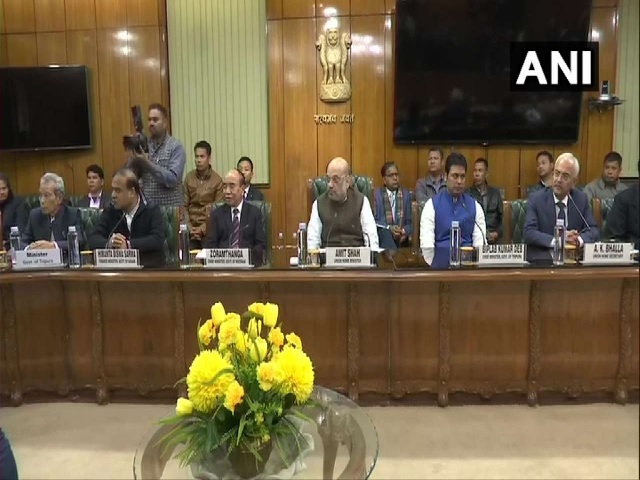 Image: ANI
Bru-Reang Refugee Crisis: Union Home Minister Amit Shah has signed a historic pact for permanent solution of Bru refugees' issue. Amit Shah announced a package of Rs. 600 crore under this agreement. More than 30,000 Bru tribes who fled Mizoram and residing in Tripura's refugee camps will no longer be forced to return.
According to the agreement between representatives of the central government, Tripura, Mizoram and Bru tribes, they will now be settled in Tripura. Earlier, an agreement was signed in 2018 to send them back but it could not be implemented due to their protest.
What is Bru-Reang Refugee Crisis?
In 1997, about 30,000 Bru-Reang tribals fled from Mizoram and took shelter in Tripura's refugee camps. Bru-Reang refugees fled from Mizoram due to ethnic tension. These bru refugees were living in temporary shelters at Kanchanpur, in North Tripura.
The government of India has been making several efforts for permanent rehabilitation of Bru-Reang since 2010. Two state governments, Tripura and Mizoram, were in a continuous process for settling them down through a permanent solution. As per the information provided by PM Modi's official website, 1622 Bru-Reang refugee families were returned to the Mizoram.
In 2018, the government offered a package to these refugees for their peaceful return to the Mizoram. However, only 328 families (1369 individuals) accepted the offer and went back to the Mizoram.
Also Read | Rajnath Singh flags off 51st unit of self-propelled K9 Vajra-T Guns
Key Highlights of Agreement
• Amit Shah said in a press conference that as per the agreement the Bru tribes would be given land to reside in Tripura.
• A fixed deposit of Rs. 4 lakh will be given to each family as an amount of government aid. They will be able to withdraw this amount after two years.
• According to the agreement, each of the displaced families will be given 40x30 sq ft residential plots.
• Apart from them, each family will be given Rs. 5,000 cash per month for two years.
• The agreement highlights that each displaced family will also be given free ration for two years and aid of Rs. 1.5 lakh to build their houses.
• The Tripura state government will provide land for residential settlement.
Benefits
This agreement will bring a permanent solution for the rehabilitation of thousands of Bru-Reang people in Tripura. The government believes that this agreement will bring a bright future for them. A total number of 34,000 Bru refugees will be settled in Tripura under this agreement. They will be given financial and infrastructure aid for their all-round development through a package of Rs. 600 crore. Bru-Reang people will be able to enjoy the benefits of all social-welfare schemes of center and state governments.
Also Read | What is NPR? Which documents are mandatory for NPR registry?
Also Read | What is 'Blue Flag' certification? Govt eases CRZ rules