MS Dhoni to announce retirement after Cricket World Cup 2019?
MS Dhoni retirement: Will MS Dhoni announce his retirement after ICC Cricket World Cup 2019?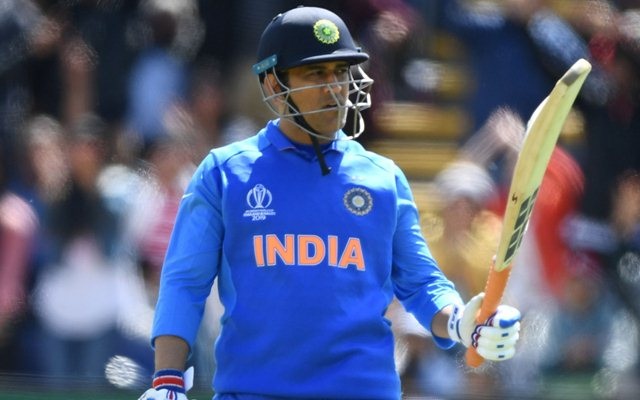 MS Dhoni to announce retirement after Cricket World Cup 2019?
MS Dhoni to announce retirement: MS Dhoni is likely to announce his retirement after ICC Cricket World Cup 2019. Dhoni has come under a lot of criticism for his performance in the ongoing cricket world cup. So will India's last world cup match be MS Dhoni's last match for India?
Though, there is no official confirmation on Dhoni's alleged retirement, speculations are doing rounds that MS Dhoni will be bidding adieu to cricket after India's last match in World Cup 2019. No fan would want to see MS Dhoni retire from the Indian cricket team. However, if India makes it into the finals of World Cup 2019 and wins the coveted cricket World Cup trophy, then it would set a perfect stage for the former Indian skipper to bid farewell to the game.
MS Dhoni has been struggling with his form in the current World Cup. Though he managed to hold on to his wicket in India's previous two World Cup matches, India vs England and India vs Bangladesh, he was not able to deliver fully with the bat. MS Dhoni, who is known for his fearless big strokes, has not really hit any big stroke in the current World Cup. The Indian fans were merciless on twitter against MS Dhoni, after feeling let down by his show on the field. MS Dhoni has scored a total of 223 runs in seven World Cup matches, which is a decent score. The concerning factor, however, is his inability to rotate strike and make big strokes in times of need. MS Dhoni was known to be one of the greatest finishers of the game, lately though the quality seems to be diminishing. His contribution as a wicketkeeper and on the field in general has, however, been immense.
The Indian fans feel that Dhoni is missing his earlier form, where he would come on to the field and blast off deliveries to the boundaries. Dhoni being in the Indian middle order gave a sense of comfort earlier, a feeling that has not truly been felt during the ongoing World Cup. On most occasions, when the top order fell in World Cup 2019, the Indian middle order crumbled one after another. MS Dhoni, though stayed not out in two matches, he could not give India the desired run rate.
Fans have been asking for Dhoni's replacement since long, however, the day MS Dhoni goes out of the team, it would be a great loss for Team India. MS Dhoni has been one of the finest Indian captains, steering India to its first T20 World Cup win and then creating history by lifting the 2011 Cricket World Cup, 28 years after Kapil Dev-led India first won the cricket world cup in 1983.
According to a senior BCCI official, it is unlikely that MS Dhoni will continue to play for India after the ICC World Cup 2019. The official said that since his decision to quit captaincy from all three formats was taken so suddenly, it is very difficult to predict at the moment.
The Indian Team selectors will surely be looking to revamp the Indian team, especially since the Indian middle order woes have come out so openly during the 2019 World Cup. The Indian team desperately needs a set number 4 player, who can come and deliver when the top order falls. The Indian team management will be looking to resolve these issues before the T20 World Cup.
As of now, Team India is through to the semi-finals of cricket world cup 2019. India had made a few changes in its last match against Bangladesh by dropping Kedar Jadhav and Kuldeep Yadav and bringing in Dinesh Karthik and Bhuvneshwar Kumar. Prior to that, India had brought in Rishabh Pant in place of Vijay Shankar. Since Vijar Shankar has been completely ruled out of the World Cup 2019, Mayank Agarwal has been called from India to replace him in the squad. India will next face Sri Lanka in its last world cup group stage match and it is likely to make further changes in the squad, resting key players like Jasprit Bumrah ahead of the semi-finals.