National Investigation Agency: Vision and Functions
The National Investigation Agency (NIA) is a central agency established by the Indian Government to combat terror in India. NIA was constituted under the NIA Act, 2008. It was established after the 2008 Mumbai terror attacks as a central agency to combat terrorism. There are 649 employees in the agency and this agency comes under the Ministry of Home Affairs.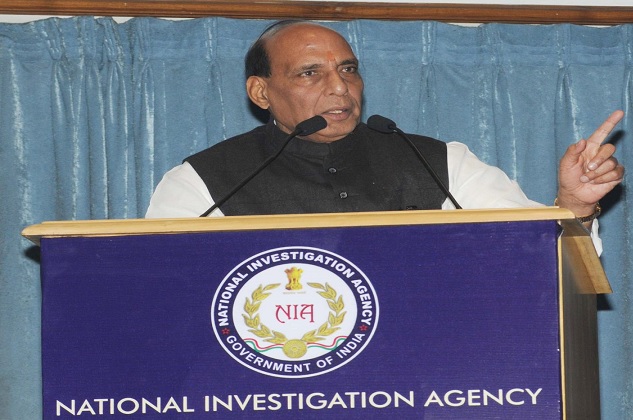 Rajnath Singh at NIA
The National Investigation Agency (NIA) acts as the Central Counter Terrorism Law Enforcement Agency. The agency is authorised to investigate any terror related matter across the country without special permission of the states. Although the state government can request the Central Government to hand over the investigation of a case to the NIA.
Vision of the NIA
"To set the standards of excellence in counter terrorism and investigate matters related to national security by developing a highly trained, partnership oriented workforce."
Head quarter and Regional Branches:
Headquarter: New Delhi
Branches are;
1. Hyderabad
2. Guwahati
3. Kochi
4. Lucknow
3. Mumbai
6. Kolkata
7. Raipur
8. Jammu
Who Works in NIA?
Officers of the NIA are chosen from the Indian Police Service, Indian Revenue Service, state police, Income Tax as well as officers from the Central Armed Police Forces like CRPF, ITBP, BSF etc.
In addition to this new faces are also recruited in NIA through exams.
The founding Director-General of NIA was Radha Vinod Raju, and he served till 31 January 2010. Currently Y. C.Modi is the Chief of NIA who is serving this post since 2017.
Main functions of NIA are;
NIA has registered and investigated 244 cases till date. After submission of charge sheets, 37 cases have been finally or partially decided in trial while 35 cases have ended in conviction. The conviction rate of this anti-terrorism agency is currently 92%.
What is the difference between the FBI and CIA?
1. To investigate terror related cases or to make strategy to combat terrorism.
2. To Study and analyse laws related to terrorism in other countries and regularly evaluate the efficacy of existing laws in India and propose changes when seems necessary.
3. To investigate and prosecute offences affecting the sovereignty, security, integrity of India, and security of State.
4. To have friendly relations with foreign States and other other international organisations.
5. To implement international treaties, agreements, conventions and resolutions of the United Nations, its agencies and other International organisations.
List of Banned Terrorist Organisations
NIA has banned some notorious terrorist groups. Their names are;
1. Jaish-E-Mohammed/Tahrik-E-Furqan
2. Lashkar-E-Taiba/Pasban-E-Ahle Hadis
3. People's Liberation Army (PLA)
4. Jammu and Kashmir Islamic Front
5. Students Islamic Movement of India (SIMI)
6. Babbar Khalsa International
7. Khalistan Commando Force
8. Harkat-Ul-Mujahideen or Harkat-Ul-Ansar or Harkat-Ul-Jehad-E-Islami or Ansar-Ul-Ummah (AUU)
9. Hizb-Ul-Mujahideen/ Hizb-Ul-Mujahideen Pir Panjal Regiment
10. United Liberation Front of Assam (ULFA)
11. National Democratic Front of Bodoland (NDFB) in Assam
12. Manipur People's Liberation Front (MPLF)
13. All Tripura Tiger Force
14. National Liberation Front of Tripura
15. Liberation Tigers of Tamil Eelam (LTTE)
16. Tamil Nadu Liberation Army (TNLA)
17. Tamil National Retrieval Troops (TNRT)
18. Akhil Bharat Nepali Ekta Samaj (ABNES)
In the end it can be concluded that National Investigation Agency (NIA) is doing great job in combating terrorism. Perhaps that is the reason that the country don't experience much terror attacks in civilian areas.
Do you know the security arrangements of the Prime Minister of India?