List of top 5 Indigenously developed Weapons/Systems of India
India was the world's largest arms importer from 2014 to 2018 but later on Saudi Arabia became the number 1 arm importer in the world. But still India imports a lot of weapons for its military requirements. Government of India is striving to boost manufacturing of weapons in India through Make in India initiative. India has developed many weapons Indigenously which includes Tejas aircraft, Arjun Tank and AKASH Missile etc.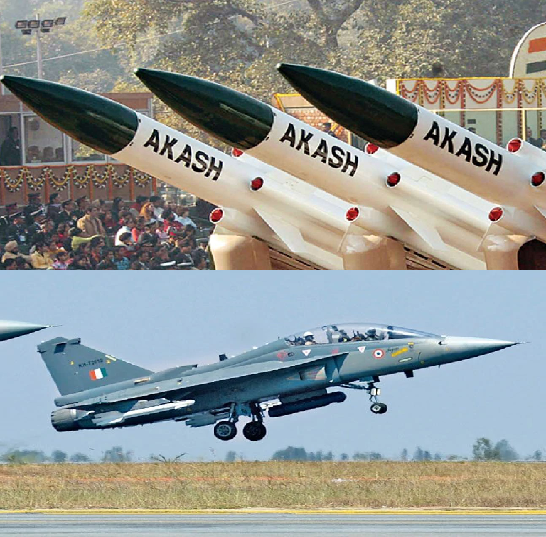 Tejas & Akash Missile
In the union budget 2019; the defence budget of India touched Rs 3.18 lakh crore which is around 1.6% of the GDP. The government of India wants to reduce its arm import bill in the upcoming years. Currently India is second largest arm importer in the world.
According to the latest report published by the Stockholm International Peace Research Institute (SIPRI) in march 2019; India has share of 9.5% of total arms sold in the world. Saudi Arabia is on the top by having 12% share in the global arms import.
The government of India is trying its utmost efforts to reduce the defence import bill of the country.In this direction; India has developed many weapons indigenously. We have explained about these weapons in this article.
Let us read about these top 5 weapons/systems in detail.
1. Tejas Aircraft
The Tejas is an indigenous light weight, multi role supersonic aircraft. It is developed for both training and fight purposes. The Tejas is designed to carry a air-to-air, air-to-surface strikes. It has the capability of successful air-to-air Refuelling.
Currently this aircraft is in service. The Indian airforce has already contracted 40 aircraft and it will soon order 83 more Tejas aircrafts with the Hindustan Aeronautics Limited (HAL).
We hope that very soon Tejas will replace India's ageing MiG-21 fighter jets.
2. Arjun Tank
It is a 3rd generation main battle tank developed by DRDO. It was first produced in 2004 and its one unit cost is around Rs.56 cr. It was built indigenously and India has around 366 units of this tank. It is named after "Arjun" the hero of Epic Mahabharata.
3. NETRA
The full form of NETRA is "NEtwork TRaffic Analysis". NETRA is a software network developed by India's Centre for Artificial Intelligence and Robotics (CAIR). It is used by the Research and Analysis Wing (RAW) and Intelligence Bureau.
Indian Airforce inducted its first indigeously developed airborne control system in 2017. NETRA AEW&C system has range of 200KM.
You can imagine the capabilities of the NETRA that it can analyse voice traffic passing through software such as Google Talk and Skype.
4. ASTRA
This is an all weather beyond-visual-range air-to-air missile. Astra is an first air-to-air missile designed by the Defence Research and Development Organisation indigenously and manufactured by the Bharat Dynamics Limited. Its first unit was produced in 2017 and cost of one unit is Rs. 7-8 crore.
It can be launched from the Su-30MKI aircraft and its speed is 4.5 mach or 5556.6 km/hr. It will be inducted into the Airforce soon.
5. AKASH:
AKASH is a "Surface to Air" medium range Missile. It can hit multi-target engagement at a time.
The capability of this supersonic Akash missile is that it can hit an aircraft up to a distance of 25 km and up to the altitude of 18,000 mtr or 59,000 ft.
Even it has the capability to neutralise aerial targets like ballistic missiles, fighter jets, cruise missiles and air-to-surface missiles.
The supersonic Akash missile system was formally inducted into the Indian Army on May 5, 2015 and into the Indian Air Force on July 10, 2015.
It is in service since 2009 and 3000 missiles have been built so far. It is designed by the DRDO and Manufactured by Ordnance Factories Board, Bharat Dynamics Limited and Bharat Electronics Limited.
So these were some weapons and systems indigenously developed in India. We hope that very soon India would produce more capable weapons in the future.
Comparison of the Air Force of India, China and Pakistan
Top 10 countries with largest military expenditure in the world