10 Interesting facts about Ramakrishna Paramahansa
Ramakrishna Paramahansa was a simple, talented, fond of serving living beings and a worshipper of goddess Kali. He revived Hinduism and his preaching's attracted the atheist Swami Vivekananda who became a devoted disciple. Let us study more about Ramakrishna Paramahansa, his philosophy, mission etc. through this article.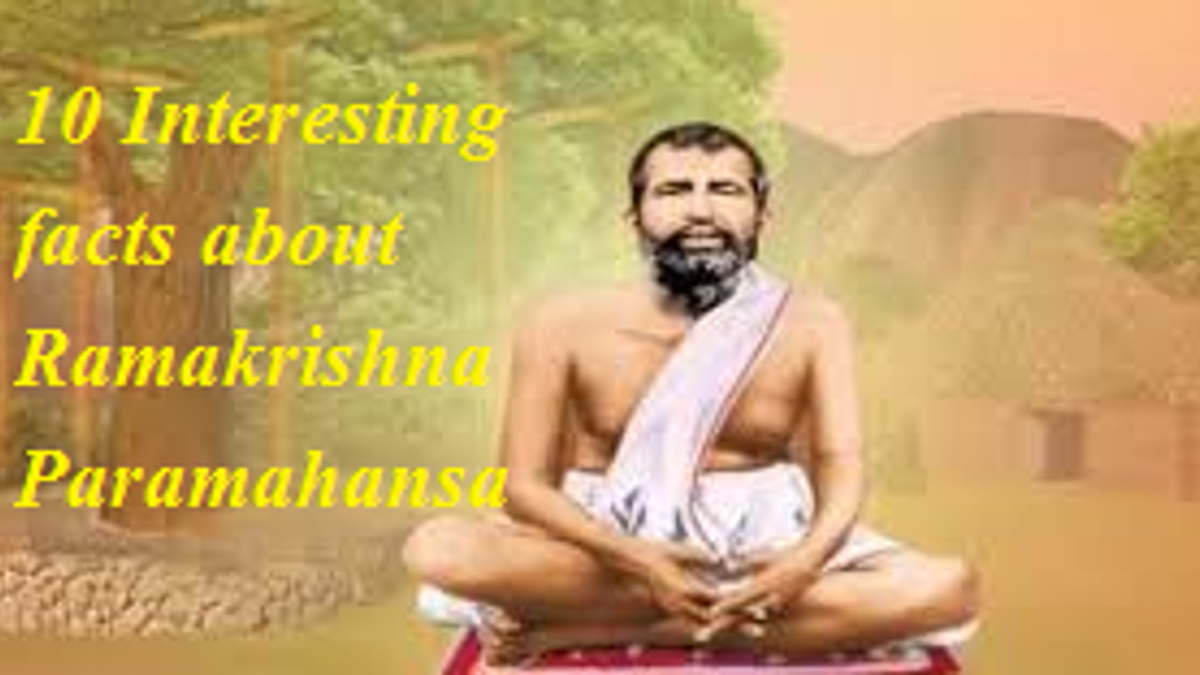 10 Interesting facts about Ramakrishna Paramahansa
Born: 18 February, 1836
Place of Birth: Kamarpukur village, Hoogly district, Bengal Presidency
Father: Khudiram Chattopadhyay
Mother: Chandramani Devi
Wife: Saradamoni Devi
Guru: Totapuri
Philosophy: Shakto, Advaita Vedanta, Universal Tolerance
Death: 16 August, 1886
Place of Death: Cossipore, Calcutta
Memorial: Kamarpukur village, Hoogly District, West Bengal, Dakshineshwar Kali Temple Compund, Kolkata
Books: The Gospel of Sri Ramakrishna by Mahendranath Gupta, Ramakrishna the Great Master by Swami Saradanananda,The Great Swan: Meeting with Ramakrishna by Lex Hixon, Life of Ramakrishna by Romain Rolland, Ramakrishna and his disciples by Christopher Isherwood
Shri Ramakrishna Paramahansa was born on 18 February, 1836 in the small village Kamarpukur, some miles away from Kolkata in a poor Brahmin family. His childhood name was Gadadhar and was loved by the villagers. He is perhaps known as the best saint of nineteenth century. He was an ultimate mystic and a true yogi. He was a worshipper of goddess Kali and also believed to be a modern-day incarnation of Lord Vishnu but he never claimed about it. In the revival of Hinduism in Bengal he became a main figure as at that time Bengal was witnessing an intense spiritual crisis and severe downfall of Humanism. His preaching's attracted the atheist Swami Vivekananda who became a devoted disciple. Let us study more about Ramakrishna Paramahansa, his philosophy, mission etc. through this article.
10 Interesting facts about Ramakrishna Paramhansa
1. Ramakrishna Paramahansa: Life
Source: www.vedantaprov.org.com
From early days, Ramakrishna declined formal education and worldly affairs. He was a talented boy who could sing and paint well. He was fond of serving holy men and listening to their discourses. He was very often found in spiritual moods like at the age of six, he experienced the first ecstasy while watching a flight of white cranes moving against the black clouds. And this tendency to enter into ecstasy intensified with time and age. Also, once he looses his consciousness of the outer world when he was playing the role of Shiva in a school play. He enjoys learning Sanskrit and Mathematics at school. He also likes folk tales told by his mother. After the death of his father, Ram Kumar the elder brother of Ramakrishna took the position of priest in the Dakshineshwar Temple. Later, the same position was occupied by Ramakrishna after the retirement of his brother.
2. Ramakrishna Paramahansa: Career
Dakshineshawar Temple was established by revered philanthropist Queen of Janbazar, Calcutta, Rani Rashmoni. Ramakrishna became priest at Kali Temple, Dakshineshwar. He was married to 5 year old Saradamoni Mukhopadhyay when he was 23. Later, Saradamoni joined Ramakrishna at Dakshineshwar.
10 Ancient Discoveries and Inventions that has changed the Modern World
3. Ramakrishna Paramahansa: Guru
Ramakrishna was motivated by a wandering monk known as Totapuri who initiated him in the Advaita Vedanta. It took place in the Dakshineshwar temple itself. It is said that after being initiated by Totapuri, Ramakrishna remained in a state of meditation for around six months.
4. Ramakrishna Paramahansa: The Revolutionary
Source: www.awakeningtimes.com
One of the greatness of Ramakrishna is that he believed that every man and woman is holy, and he never once claimed to be greater, but just a common man who viewed Kali goddess like a common woman, truant and benign. He always says that achieving god was not by salvation, but through work. He always says that to be kind to human is to be kind to god because god resides in every man. Do you know that he proclaimed his wife as the embodiment of the Divine mother and performed the Shodashi Puja with her in the seat of Goddess Kali and so he was revolutionary?
5. Ramakrishna Paramhansa: Influence
He explain complex spiritual tales in the most lucid or easy manner. He not only practiced Hinduism but also other religions like Islam and Christianity and always says that religions have their own or different path but always lead to a single goal that is God.
Do you know how India got her name as "Bharat"
6. Ramakrishna Paramahansa: Followers
Some of the followers of Ramakrishna are poet, playwright, theatre director Girish Ghosh, Swami Vivekananda, Zamindar Rakhal Chandra Ghosh etc.
7. Ramakrishna Paramahansa: Teachings

Source:www.in.pinterest.com
Ramakrishna taught that
- All living beings are divine. God is present in all man, woman etc.
- Human beings are equal and there is oneness of existence.
- To attain salvation, the main obstructions are lust and greed.
- There is only one God. All religions have different path to attain salvation but their aim is same that is God.
- The main aim of each human being is to become one with God.
A disciple of Ramakrishna Paramahansa, Swami Vivekananda founded the Ramakrishna Mission to promote the teachings of his Guru. This is headquartered at the Ramakrishna Ashram of Belur. The main goal of the mission is to help people in attaining salvation. Basically it is a non-profit organisation.
9. Ramakrishna Paramahansa: Book

Source: www.bookganga.com
Let us tell you that he did not write any book nor he delivered any public lectures. In fact, he chose to speak simple language by drawing observation of nature and ordinary things of daily use. Do you know that these conversations were noted down by his disciple Mahendranath Gupta whop published them in the form of a book, Sri Ramakrishna Kathamrita in Bengali? In 1942, its English version, The Gospel of Sri Ramakrishna was released.
10. Ramakrishna Paramahansa: Death
In 1885, he developed cancer of the throat. Then, he was shifted to a spacious suburban villa where his young disciples nursed him day and night and they have laid the foundation for the future monastic brotherhood known as Ramakrishna Math. On 16 August, 1886, Ramakrishna gave up his physical body by uttering the name of the Divine Mother and passed into Eternity. After passing of Ramakrishna, Saradamoni became a religious leader in her own right.
Ramakrishna Paramahansa famous Quotations

Source:www.isha.sadhguru.org.com
"Women are, all of them, the veritable images of Shakti."
"Knowledge leads to unity, but Ignorance to diversity."
"Lovers of God do not belong to any caste."
"Never get into your head that your faith alone is true and every other is false. Know for certain that God without form is real and that God with form is also real. Then hold fast to whichever faith appeals to you."
"Rain-water never stands on high ground, but runs down to the lowest level. So also the mercy of God remains in the hearts of the lowly, but drains off from those of the vain and the proud."
"As you pray to God for devotion, so also pray that you may not find fault with anyone."
"It is the mind that makes one wise or ignorant, bound or emancipated."
"It is easy to talk on religion, but difficult to practice it."
Concept of Democracy by Rig Veda
How pre-Aryan symbol 'Swastika' is older than 11000 years?