Today In History, 13 February: What Happened On This Day
What happened today in history (13 February): Sarojini Naidu and Aung San were born, Richard Wagner and Catherine Howard died, World Radio Day celebrated, German Bakery Bombing in Pune, East India Company's first voyage, 2021 Winter Storm in Texas and Mexico, the Siege of Budapest ended, and more.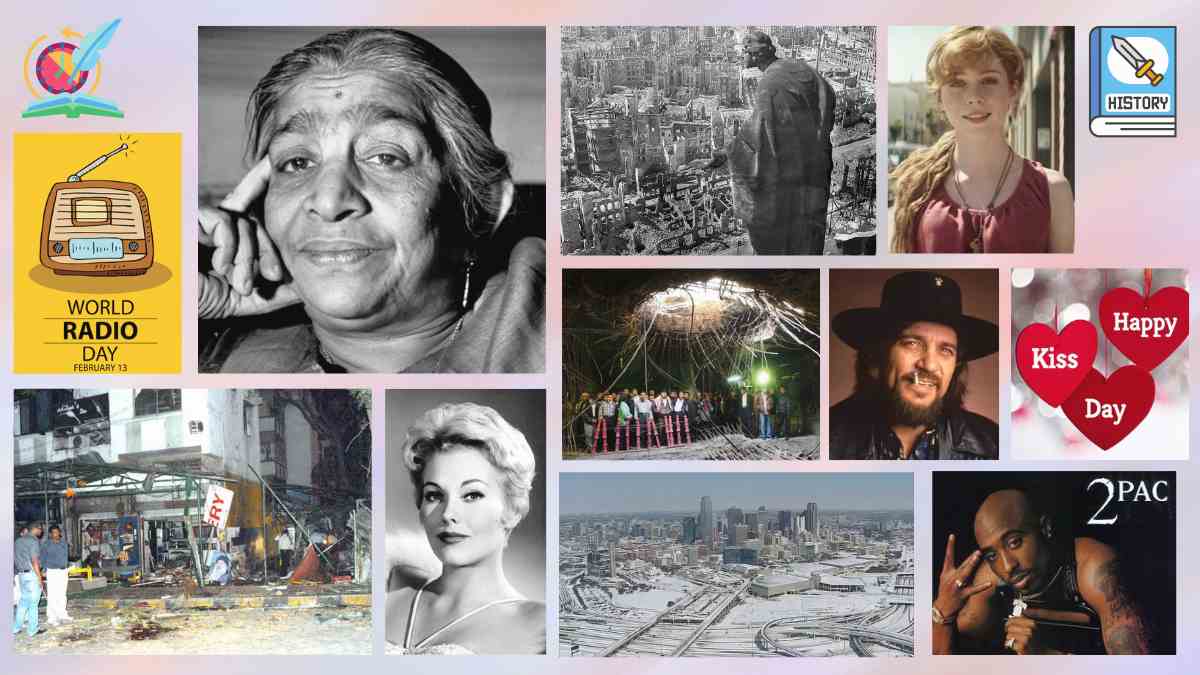 This day in history (13 Feb): The Birth Anniversary of Sarojini Naidu
Today in History, 13 February: The month of love is at its peak with Valentine's Day nearly here. Today is 13 February, also known as Kiss Day. It's a joyous moment for lovebirds all over the world, but don't let love distract you from learning.
To grow and evolve, one must expand their horizons. Let's do that by learning the significance of 13th February. It's an important day in history.
Check what major events transpired on this day (Feb. 13) in sports, politics and art, along with famous birthdays and deaths in world history.
Related | Today in History (12 February)
Historical Events On This Day
In 1601, the British East India Company's first voyage departed aboard the Red Dragon, commanded by James Lancaster.
In 1689, William and Mary were proclaimed co-rulers of England.
In 1945, the Allied forces commenced the bombing of the city of Dresden in Germany during World War II, killing over 22,000 people.
In 1945, the Soviet and Romanian forces captured the Hungarian capital of Budapest after the 50-day-long Siege of Budapest, which killed 38,000 civilians.
In 1960, France detonated its first atomic bomb in the Sahara desert.
In 1991, 408 civilians were killed in the Amiriyah shelter bombing by the US Air Force, who alleged the air-raid shelter was being used for military communications.
In 2004, the Harvard–Smithsonian Center for Astrophysics discovered the universe's largest known diamond, white dwarf star BPM 37093 which was named "Lucy" after The Beatles' song "Lucy in the Sky with Diamonds".
In 2008, Australian Prime Minister Kevin Rudd made a historic apology to Indigenous Australians for forcibly removing their children from their families.
In 2010, the German bakery blast occurred in Pune, India, killing 18 people and injuring over 60. Islamist terrorist groups Lashkar-e-Taiba and the Indian Mujahideen took responsibility for the attack.
In 2019, NASA declared the Opportunity mission to be complete after losing contact with the rover for 1,000 signals.
In 2021, the North American winter storm ravaged parts of Texas and Mexico, affecting half the population and killing 290 people.
Sports Events Today
In 1980, the XIII Winter Olympic Games opened in Lake Placid, New York.
In 2003, the England national cricket team forfeited a World Cup match in and against Zimbabwe over the country's safety concerns.
Art and Culture Events Today
In 1633, Italian astronomer Galileo Galilei arrived in Rome for his trial for declaring the Earth revolved around the Sun.
In 1996, American rapper Tupac Shakur released his fourth album, "All Eyez on Me," considered his best and the greatest hip-hop album of all time.
In 2000, the last original "Peanuts" comic strip appeared in newspapers a day after creator Charles M. Schulz's death.
Notable Deaths On This Day
| | | |
| --- | --- | --- |
| Sr No | Death Year | Personality |
| 1 | 1542 | Catherine Howard, wife of King Henry VIII of England was beheaded on the charges of treason and adultery |
| 2 | 1883 | Richard Wagner, German composer an conductor who wrote the iconic operas "Die Walkure" and "Ride of the Valkyries" |
| 3 | 2002 | Waylon Jennings, American country singer and actor who pioneered the Outlaw Movement in country music in the 1970s |
| 4 | 2017 | Kim Jong-nam, the eldest and exiled son of North Korean dictator Kim Jong-il, was assassinated, reportedly at the orders of his brother Kim Jong-un. |
Famous Birthdays On This Day
| | | |
| --- | --- | --- |
| Sr No | Birth Year | Personality |
| 1 | 1879 | Sarojini Naidu, Indian poet and freedom fighter who is referred to as "Bharat Kokila" for her colourful poetry and contribution to the freedom struggle and women's rights in India |
| 2 | 1910 | William B. Shockley, American physicist and Nobel Prize winner for Physics for developing the transistor |
| 3 | 1915 | Aung San, Burmese politician and independence activist who is considered the founder of modern Myanmar and formed the Myanmar Armed Forces |
| 4 | 1923 | Chuck Yeager, American test pilot who was the first man to cross the speed of sound |
| 5 | 1933 | Kim Novak, American actress and painter who starred in the classic Hollywood hits Vertigo and Picnic |
| 6 | 2002 | Sophia Lillis, American actor who rose to fame playing Beverly Marsh in the horror blockbuster "It" |
Related | Today in History (11 February)
Related | Today in History (10 February)
FAQ
What happened today in history (13 February)?
The 2010 Pune bomb blast, the end of the Siege of Budapest and the departure of the first East India Company ship to India happened on this day, 13 February.
Which famous personality was born on this day, 13 February?
Indian poet and prominent freedom fighter Sarojini Naidu and Hollywood actors Sophia Lillis and Kim Novak were born today, (13 Feb).