Today In History, 16 February: What Happened On This Day
What happened today in history (16 February): The Weeknd, Kim Jong-il and Ernst Haeckel were born, Dadasaheb Phalke and Birbal died, Fidel Castro became Premier of Cuba, Tutankhamun's burial chamber was unsealed, Lionel Messi scored 300th goal for Barcelona, World Anthropology Day, and more.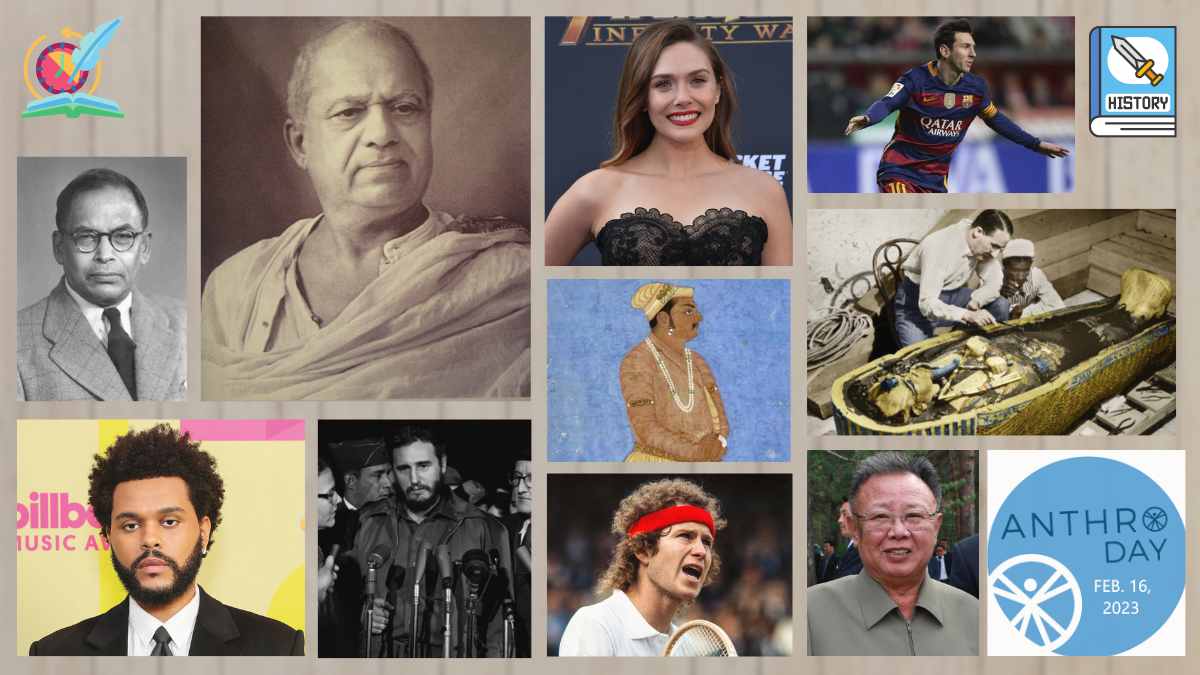 This day in history (16 Feb): The Death of Dadasaheb Phalke
Today in History, 16 February: The glow of Valentine's season has now begun to fade, and the anti-Valentine week has started. Today is 16 February, also known as Kick Day.
The title is slightly inciting, but the intent is vastly different. On 16 February, you are supposed to kick the negativity and ill feelings toward a loved one away.
But we'll take this opportunity to kick away lack of focus, poor concentration, and low general knowledge by learning the historical significance of today, February, 16.
Keep reading to find out what happened on this day (Feb. 16) in sports, politics and art, along with famous birthdays and deaths in world history.
Related: Today in History (13 February)
Historical Events On This Day
In 1659, the first known cheque was written for £400 in Britain.
In 1918, Lithuania was proclaimed an independent state after the adoption of the Act of Independence by the Council of Lithuania.
In 1923, the burial chamber of King Tutankhamun of ancient Egypt was unsealed by British archaeologist Howard Carter.
In 1937, American chemist and inventor Wallace H. Carothers received a patent for nylon fabric.
In 1945, American paratroopers landed on Corregidor Island in the Philippines during World War II and captured it from the Japanese within two weeks.
In 1959, Fidel Castro seized power in Cuba from Fulgencio Batista and established the country as the Western Hemisphere's first communist state.
In 1968, the first 911 emergency call was made in the US.
In 2005, the Kyoto Protocol, an international treaty aimed at reducing the emission of gases that contribute to global warming, went into effect.
In 2019, the first high-speed Vande Bharat train in India malfunctioned on its return trip from Delhi to Varanasi.
Sports Events Today
In 2005, the National Hockey League cancelled the entire 2004–05 regular season and playoffs due to a labour lockout caused by a salary-sharing dispute with the players.
In 2011, disgraced former Tour de France winner Lance Armstrong announced his retirement from professional cycling amid doping allegations.
In 2013, Lionel Messi scored his 300th goal for Barcelona in 365 appearances.
Art and Culture Events Today
In 1964, the Beatles' second appearance on "The Ed Sullivan Show" drew about 70 million television viewers.
In 2013, Hollywood icon Angelina Jolie underwent a preventive double mastectomy after learning she had an 87% risk of developing breast cancer due to a defective BRCA1 gene.
Notable Deaths On This Day
| | | |
| --- | --- | --- |
| Sr No | Death Year | Personality |
| 1 | 1586 | Birbal, Indian folk legend who served as an advisor in the court of Mughal emperor Akbar, also called the navaratnas |
| 2 | 1944 | Dadasaheb Phalke, Indian filmmaker who pionered the motion-picture industry of India with the film Raja Harishchandra and is considered the "father of Indian Cinema" |
| 3 | 1956 | Meghnad Saha, Indian astrophysicist who gave the Saha ionization equation used to describe chemical and physical condition in stars |
| 4 | 1990 | Keith Haring, American graphic artist and designer who transformed graffiti art into a visual language |
| 5 | 2015 | Lesley Gore, American singer, actress and activist who is known for her iconic hit "It's My Party" |
Famous Birthdays On This Day
| | | |
| --- | --- | --- |
| Sr No | Birth Year | Personality |
| 1 | 1620 | Frederick William, Elector of Brandenburg and Duke of Prussia, known his military and political achievements during his reign (1640-1688) |
| 2 | 1822 | Francis Galton, English polymath who developed the fingerprinting method and was a proponent of social Darwinism and scientific racism |
| 3 | 1834 | Ernst Haeckel, German zoologist, naturalist, eugenicist, artist and physician who discovered, described and named several species and also coined the terms ecology, phylum, Protista, phylogeny etc |
| 4 | 1848 | Hugo de Vries, Dutch botanist and geneticist who suggested the concept of genes, rediscovered the laws of heredity and developedthe mutation theory of evolution |
| 5 | 1941 | Kim Jong-iI, North Korean politician and dictator who ruled the country from 1994 to 2011 |
| 6 | 1957 | LeVar Burton, American actor, director and television host best known for playing Geordi La Forge in Star Trek: The Next Generation |
| 7 | 1959 | John McEnroe, American tennis legend who is one of the greatest players of the sport but is also infamous for his controversial antics while playing |
| 8 | 1974 | Mahershala Ali, American actor and two time Academy Award winner for the films Moonlight and Green Book |
| 9 | 1989 | Elizabeth Olsen, American actor famed for her role as the superhero Wanda Maximoff/Scarlet Witch in the Marvel Cinematic Universe |
| 10 | 1990 | The Weeknd, Canadian pop singer and actor who is one of the best selling artists of the decade and is known for his hit songs "Blinding Lights," "Starboy" and "I Was Never There" |
Related | Today in History (14 February)
Related | Today in History (15 February)
FAQ
What happened today in history (16 February)?
On this day, 16 February, Lionel Messi scores his 300th goal for Barcelona, Lithuania declared independence and father of Indian cinema, Dadasaheb Phalke was born.
Which famous personality was born on this day, 16 February?
Canadian pop singer The Weeknd and popular American actress Elizabeth Olsen were born today (16 Feb).