Today In History, 15 February: What Happened On This Day
What happened today in history (15 February): Galileo Galilei and KG Subramanyan were born, Mirza Ghalib and Bappi Lahiri died, last Soviet troops withdrew from Afghanistan, first teddy bear went on sale, Muhammad Ali lost to Leon Spinks, British surrendered Singapore to Japanese, and more.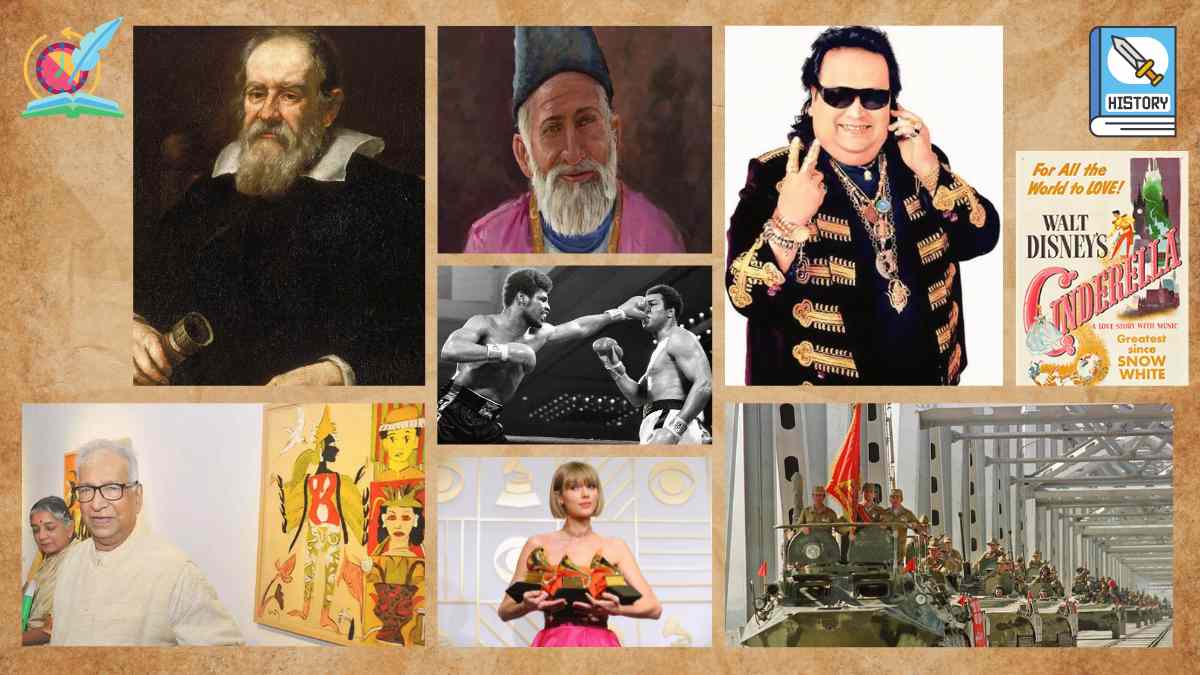 Image Caption: This day in history (15 Feb): The Birth of Galileo Galilei
Today in History, 15 February: Valentine's Day is over now. Plenty of heartbreaks and cheers were spread yesterday. Now, it's time to get back to reality and focus on learning again.
Today is 15 February, another seemingly ordinary day in the winter month of February. However, 15th February holds a pivotal place in world history.
Keep reading to find out what happened on this day (Feb. 15) in sports, politics and art, along with famous birthdays and deaths in world history.
Historical Events On This Day
In 399 BC, the Greek philosopher Socrates was sentenced to death in Athens for corrupting the minds of the youth.
In 590, the last Sasanian king of Iran before the Muslim conquest, Khosrau II, was crowned King of Persia.
In 1898, the Spanish-American War was ignited after the sinking of the battleship USS Maine in Havana, which killed 260 seamen.
In 1903, the first teddy bear soft toy went on sale by inventor and toy maker Morris Michtom.
In 1923, Greece became the last European country to adopt the Gregorian calendar.
In 1942, Singapore fell to Japanese forces in World War II after the surrender of the British Army, consisting of 80,000 Indian, English and Australian soldiers.
In 1965, Canada adopted the red-and-white maple leaf flag.
In 1989, the Soviet-Afghan war officially ended, with the Soviet Union declaring that all of its troops had departed Afghanistan.
In 2001, the first draft of the complete human genome was published in the British scientific journal Nature.
In 2003, widespread protests against the Iraq war happened in over 600 cities worldwide, with 8–30 million people participating, making it the biggest peace demonstration in history.
In 2017, the Indian space rocket PSLV-C37 made history by successfully launching 104 satellites in a single flight.
In 2021, Ngozi Okonjo-Iweala of Nigeria became the first woman and first African to lead the World Trade Organization.
Sports Events Today
In 1932, American boxer and Olympic gold medalist Eddie Eagan became the first of only two people ever to win an Olympic gold medal in both summer and winter games in separate events after clinching the bobsleigh team gold at the Lake Placid Winter Olympics.
In 1978, newcomer Leon Spinks defeated boxing legend Muhammad Ali in a shocking upset to win the heavyweight title.
In 1985, the World Chess Championship match between Garry Kasparov and Anatoly Karpov was controversially abandoned with Karpov leading 5-3.
Art and Culture Events Today
In 1927, the silent film "It," starring Clara Bow, was released in the US, coining the term "the It girl."
In 1941, American jazz pioneer Duke Ellington first recorded his iconic song "Take the A Train."
In 1950, the classic Disney animated film Cinderella premiered.
In 2016, Ed Sheeran won Best Song ("Thinking Out Loud"), and Taylor Swift won Best Album ("1989") at the 58th Grammy Awards.
Notable Deaths On This Day
| | | |
| --- | --- | --- |
| Sr No | Death Year | Personality |
| 1 | 1637 | Ferdinand II, Holy Roman Emperor, King of Bohemia, Hungary and Croatia from 1619 to 1637 |
| 2 | 1869 | Mirza Ghalib, legendary Indian poet known for his iconic poems, letters and prose in Urdu and Persian languages |
| 3 | 1965 | Nat King Cole, American singer, jazz pianist and actor known for his soft baritone voice and hit songs like "Unforgettable," "Smile" and "Mona Lisa" |
| 4 | 1988 | Richard Feynman, American theoretical physicist known for his work in quantum electrodynamics and won the Nobel Prize in Physics for the same in 1965 |
| 5 | 2022 | Bappi Lahiri, Indian playback singer and composer who popularised disco in the Indian music industry, especially in the 80s an 90s with is bollywood tracks like "Yaad Aa Raha Hai" and "Tamma Tamma Loge" |
Famous Birthdays On This Day
| | | |
| --- | --- | --- |
| Sr No | Birth Year | Personality |
| 1 | 1368 | Sigismund, Holy Roman emperor from 1410 to 1437 |
| 2 | 1564 | Galileo Galilei, Italian astronomer, engineer and physicist who is considered one of the greatest figures in science due to his numerous contributions to motion, gravity, pendulums, inventing the thermoscope and discovering the moons of Jupiter, Saturn's rings and phases of Venus |
| 3 | 1710 | Louis XV, second-longest reigning monarch of France (1715-1774) who led his kingdom to ruins with his corrupt regime and expensive wars |
| 4 | 1820 | Susan B. Anthony, American activist and suffragist who led the National Woman Suffrage Association to get women the right to vote |
| 5 | 1874 | Ernest Shackleton, Irish-English explorer who led four expeditions to Antarctica |
| 6 | 1924 | KG Subramanyan, Indian artist, sculptor, and muralist who participated in the independence movement and later taught art at the university of Baroda |
| 7 | 1954 | Matt Groening, American cartoonist and creator of the animated series The Simpsons and Futurama |
| 8 | 1964 | Ashutosh Gowariker, Indian filmmaker made for his epic Hindi films Lagaan and Swades |
Related | Today in History (13 February)
Related | Today in History (14 February)