Twenty Important facts about the Rajasthan
Rajasthan is India's largest state by area (342,239 km2 which scattered in 10.4% of India's total area. It is most famous for its cultural and natural beauty. It is a northern Indian state bordering Pakistan.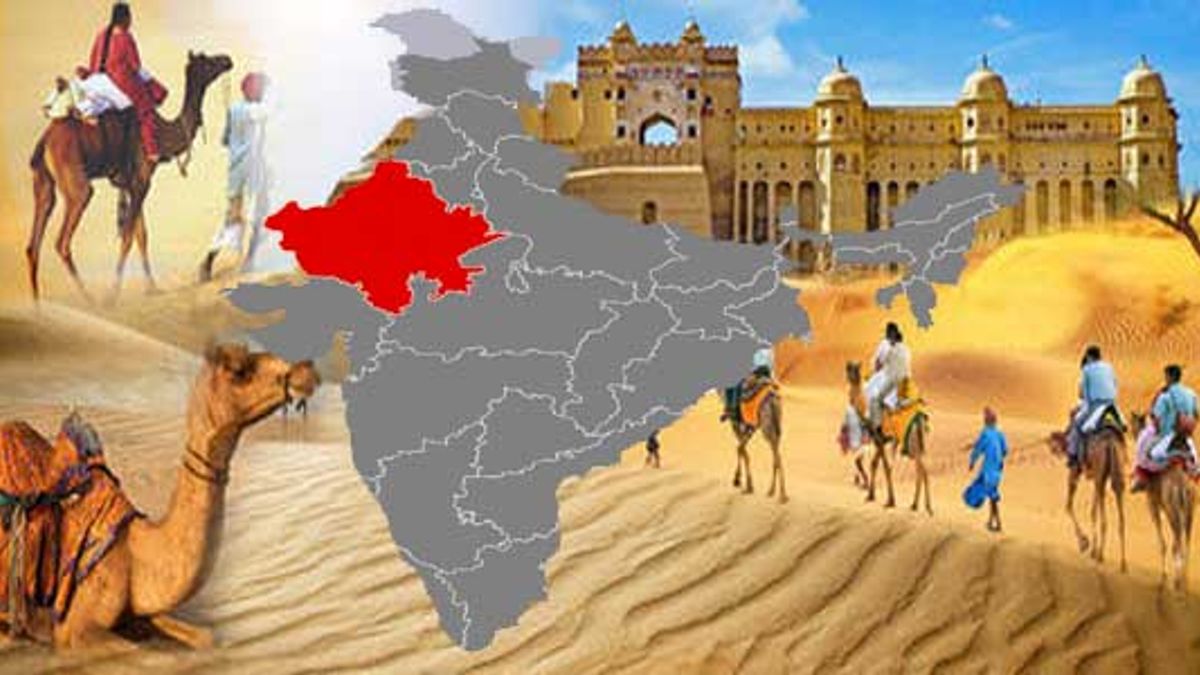 Rajasthan
Rajasthan or the land of Kings is the best example of the old and new; the ancient and the modern cultural heritage. Its name truly justified with lavish forts and majestic palaces that are apt reminders of a rich, romantic past that speaks of heroism, honor and chivalry.
Rajasthan is India's largest state by area (342,239 km2 (132,139 sq mi) or 10.4% of India's total area). It is located on the western side of the country, where it comprises most of the wide and inhospitable Thar Desert (also known as the "Rajasthan Desert" and "Great Indian Desert") and shares a border with the Pakistani provinces of Punjab to the Northwest and Sindh to the west, along the Sutlej-Indus river valley. It is a northern Indian state bordering Pakistan.
Rajasthan: Fact File
Area

342,239 km2 (Biggest state of India in terms of land)

Population

​​6.85 cr (2011 census)

Language

Official language (Hindi), Additional official language (English, Punjab),

Rajasthani (Devanagari is a language of the Indo-Aryan languages family. Marwari,Maruwani

Climate

Rajasthan has a tropical desert climate. It is extremely cold from October to February while the scorching sun tortures the land from March to September.

Capital

Jaipur

Members of Lok Sabha

25

Legislature

Unicameral

Major Cities (by population)

Jaipur (3,073,349), Jodhpur(1,138,300),Kota (1,001,365),

Bikaner (647,804), Ajmer (551,101), Udaipur (474,531), Bhilwara (360,009)

Lakes

Rajsamand Lake, Sambhar lake,Udai Sagar Lake, Nakki Lake, Kaylana Lake, Raj Bagh Talao, Malik Talao,

Lake Fateh Sagar, Gadsisar Lake, Lake Pichola, Swaroop Sagar Lake, Udai Sagar Lake, Raj Bagh Talao etc.

Average annual rainfall (mm)

313-675

The Thar Desert (desert districts)

Jaisalmer, Barmer, Bikaner and Jodhpur (The Thar Desert or the Great Indian Desert encompasses about 70% of total landmass of Rajasthan and hence it is identified as the "Desert State of India".)

Economy Size

US$ 128 billion), Agriculture based Economy

Literacy

66.11 %

Districts

33

Sex Ratio (as per 2011 census)

928 per Thousand male

Child sex Ratio

888 (census 2011)

Principal Folk Dances

Bhavai Dance, Chari Dance, Drum Dance, Fire Dance, Gair Dance, Ghoomar Dance ( by Bhil tribe),Kachhi Ghodi dance, Kalbelia Dance('Sapera Dance or Snake Charmer),Kathak Dance, Kathputli Dance.

Fair and Festivals

Desert Festival, Jaisalmer,Nagaur Fair, Nagaur, Pushkar Fair, Pushkar,Summer Festival, Mt. Abu, Marwar Festival, Jodhpur, Camel Race Festival, Bikaner,Gangaur Festival, Jaipur,Teej Festival, Jaipur,Mewar Festival, Udaipur,Urs Festival, Ajmer, Nagaur Fair(Nagaur),Kaila Devi Fair(Karauli),Summer Festival(Mount Abu),Dusshera (Kota)

World Heritage Sites

The six forts — Chittorgarh, Kumbhalgarh, Jaisalmer, Ranthambhore (Sawai Madhopur), Gagaron (Jhalawar) and Amber (Jaipur) — were recognised as serial World Heritage Sites in the 37th session of the World Heritage Committee (WHC) in Phnom Penh, Cambodia .

Principal Crops

Barley, Wheat, Gram, Pulses, Oil Seeds, Bajra, Pulses, Jowar, Maize Ground Nuts, fruits and vegetables and spices.etc.

Principal Minerals

Wollastonite (100%), Jasper(100%), Zinc concentrate (99%), Fluorite(96%), Gypsum(93%),Marble(90%), Asbestos(89%), Calcite(70%), Phosphate rock(75%), Mica, Copper, Silver, Petroleum
Rajasthan has a very rich culture that is why it has attracted 50.24 million domestic tourists and 1.75 million foreign tourists in FY 2018.
Tourism has a very crucial role in the per capita income of the state. The Net State Domestic Product (NSDP) expanded at a rate of 11.19% (in rupee terms) to US$ 115.13 billion between 2011-12 and 2018-19.
List of Indian States and their Symbols