What is the criterion of Censor Board to give Certificate to films?
The Central Board of Film Certification Board (CBFC) or the Indian Censor Board (1952) is the body in India to hold rights to review films, TV serials, TV commercials and various visual materials. The CBFC gives certificates to all those programs which are shown to the public. A movie which contains adult material gets "A" certificate and its circulation is restricted to adults (above 18 years of age or older.) only.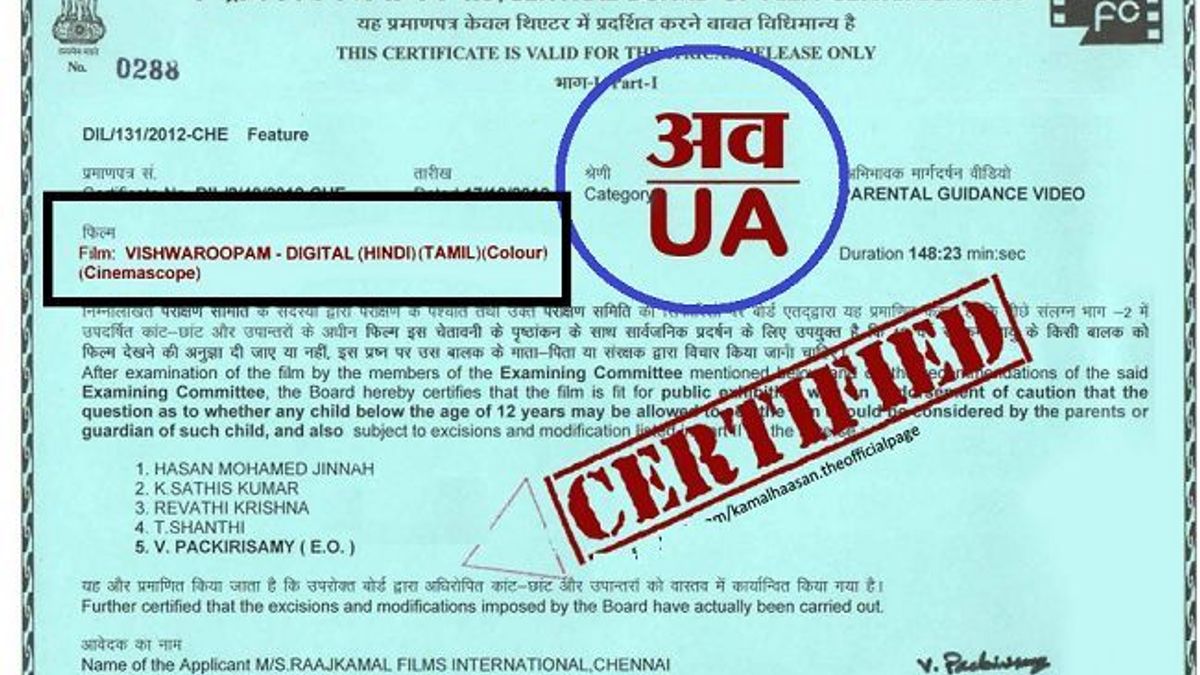 CBFC Certificate
As per estimation there are more than 1250 feature films and short films are produced in the Indian film industry every year. According to a rough estimate, in India about 15 million people watch movies every day through different sources like cinemas,online, CD and other mediums.
Presently, the total revenue of the Indian film industry is Rs. 13,800 crore ($ 2.1 billion), which will grow to Rs. 23,800 crore by 2020. If music, TV, film and other related industries are mixed together, then its total size was $ 22 billion in 2017, which would increase to $ 31.1 billion by 2020.
It is believed that films are a mirror of the society, that is why these movies show the different incidents of the society on the screen but this is just a half truth because most of the films are based on the imagination which shows a lot of nudity and violence. So the Censor Board of India was established to regulate the release of films, videos and TV serials in the country.
7 'Waste to Wonder' Theme Park: Features and Facts
Do you know that how the censor board imposes restrictions on the release of movies/videos/serials and what type of certificates are issued by the board? Let us know in this article;
About the Central Board of Film Certification Board (CBFC)
The Central Board of Film Certification is known by the common name 'The Censor Board'. It is a censorship body that works under the Ministry of Information and Broadcasting.
The Central Board of Film Certification (known as the Central Board of Film Sensors since June 1, 1983) was established in Mumbai on January 15, 1952. At present there are nine regional offices of censor board located in Mumbai, Chennai, Calcutta, Bangalore, Hyderabad, Thiruvananthapuram, Delhi, Cuttack and Guwahati.
The Central Board of Film Certification Board or the Indian Censor Board holds rights to review films, TV serials, TV commercials and various visual materials. The Censor Board gives certificates to all programs that are shown to the public. The film can be released only after the certificate is given by the censor board.
About Film Certification
As per the Rule 41 of the Cinematograph Act, 1952, a film get certificate in approximately 68 days. The members and other people of the censor board decide (after watching the movie) that what type of certificate should be given to a movie.
The censor board tries to curtail the use of porn comedy, pornographic content, double meaning words and abusive words etc. The Board also keeps in mind that the movies/serials do not hurt the sentiments of any caste, religion, belief and community.
As of now the Central Board of Film Certification (CBFC) issues 4 types of certificates. Initially, it used to issue just two types of certificates, but from June 1983 it has increased this number to 4.
Film certificate is shown for ten seconds in the starting of the movie. Now let us know about the types of certificates in detail;
1. अ (uninterrupted) or U Certificate:- These films can be seen by the people of all age groups. A film that gets the U certificate does not contain any kind of pornographic content, violence and abuse etc. Hence the films of अ /U certificate can be seen sitting with the whole family. Movies like; 'Hum Aapke Hain Hain Kaun', Bhag Milkha Bhag and Baghban etc.

2. अ/व या U/A Certificate:- The movies of this certificates falls under the category of unrestricted public exhibition. These types of movies may contain violence, obscene language or sexual content.
So the films of this category can be seen by the children of above 12 years in the presence of the parents/guardian only. Films Like; Bahubali, Ye jawani hai diwani etc got this certificate. It is worth to mention that this is the most sought after certificate.
3. व (Adult) or A Certificate:- "A" means "Adult" certificate is given to only those films which contain obscene or pornographic content. So these films can be seen by those who have crossed the age of 18 years. Examples of such movies are; Dirty Picture, Jism 2 etc.
4. वि (विशेष) या S Certificate:- It is a special category and certificate under this category is rarely issued. These types of films are made for the specific audiences such as engineers or doctors etc.
Certificates to foreign and dubbed films
Certificates are issued to foreign and dubbed films and videos as well. In general matters, CBFC does not issue any certificates separately for dubbed films.
It is known that films made for Doordarshan do not require CBFC's certificate because Doordarshan has been given exemption from these types of certificates. Apart from this, Doordarshan has its own system of screening such films.
Hopefully after reading this article, you have understood that how many types of certificates are issued by the Censor Board and what is criteria behind its issuance?

How is Box Office collection calculated?