11 Unknown and Interesting facts about IRCTC
The fullform of IRCTC is Indian Railway Catering and Tourism Corporation Limited. In 1999, it was incorporated under the Ministry of Railways to upgrade and professionalise catering services for Indian Railways and to promote tourism via Railways across the country. Let us have a look at some interesting and unknown facts about IRCTC.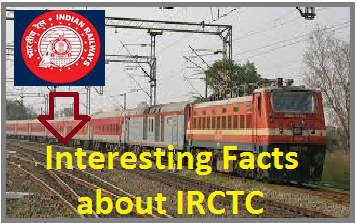 Interesting facts about IRCTC
IRCTC is celebrating its 20th year of inception in 2019 and no doubt is one of the most dynamic Public Sector Undertakings of the country. It is a customer centric organisation which includes catering services, travel and tourism, railway internet ticketing and package drinking water.
11 Unknown and Interesting facts about IRCTC
On 27 September, 1999 IRCTC was started and expanded its operation. It plays a crucial role in the growth of Indian Railway. IRCTC fully came into operation on 3rd August, 2002.
On the first day of the commencement of e-ticketing service only 27 tickets were booked in the country.
Do you know that with a small capital of about 20 Cr. IRCTC was started? In 2006-07, TCS designed the ERO for IRCTC.
IRCTC at present has approximately 2.5 crore registered members and its revenue is 35% of Indian Railways.
E-Tickets for Indian Railway can be booked via mobile phone through IRCTC website www.irctc.co.in or by app. Let us tell you that maximum of 12 tickets in a month can be booked by an Aadhaar verified passengers from IRCTC's website or app. According to IRCTC officials, passengers can continue to book up to six tickets a month without validating their Aadhaar.
There are several ways to make online payment like by using Master/Visa/Amex. Also, international credit or debit cards that are issued outside India are accepted. This option is possible when a ticket is booked at least 2 days in advance of the journey date. The person who has an account in several banks like SBI, PNB, Indian Bank, ICICI, HDFC, etc. can also do net banking by using respective bank credit/ debit cards and to book tickets. People can also use their various cash cards for making payments. It can also be made through UPI/BHIM etc.
According to the new Catering Policy of 2017, Indian Railway Catering and Tourism Corporation Limited (IRCTC) is managing 331 Duronto, Rajdhani, Shatabdi and Mail Express trains. All India Helpline no. 138 can be used by the customers of Indian Railways to lodge complaints or suggestions regarding food and catering services. Also, there is Twitter handle @IRCATERING to cater the complaints/suggestions about catering services.
On 19 March 2014, e-tickets booked on the IRCTC e-ticketing website were about 5.80 Lakh which is the highest ever in a single day booking. Earlier highest was on 2 September 2013 and booked tickets were 5.72 Lakh e-tickets. At present, the passenger booking platform has around 25 million users, who make about 800,000 daily transactions.
Do you know approximately 23 million passengers travel through Indian Railways and around 3 million tonnes of freight every day, deploying more than 12,000 trains across 115,000 km and around 7,000 stations?
Do you know that IRCTC's Initial Public Offer (IPO) is the largest of all the four entities offered by the Indian Railways after RITES, Rail Vikas Nigam and Ircon? In fact this offer worked well by receiving bids for 81% of the total issue by the first day.
In IRCTC several services are added. Do you know that around 4.2 Lakh daily tickets are sold at IRCTC? And in peak hours (10 AM to 12 PM) hits are around 3.5 Lakh and approx 1.8 Lakh for Tatkal Tickets.
What does yellow and white line indicates in the train coaches?
What is the difference between Terminal, Junction and Central Station in Indian Railways?