V.G. Siddhartha's Biography: The Coffee King of India
V.G. Siddhartha is the Chairman Managing Director of famous Coffee chain outlet series Cafe Coffee Day which is popularly known as the CCD among the youths. Recently he is in news because of his dead body is found in the Netravati River in Karnataka. The main reason behind his suicide is seems to be increasing debt. In this article we have covered a snapshot of life of V.G. Siddhartha.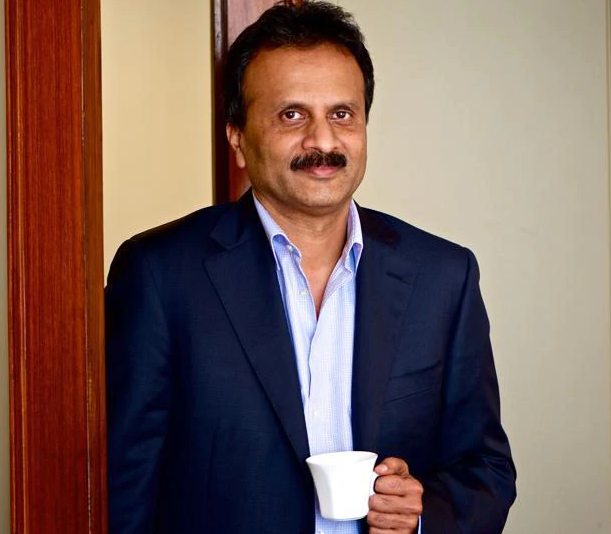 V.G. Siddhartha The Coffee King of India
Personal Information about V.G. Siddhartha
Full Name: V.G. Siddhartha
Spouse: Malavika Krishna (daughter of former Karnataka CM, S M Krishna)
Born: Chikkamagaluru, Karnataka, India
Residence : Bangalore, Karnataka, India
Nationality: Indian
Education: Master's degree in economics from Mangalore University
Chairman & Managing Director: Coffee Day Enterprises Ltd. (CCD)
Board Member: Way2wealth Brokers Pvt Ltd and Coffee Day Natural Resources Pvt. Ltd.
Total Assets (Tentative): US$27.43 cr from CCD and US$8.57 lac from Sical Logistics Ltd
About Cafe Coffee Day (CCD)
Café Coffee Day, a part of Coffee Day Global Limited, is India's favourite outlet for coffee and conversations. The first shop of coffee day was opened in the 1996 at Brigade Road in Bangalore.
As of now the CCD has has 1550 Coffee Day Cafes spread in 209 cities/towns of India. worth to mention that CCD attract at least 40,000 to 50,000 visitors a week. CCD is the largest coffee estate in Asia.
In addition to the CCD; Siddhartha owns 12,000 acres (4047 ha) of coffee plantations.
As per some news he has been trapped in huge debt incurred from losses.
He had sold his entire 20% equity stake in Mindtree Limited to the Larsen & Toubro (L&T) for Rs. 3,300 crore on 18 March 2019.
V.G. Siddhartha went missing on 30th July from Mangaluru but now his dead body has been recovered from the Netravati River in Karnataka by the rescue teams.
VG Siddhartha has written a letter to employees and board of directors of CCD. The latter stats that "I have failed as an entrepreneur" and "Every financial transaction is my responsibility". The law should hold me & only me accountable."
The letter shows that he was under severe pressure due to loss in business.
After the sudden disappearance of the VG Siddhartha the share price of the Coffee Day Enterprises slumped 20% to hit a low of Rs. 154 on BSE on 30th July 2019.
Before reaching any conclusion we have to wait for the authentic information about the whereabouts of the missing CCD chairman VG Siddhartha.
Muthulakshmi Reddi's 133rd Birth Anniversary: Know about India's 1st Woman Legislator