What are the key features of Payments Banks in India?
Currently, there are 6 payment banks operating in India which were initially 11. The guidelines for the establishment of payment banks were issued on 24 November 2014 by the Reserve Bank of India. Payment banks will be allowed to open a savings account and current account but they can't issue a credit card.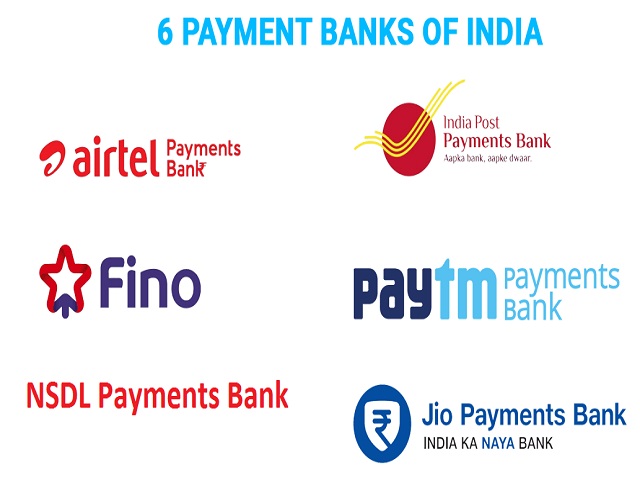 List and Features of Payments Banks
The payments banks are "differentiated banks" as compared to commercial banks. Reserve Bank of India had issued guidelines on November 24, 2014, for setting up payment banks in the country.
The Payments banks will meet the needs of the public with some restrictions; like the payments, banks will be authorised to open the current and saving accounts but can't issue a credit card to the customers.
What are the objectives of the Payments Banks in India?
According to the Reserve Bank of India (RBI) data, almost 60% of the people of the country are still not connected with the banking sector. This includes many lower-income people; who live in rural areas of the country, work in unorganized sector and often migrate to cities/abroad in the search of a job.
The main objectives of setting up of payments banks are to ensure the financial inclusion by providing payments/remittance services to migrant labour workforce, opening up small savings accounts of small business holders, low-income households, workers of the unorganised sector.
Features of Payments Banks:
Payments banks will do almost all the work that is currently being done by commercial banks, but the payments banks will work under certain restrictions like;
1. As the commercial banks, the payment banks will also accept the money of the people as a deposit but the limit is fixed, which means the payments banks can accept deposits up to a maximum of Rs. 1 lakh from a customer.
2. Payments banks; will be entitled to issue ATM or debit cards to their customers but cannot issue a credit card.
3. Payments banks; will be authorised to open both savings and current accounts of their customers.
4. Payments banks cannot provide loans or lending services to customers.
5. Payments banks cannot accept deposits from the Non-Resident Indians (NRIs). It means; the people of Indian origin who have settled abroad cannot deposit their money in the payment banks.
6. Payments banks will be allowed to make personal payments and receive remittances from the cross border on the current accounts.
7. Payments banks will have to deposit the amount in the form of a Cash Reserve Ratio (CRR) with RBI as other commercial banks do.
8. Payments Banks will have to invest a minimum of 75% of its demand deposits in government treasury/securities bills with maturity up to one year and hold a maximum of 25 %in currents and fixed deposits with other commercial banks for operational purposes.
9. Payment banks can provide the Facility of utility bill payments to its customers and the general public.
10. Payments banks can not open subsidiaries to undertake Non-Banking Financial Services activities.
11. Payments bank; with approval from RBI, can work as a partner with other commercial banks and also can sell mutual funds, pension products, and insurance products.
12. Payments banks must use the word "Payments Bank" in their names to look different from other banks.
13. Payments banks will be allowed to provide internet banking and mobile banking facility to their customers.
14. Payments banks can become a business representative of any other bank, but it will have to comply with the guidelines of the Reserve Bank of India.
15. The payments banks can accept remittances to be sent to or receive remittances from multiple
banks through payment mechanism approved by RBI, such as RTGS / NEFT / IMPS.
How Maharatna, Navaratna and Miniratna status granted to CPSEs?
On November 27, 2014; the Reserve Bank of India has granted "in-principle" approval to the following 11 applicants to set up payment banks in the country. As of now, only 6 banks are working namely;
1. Airtel Payments Bank Limited
2. India Post Payments Bank Limited
3. Fino Payments Bank Limited
4. Paytm Payments Bank Limited
5. NSDL Payments Bank Limited
6. Jio Payments Bank Limited
Summary
The setting up of the payments banks will not only increase the financial inclusion in the country but also strengthen the weaker section of the country so that they can also give their contribution in the economic development of the country.
Index of Industrial Production (IIP): Detailed information

What is the difference between payments banks and commercial banks?