What is the difference between Naga Sadhus and Aghori Baba?
Mostly we see Naga Sadhu in Kumbh Mela and we think that Aghori and Naga Sadhu are same in terms of appearance etc. But in reality it is not. Do you know the main difference between Naga Sadhu and Aghori baba? What they eat, where they live etc. Let us study through this article.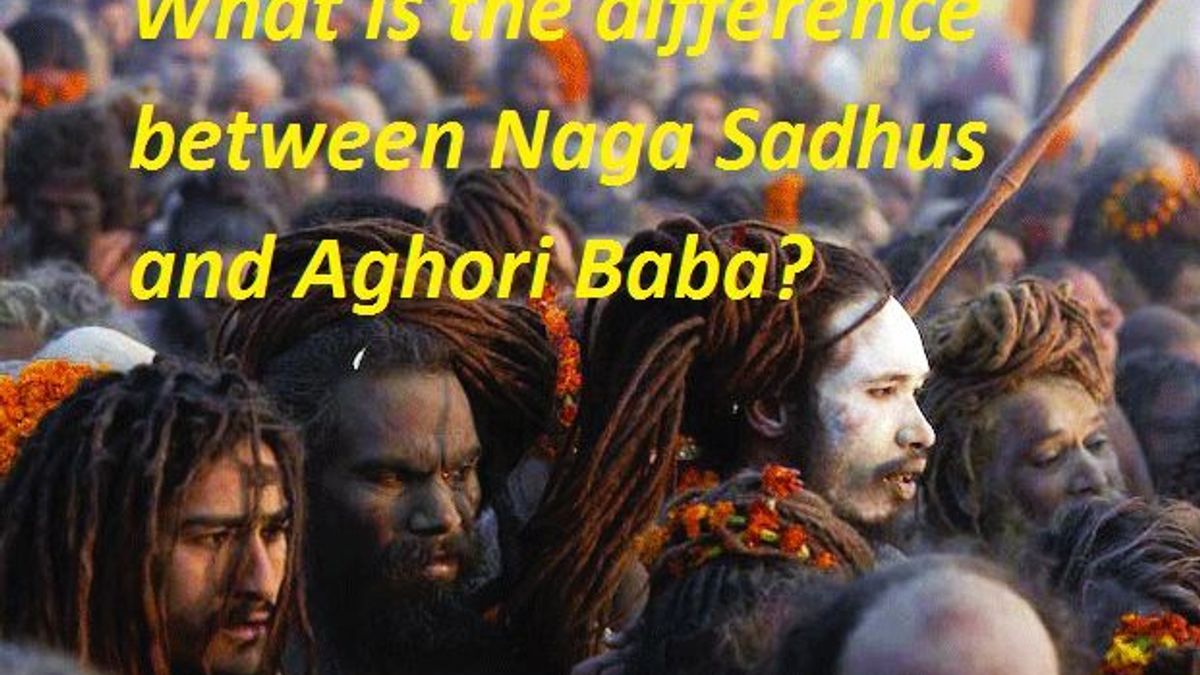 What is the difference between Naga Sadhu and Aghori baba?
As we know that there are many types of Sadhus or saints in Hindu religion. Of these are Naga Sadhus and Aghori Baba. Naga Sadhus are often seen in Kumbh Mela. In fact, the first persons to take bath in Kumbh Mela are the Naga Sadhus. Even, during Kumbh festival several people visit to the Akhara's of Naga Sadhus to take their blessings. When we see Aghori and Naga Sadhu, they look similar. But it is not like that they are not similar.
There is a great difference in the process of becoming Naga Sadhu and Aghori Baba like their ways of doing penance, living, meditation, food, etc. There is no doubt that these monks look different from other saints. But what is the difference between Naga Sadhu and Aghori Baba? Let's study through this article.
Difference between Naga Sadhu and Aghori Baba
1. Naga Sadhu and Ahghori Baba have to undergo very difficult Examinations and practice difficult tapasya. It takes about 12 years to become a Naga Sadhu and Aghori. Naga Sadhu stay in the Akhara's and have to pass difficult examinations of Akhara's to become a monk. But to become an Aghori baba, penance has to be done in the crematorium and they spend several years of their life in the crematorium with great difficulty. Basically, they are a small group of ascetic Shiva Sadhus. Both worship Shiva but with a different method.
2. It is compulsory to make Guru in the Akhara for becoming a Naga Sadhu. The Guru may be the head of the Akhara or any big scholar in the Akhara itself. The process of becoming a Naga Sadhu is said to be completed when Guru's teachings are gained in a proper way. After serving the Guru, they can reach to the next step of becoming Naga Sadhu. No doubt Naga Sadhus are trained warriors. On the other hand, no Guru is required to become an Aghori baba. His mentor is itself Lord Shiva. Do you know that the Aghori's are considered as the fifth incarnation of Lord Shiva. Aghori in crematoriums sit near the cemetery and do penance. It is said that during the course of tapasya they gain divine powers.
3. Naga Sadhu and Aghori baba are both non-vegetarians. Some Naga Sadhus are vegetarian also. So, we can say that both Naga Sadhus and Aghoris eat meat but only Aghori baba's consume human flesh. They focus on peace. Aghoris are the form of Lord Shiva and there is a belief that the Aghori baba are the living form of Lord Shiva in the Kaliyuga.

Source: www.sandesh.com
History of Kumbh Mela: Types, Significance and Venue
4. Do you know about the basic difference between Naga Sadhus and Aghori Baba's in the form of appearances? The Naga Sadhus usually wander around naked and the Aghori baba normally wears some animal skin clothing or any other cloth to cover their lower part of the body. Aghoris engage in post-mortem rituals. They often dwell in charnel grounds, smear cremation ashes on their bodies and use bones from human corpses for crafting kapalas and jewellery.
5. We see most of the Naga Sadhus in Kumbh Mela or in their Akharas. But Aghori Baba does not seem to be seen anywhere. They only reside in the crematorium. Naga Sadhus take part in Kumbh Mela and then move to the Himalayas. So, Naga Sadhus live in Akharas or himalayas and usually visit the civilisation during the Mahakumbh festival in India to take part in the holy dip. It is said that after seeing Naga Sadhu, Aghori Baba's darsghan are equivalent to seeing the Lord Shiva. Aghori live the life of nomad and mostly they reside near crematorium, take bath in the cremation ashes and eat putrid flesh of corpses and drink out of human skulls. It is also said that, they also meditate on the corpses which is a symbolic of their rise from 'Shava' to 'Shiva'. Let us tell you that Aghori practices their tapasya in three ways: cremation practice, cremation meditation and Shiva sadhana. This cult is also commonly called 'Ogharapanth'.
6. As hard as the austerity of Naga Sadhus and Ahghori Baba, they have many wonderful powers too. Naga Sadhus preaches and teaches humans about the special grace of God, while Agghori Baba has some black magic powers and with the help of it they help humans. So we can say that, both Naga Sadhus and Aghori baba through their austerities have spiritual powers which they use to help and heal people but Aghori's also have some black magic powers. Nagas are usually known as warrior Sadhus and are ready to fight intellectually or wrestle anytime. But Aghori babas mainly are involved in meditation and dark arts. They are believed to perform Dark Magic.
7. There is no doubt that Naga Sadhus and Aghori Baba adhere to the complete Brahmacharya, staying away from the family. Even in the process of becoming a saint, they have to sacrifice their families, that is, they make their own Shraadh also. During their austerities, they never meet their families. Because it is said that during the course of meditation they don't want any type of disturbances and so they never meet their family members. Aghoris are those whose inner intents like good-bad, love-hatred, jealousy and anger are gone away.
Do you know that according to the William Crooke, the first place prevalent for Aghoris are the Abu Mountains of Rajputana, but their publicity also goes to distant places like Nepal, Gujarat and Samarkand?
So, we can say that even though these monks look alike, but there are many differences whether it is about costumes or living or food or meditation, tapasya etc.
10 interesting facts about Amarnath Yatra