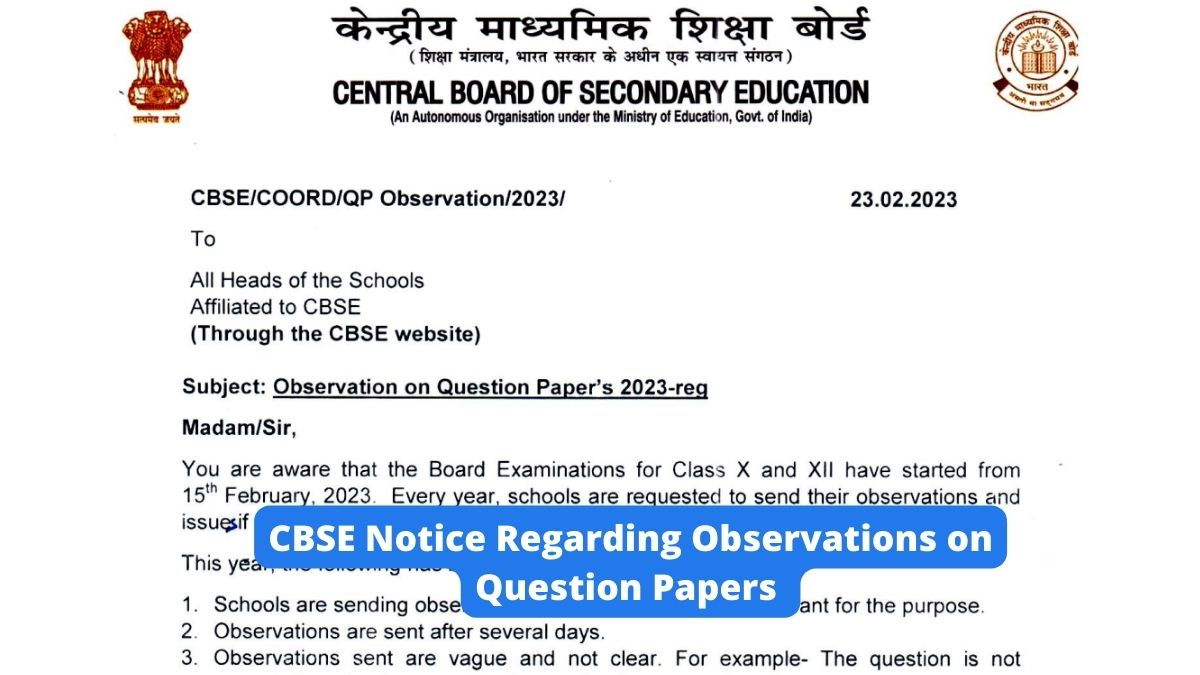 CBSE Class 10, 12 Exams 2023: The Central Board of Secondary Education (CBSE) has released a notice for the schools and exam centres regarding sending of observations on CBSE class 10, and 12 board exams 2023 question papers. As per the notice, the schools are sending issues and observations on CBSE board exam question papers after several days. Even, the observations that are sent are not as per the prescribed format.
The board warned the schools that if the observations are not clear or not in compliance with the instructions issued by CBSE, then no action will be taken on the same. The CBSE class 10, 12 board exams 2023 started on February 15. As per media reports, over 38,83,710 lakh students are appearing for the CBSE 10th, and 12th board exams 2023.
Board's Notice on Observation of CBSE Question Papers 2023
This year, as per the recent notice released, the board has stated that the schools are not following the format. As per the board, schools are sending observations of CBSE class 10, 12 question papers on various email IDs that are not in use. Further, the observations are sent after various days and are not clear. For example - the school shared that the question is not correct but did not mention what is incorrect.
CBSE Observation on Question Paper 2023 Notice - Check Here
How To Send Observation on CBSE Question Paper 2023?
The board also provided the details on how to send the observation or any issues in the CBSE class 10, 12 question papers. The school have to follow the below-mentioned format to send observation on question papers -
The observation in question papers has to be uploaded on OECMS along with the reason.

To clarify the issue, the details of the question paper have to be sent to this email ID - qpobervation@cbseshiksha.in.

The observation on the CBSE board question papers 2023 has to be sent on the same day when the exam is being held.
Also Read: CBSE Class 10, 12 Exam 2023: Board Releases Instructions For Schools and Exam Centres, Check Notice Here