7 school habits you need to quit before entering college
The shift from school to college requires a great change of attitude. Here are some of the habits you need to get rid of before you join college.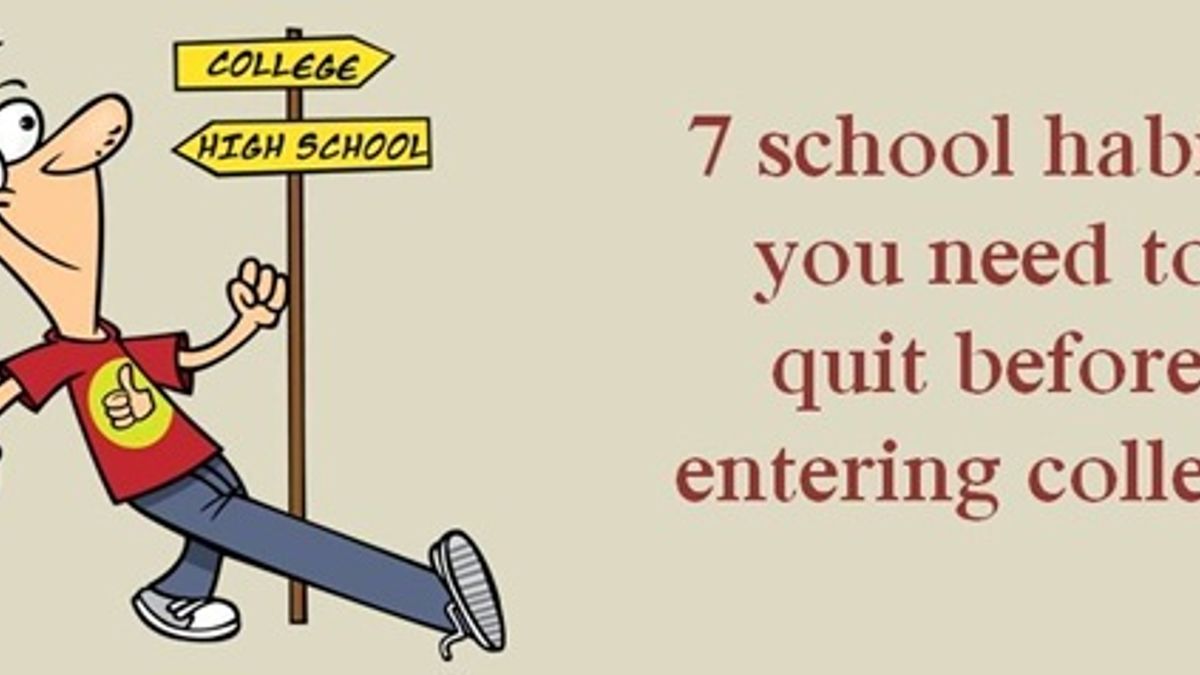 7 school habits you need to quit before entering college
Your school is over and so are your school days. This calls for end of some school habits as well. College is as different from school as you have been told and the challenges in this new place and new phase require a changed attitude.
The much-hyped freedom comes with a fair deal of responsibility unless you are prepared to find yourself in trouble every once in a while. If that is not the case, you must be determined to change these 7 habits you have formed over the years in school before you enter college.
1. Taking assignments lightly
In school the assignments were easy and mostly involved copy pasting from the internet. In college, this will not be the scenario. You will have to take the assignments seriously because 2/5 will not help your case in achieving a good percentage at the end of semester. The same work which got you an A or a B in school will be worthless in college, so you should quit the habit of taking assignments for granted and work on them with as much dedication as you work on your tests.
2. Launching headfirst into club activities

In school, all of us were leaders or important members of some or the other club. It is important to understand that the number of students in school was much less in comparison to number of students in college. Becoming the leader of a club brings with it an insane amount of responsibility and you might not want to jump into it right in the beginning of college. Unless you are sure you will be able to handle studies alongside club activities, you can give this school habit a miss.
3. Using parents as an alarm clock

This one sounds more obvious than it is. You know that the luxury of your parents waking you up for that 8:30 lecture is not available anymore but it will take you time to take on that duty for yourself. The result? Losing out on marks for attendance. So it will only make sense to prepare yourself for it before entering the college so that you don't miss classes right in first semester.
4. The way you chose friends

Most of us spend majority of our childhood in the same school so the friends made during that time come as part of the package. In college the dynamics will change and a lot of friendships will be based on convenience and selfish interests. By the time you enter college, you are mature enough to realize what kind of people you like and what kind of people you need to surround yourself with in order to achieve your goals. Over time you will realize this is not necessarily a bad thing unless you fail someone emotionally. As long as the two of you help each other in reaching your objective while being cordial, it is actually not bad at all.
5. The habit of cramming

Thanks to the way our education system is functions, we get used to cramming stuff up only to be able to replicate it during the exams. After giving the exam we usually used to forget everything we had learnt. This approach will not work in college if you want to do anything consequential with your life. You will not only have to remember things but also apply them and get references from real life situations in order to make the most of your knowledge.
6. Not engaging in classroom discussions

You pulled it off in the school with ease by being called the backbencher. It was in fact a matter of pride. In college, again, such behaviour will not get you anywhere because semesters will be followed by placement sessions which will get you your first job. If you do not engage in classroom discussions, you will miss out on important opportunities which can get you noticed by the teachers and also clear your concepts.
So these are some of the habits, among many others, which you need to get rid of before going to college from school to have a smooth transition and tension free transition.