CBSE Class 10 Science Practice Question Paper 2023: The Central Board of Secondary Education (CBSE) Class 10 Science Paper 2023 is to be held on 4th March, 2023 (Saturday). Science is one of the most important yet difficult subjects in class 10. It requires students to have a consistent practice and concept-based approach to secure good marks in Science exam. Here, CBSE sample papers and practice papers can be of great help for the last minute revision of some of the very important concepts and topics. We have provided here the CBSE Class 10 Science Practice Paper 2023 for students preparing for the upcoming CBSE Class 10 Science Exam. The marking scheme of the paper is also available in this article. Download the CBSE practice paper and marking scheme for class 10 Science Exam 2023 in PDF here.
Also Read| CBSE Class 10 Science Sample Paper, Marking Scheme 2023 (PDF)
CBSE Class 10 Science Practice Question Paper 2023
SECTION A
Select and write one most appropriate option out of the four options given for each of the questions 1 – 20
Q.1 The yellow colour of turmeric changes to red on addition of soap solution. When substance P is added to turmeric, there is no change in colour. Which of the following is definitely true about substance P?
A. P is an acid.
B. P is not a salt.
C. P is not a base.
D. P is a neutral substance.
Q.2 During the electrolytic refining of copper what happens at the anode?
A. copper ions gain electrons to become neutral copper atoms
B. neutral copper atoms gain electrons to become ions
C. copper ions lose electrons to become neutral atoms
D. neutral copper atoms lose electrons to become ions
Q.3 Identify the endothermic reaction(s) among the following: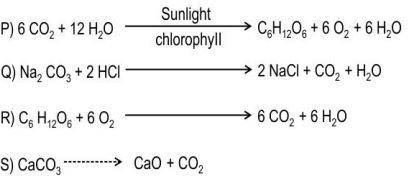 A.only P
B. only S
C. only Q and R
D. only P and S
Q.4 Ashok has written the following reactions to show how metals can be obtained from their ores.
P) 2 Fe2O3+ 3C --------> 4 Fe + 3 CO2
Q) Na2O + C --------> 2 Na + CO
R) ZnO + C --------> Zn + CO
S) CuO + C -----------> Cu + CO
Identify the INCORRECT reaction(s) among them.
A. only P
B. only Q
C. only P and R
D. only Q, R or S
Q.5 The following reactions are carried out in open vessels

Which of the following correctly shows if the weight of the reaction vessel and contents increases, decreases or remains the same after the reaction as compared to before the reaction?

A.A
B. B
C. C
D. D
Q.6 A solution of a base with pH 12.1 is given. Which of the following can be done to decrease its pH?
P) add distilled water to it
Q) add a solution of a different base with pH 8.7
R) add few drops of an acid with an unknown pH
A.only P
B. only R
C. only P and Q
D. any of P, Q and R
Q.7 One mole of which of the following compounds requires 2 moles of hydrogen to form a saturated hydrocarbon by catalytic hydrogenation?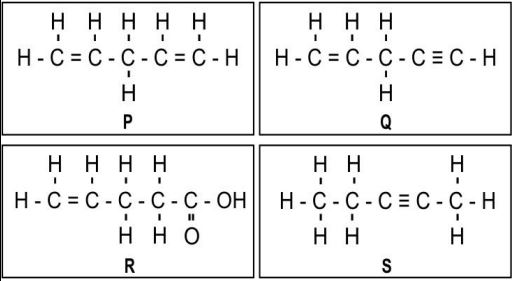 A.only P and Q
B. only R and S
C. only P and S
D. only P, Q and S
Q.8 Look at the diagram below carefully.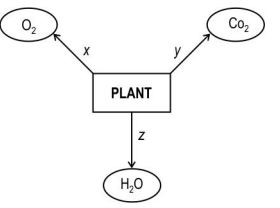 Identify the process taking place at Z.
A. Reproduction
B. Transpiration
C. Photosynthesis
D. Translocation
Q.9 Lime water turns cloudy in the presence of a gas which is a by-product of respiration.
Shown below are four setups kept in sunlight for 24 hours.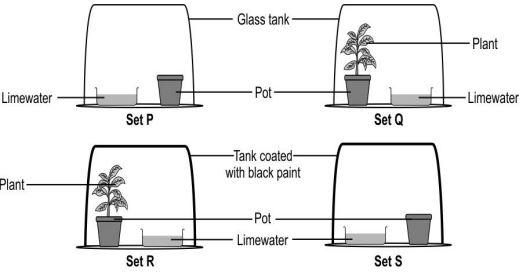 In which setup is lime water expected to be the cloudiest?
A.Setup P
B. Setup Q
C. Setup R
D. Setup S
Q.10 A homozygous dominant guinea pig with black fur is crossed with a homozygous guinea pig with white fur. The F1 generation is crossed with itself.
What percentage of F2 generation is expected to show white fur coat?
A.25%
B. 50%
C. 75%
D. 100%
Download the complete practice paper for CBSE Class 10 Science Exam below:
Download the marking scheme to check answers for the CBSE Class 10 Science Practice Paper below:
Also check out the following related articles for CBSE Class 10 Science Exam 2023:
Check below some important resources to help you prepare for the CBSE Class 10 Board Exams 2023: