DU Third Cut off List 2018 Released on du.ac.in, Check past year cut off trends too
The Delhi University has issued its third cut-off list on Saturday, the 30th June, 2018, with many prominent colleges not releasing any cut-offs for some courses.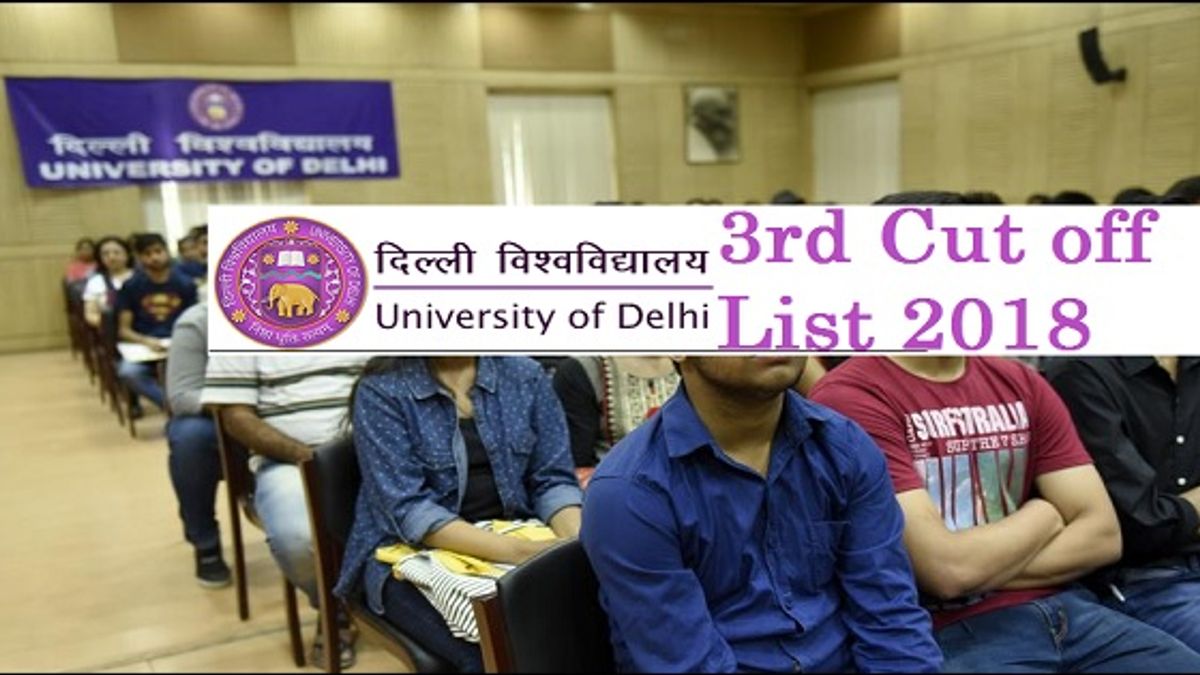 DU Third Cut off List 2018
University of Delhi has announced the Third Cut off list 2018 on June 30, 2018 for admissions to undergraduate courses. The candidates who would not be able to secure admission through DU Second Cut off list 2018 can now take admission through third cut off list. The cut off marks in 3rd cut off list is expected to drop as the previous trends show and also, there was significant drop of up to 5% in second cut off list 2018 as compared with first cut off list 2018. Many candidates who are seeking admissions to undergraduate courses are able to secure a seat after DU Third cut off list 2018 announcement. In this article, we are sharing the third cut off list of DU admissions 2018 and also, the past years cut off trends.
Check the 3rd cut off trend for Arts & Commerce and Science courses from the links given below
Important Dates of DU Cut off list 2018
| | |
| --- | --- |
| Events | Key dates |
| Official notification for third cut off list | June 29, 2018 |
| Third cut off list announcement | June 30, 2018 |
| Verification of document and admission confirmation | June 30 to July 03, 2018 |
| Last date of admission through 3rd cut off list | July 03, 2018 |
DU Third Cut off list (an insight into past year cut-off list)
Atma Ram Sanatan Dharma College
| | |
| --- | --- |
| Courses | Third Cut off marks 2017 |
| B.Com (Hons.) | 94.5% |
| Economics (Hons.) | 95% |
| English (Hons.) | 93% |
| Political Science (Hons.) | 92% |
Aryabhatta College
| | |
| --- | --- |
| Courses | Third Cut off marks 2017 |
| B.Com (Hons.) | 94.5% |
| Economics (Hons.) | 94% |
| English (Hons.) | 91% |
| Political Science (Hons.) | 90% |
Deshbandhu College
| | |
| --- | --- |
| Courses | Third Cut off marks 2017 |
| B.Com (Hons.) | Admissions closed |
| Economics (Hons.) | 94% |
| English (Hons.) | 90% |
| Political Science (Hons.) | 87.5% |
College of Vocational Studies
| | |
| --- | --- |
| Courses | Third Cut off marks 2017 |
| B.Com (Hons.) | 94.5% |
| Economics (Hons.) | Admissions closed |
| English (Hons.) | 91.75% |
| Political Science (Hons.) | N.A |
Dyal Singh College
| | |
| --- | --- |
| Courses | Third Cut off marks 2017 |
| B.Com (Hons.) | 94% |
| Economics (Hons.) | 95% |
| English (Hons.) | Admission closed |
| Political Science (Hons.) | Admission closed |
Hindu College
| | |
| --- | --- |
| Courses | Third Cut off marks 2017 |
| B.Com (Hons.) | Admission closed |
| Economics (Hons.) | 97.25% |
| English (Hons.) | 96.5% |
| Political Science (Hons.) | Admission closed |
Kirori Mal College
| | |
| --- | --- |
| Courses | Third Cut off marks 2017 |
| B.Com (Hons.) | 96.25% |
| Economics (Hons.) | 96.5% |
| English (Hons.) | 95% |
| Political Science (Hons.) | 94.75% |
Moti Lal Nehru College
| | |
| --- | --- |
| Courses | Third Cut off marks 2017 |
| B.Com (Hons.) | 94.5% |
| Economics (Hons.) | Admission closed |
| English (Hons.) | 92% |
| Political Science (Hons.) | Admission closed |
Ramanujan College
| | |
| --- | --- |
| Courses | Third Cut off marks 2017 |
| B.Com (Hons.) | 93.5% |
| Economics (Hons.) | 93.5% |
| English (Hons.) | 90.5% |
| Political Science (Hons.) | 88% |
Ramjas College
| | |
| --- | --- |
| Courses | Third Cut off marks 2017 |
| B.Com (Hons.) | 96.25% |
| Economics (Hons.) | 96.5% |
| English (Hons.) | 95% |
| Political Science (Hons.) | 96% |
Shaheed Bhagat Singh College
| | |
| --- | --- |
| Courses | Third Cut off marks 2017 |
| B.Com (Hons.) | Admission closed |
| Economics (Hons.) | 95.75% |
| English (Hons.) | 93.25% |
| Political Science (Hons.) | Admission closed |
Sri Venkateswara College
| | |
| --- | --- |
| Courses | Third Cut off marks 2017 |
| B.Com (Hons.) | 96.25% |
| Economics (Hons.) | 96.5% |
| English (Hons.) | 94.5% |
| Political Science (Hons.) | 95% |
Zakir Husain College
| | |
| --- | --- |
| Courses | Third Cut off marks 2017 |
| B.Com (Hons.) | 93% |
| Economics (Hons.) | 93% |
| English (Hons.) | 90.5% |
| Political Science (Hons.) | 88.5% |
Sri Aurobindo College
| | |
| --- | --- |
| Courses | Third Cut off marks 2017 |
| B.Com (Hons.) | 93.5% |
| Economics (Hons.) | NA |
| English (Hons.) | 90.25% |
| Political Science (Hons.) | Admission closed |
Shyam Lal College
| | |
| --- | --- |
| Courses | Third Cut off marks 2017 |
| B.Com (Hons.) | 92.5% |
| Economics (Hons.) | 93.75% |
| English (Hons.) | 90% |
| Political Science (Hons.) | 88% |
Shivaji College
| | |
| --- | --- |
| Courses | Third Cut off marks 2017 |
| B.Com (Hons.) | 94.5% |
| Economics (Hons.) | 94.5% |
| English (Hons.) | 92% |
| Political Science (Hons.) | 90.75% |
Satyawati College
| | |
| --- | --- |
| Courses | Third Cut off marks 2017 |
| B.Com (Hons.) | 94.5% |
| Economics (Hons.) | Admission closed |
| English (Hons.) | 92% |
| Political Science (Hons.) | 90.75% |
P.G.D.A.V College
| | |
| --- | --- |
| Courses | Third Cut off marks 2017 |
| B.Com (Hons.) | 93.5% |
| Economics (Hons.) | Admission closed |
| English (Hons.) | 90% |
| Political Science (Hons.) | 89% |
DU Third Cut off List 2018

Atma Ram Sanatan Dharma College
| | | |
| --- | --- | --- |
| Courses | First Cut off | Second Cut off |
| B.Com (Hons.) | 97.00% | 95.50% |
| Economics (Hons.) | 97.00% | 95.50% |
| English (Hons.) | 95.00% | 94.00% |
Aryabhatta College
| | | |
| --- | --- | --- |
| Courses | First Cut off | Second Cut off |
| B.Com (Hons.) | 95.00% | 94.00% |
| Economics (Hons.) | 95.00% | 94.00% |
| English (Hons.) | 93.00% | 91.00% |
Deshbandhu College
| | | |
| --- | --- | --- |
| Courses | First Cut off | Second Cut off |
| B.Com (Hons.) | 95.00% | 94.50% |
| Economics (Hons.) | 95.00% | 94.00% |
| English (Hons.) | 96.00% | 92.00% |
College of Vocational Studies
| | | |
| --- | --- | --- |
| Courses | First Cut off | Second Cut off |
| B.Com (Hons.) | 96.00% | 95.00% |
| Economics (Hons.) | 96.25% | 95.25% |
| English (Hons.) | 96.00% | 93.25% |
Dyal Singh College
| | | |
| --- | --- | --- |
| Courses | First Cut off | Second Cut off |
| B.Com (Hons.) | 97.00% | 95.50% |
| Economics (Hons.) | 97.00% | 95.50% |
| English (Hons.) | 94.00% | 92.00% |
Kirori Mal College
| | | |
| --- | --- | --- |
| Courses | First Cut off | Second Cut off |
| B.Com (Hons.) | 97.50% | 97.00% |
| Economics (Hons.) | 97.75% | 97.25% |
| English (Hons.) | 97.00% | 96.00% |
Moti Lal Nehru College
| | | |
| --- | --- | --- |
| Courses | First Cut off | Second Cut off |
| B.Com (Hons.) | 96.50% | 95.50% |
| Economics (Hons.) | 96.00% | 95.00% |
| English (Hons.) | 95.00% | 93.00% |
Ramanujan College
| | | |
| --- | --- | --- |
| Courses | First Cut off | Second Cut off |
| B.Com (Hons.) | 95.00% | 94.00% |
| Economics (Hons.) | 95.00% | 94.00% |
| English (Hons.) | 91.00% | 90.50% |
Ramjas College
| | | |
| --- | --- | --- |
| Courses | First Cut off | Second Cut off |
| B.Com (Hons.) | 97.00% | 96.75% |
| Economics (Hons.) | 97.50% | 97.25% |
| English (Hons.) | 96.00% | 96.00% |
Shaheed Bhagat Singh College
| | | |
| --- | --- | --- |
| Courses | First Cut off | Second Cut off |
| B.Com (Hons.) | 96.00% | 95.50% |
| Economics (Hons.) | 96.25% | 95.75% |
| English (Hons.) | 94.25% | 94.00% |
Sri Venkateswara College
| | | |
| --- | --- | --- |
| Courses | First Cut off | Second Cut off |
| B.Com (Hons.) | 97.50% | 97.00% |
| Economics (Hons.) | 97.75% | 97.25% |
| English (Hons.) | 96.25% | 94.75% |
Zakir Husain College
| | | |
| --- | --- | --- |
| Courses | First Cut off | Second Cut off |
| B.Com (Hons.) | 95.00% | 93.00% |
| Economics (Hons.) | 95.00% | 94.50% |
| English (Hons.) | 94.00% | 92.00% |
Sri Aurobindo College
| | | |
| --- | --- | --- |
| Courses | First Cut off | Second Cut off |
| B.Com (Hons.) | 94.00% | Closed |
| Political (Hons.) | 91.00% | 88.50% |
| English (Hons.) | 92.00% | 90.00% |
Shyam Lal College
| | | |
| --- | --- | --- |
| Courses | First Cut off | Second Cut off |
| B.Com (Hons.) | 96.50% | 94.50% |
| Economics (Hons.) | 96.50% | 93.50% |
| English (Hons.) | 95.00% | 92.50% |
Shivaji College
| | | |
| --- | --- | --- |
| Courses | First Cut off | Second Cut off |
| B.Com (Hons.) | 98.00% | 95.50% |
| Economics (Hons.) | 97.00% | 95.75% |
| English (Hons.) | 94.00% | 92.00% |
Satyawati College
| | | |
| --- | --- | --- |
| Courses | First Cut off | Second Cut off |
| B.Com (Hons.) | 96.00% | 95.00% |
| Economics (Hons.) | 95.00% | 94.25% |
| English (Hons.) | 96.00% | 94.00% |
P.G.D.A.V College
| | | |
| --- | --- | --- |
| Courses | First Cut off | Second Cut off |
| B.Com (Hons.) | 96.00% | 94.00% |
| Economics (Hons.) | 96.00% | 95.00% |
| English (Hons.) | 94.00% | 92.50% |