How professionals can set objectives to achieve success
Defining success is so difficult! Here is how you can define it by setting objectives as a part of strategy to achieve success.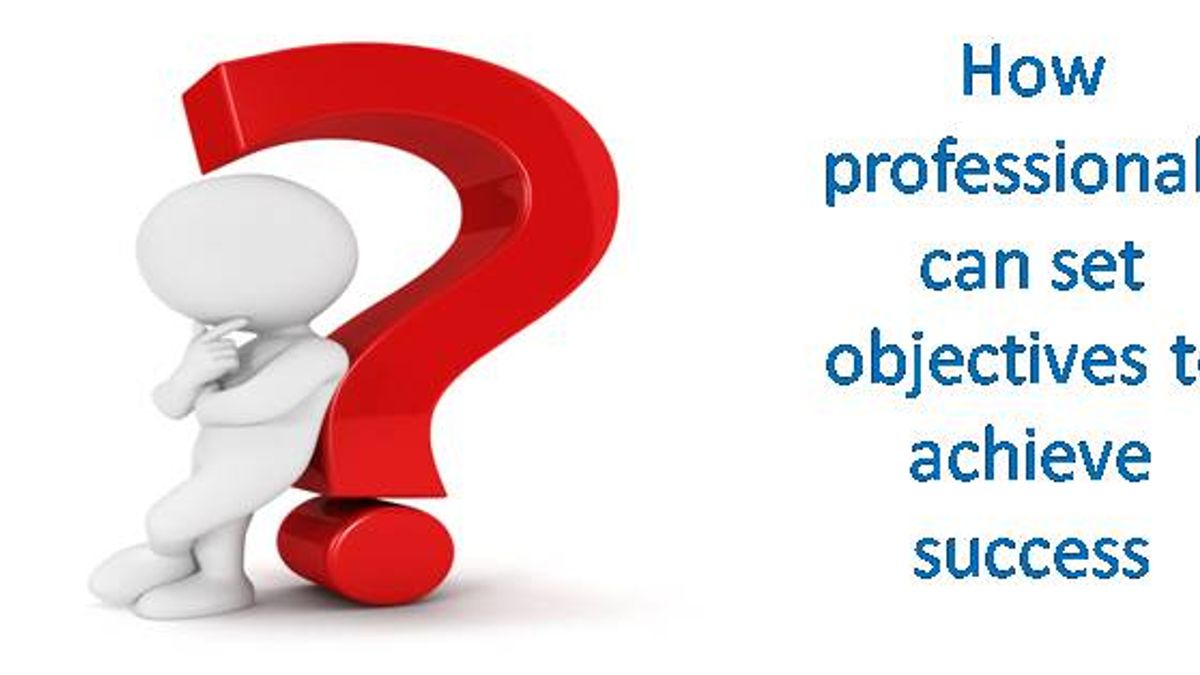 How professionals can set objectives to achieve success
So, where do you want to see yourself in the next five years as a successful person? Have you prepared any action plan for it? Which objectives you have included as way to achieve success in that action plan? All these questions require your immediate attention if you want to get success in your life.
While setting a goal and drawing a concrete plan for it may give you the direction and strategy to complete your journey for success, deciding objectives in a way to divide the major target into micro ones could take you a bit closer to your target every day.
Without deciding your objectives, you can't accomplish your journey. No matter even if you have a picture of your target and strategy for it.
Though, deciding objectives isn't an easy task, yet you can divide your major goal into micro ones while paying attention to some important things we are suggesting here.
Be specific with your goal
You need to be more specific with what you want to achieve success. Any confusion about target goals may lead you in the wrong direction. It may take long time and a lot of additional effort to get back in the right track once you lose your direction. So, be specific with what you actually want to achieve in your life. For that, you can begin by evaluating your skill set, hobbies, and area of interest. And try to ascertain whether your skills and knowledge are enough to get success or not. And try to mould your target according to your skills, knowledge, hobbies, and area of interest.
Challenges and problems
Every path which takes one to the path of success has some challenges and problems. And no one can escape these challenges and problems. In fact, a problem or a challenge makes one perfect even if he is struggling with the odds. But, it may put your willpower to test if you fail to overcome these odds. The best way to face the challenges and problems is to figure out what you might face during the struggle to get success. So, get ready by figuring out the problems and challenges that might come in the way of your success. It brings challenges and problems to us when we go to achieve something.
Draw a realistic plan
Neither you nor anybody else can achieve the goal of his life in just one go. So, don't get over excited while drawing a plan for your success. There is a particular time for work and rest. After exhausting energy at work place, everybody require some rest as a human being. You too, will require recharging yourself for the next day at your workplace. So, don't draw such an action that can affect your normal life. Instead, draw a clear road which is easy and convenient for you to adopt for long time. For it, you can divide your major target into micro ones.
Asses your lifestyle
After drawing an action plan to get success in your life, what the most important thing you need is to ascertain whether you're able to follow your own action plan or not. If not then assess your lifestyle in order to see how you could follow your action plan. It can ensure that your normal life isn't affected. So, assess your lifestyle and see if there is any change required. It can help you to achieve your target without losing control over your normal life.
Set time limit
Everything including deciding target, drawing an action plan, and improving lifestyle will go in vain if you fail to achieve your objectives within a time limit that you have set for a particular task. It may affect your overall performance at your work place. So, try to accomplish your objectives within a particular time limit. You will become able to achieve the major target of your life once you begin to accomplish your objectives within the deadlines. It can improve your performance at work which may help you to make a way for your success.
Finally
Deciding objectives is one of the most important thing which plays crucial role behind the success in every work of life. Though it isn't easy enough to divide the major target in a way that could lead one to the success, yet you can decide it with the help some key points. In this article, we have tried explain some important which can help you to decide your objectives for your success.
If you feel we have missed out on any other important thing that can help the professionals to get succeeded, please share them in the comment selection below. To help your family members, friends, and relatives for their success, you can also share this article with them. To continue reading such articles, please subscribe to our newsletter. We would gladly send interesting articles related to Monday Blues and Success Mantra directly to your inbox.