How to crack SSC CHSL exam with a full-time job?
In this article, we will discuss the tips, methods, and strategies to achieve success in SSC CHSL exam with a full-time job. Find it in detail-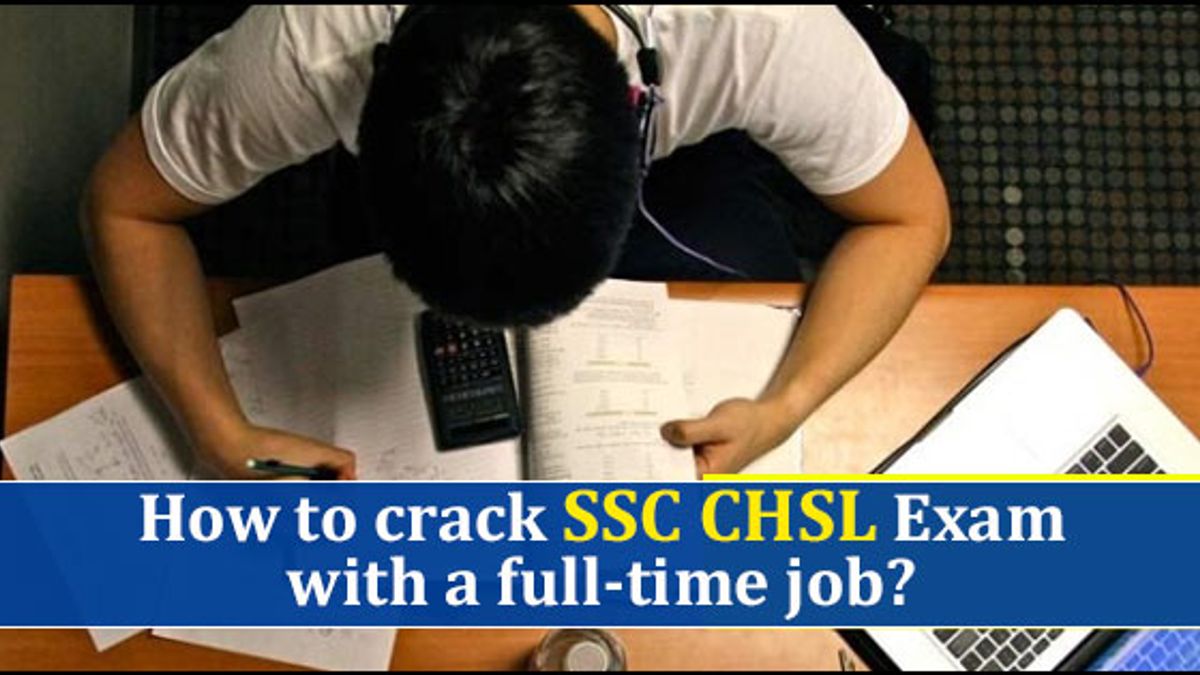 SSC CHSL preparation tips
SSC CHSL is the second most popular and awaited exam after SSC CGL exam. It is clearly understood by many of us that it is surely possible to clear SSC CHSL exam with a full-time job as the questions asked in SSC CHSL exam is of 10+2 level. Therefore, you have to prepare quantitative aptitude and reasoning section of 10+2 level only. Beyond these sections, the asked questions from English language section are of 10th level. Apart from this, we can assure you as per our experience that candidate can definitely crack this exam on their own with following certain tips and strategies including time management and systematic study of the respective subjects.
Now, many of the candidates will be thinking of how to achieve this. You can do this by making daily/weekly plans focused towards any highly weighted subject particularly. This practice is also beneficial for self-assessment of knowledge, skills, and abilities because you are the one who knows about you, value of your time, your priorities, and ambitions.
In this article, we will discuss the tips, methods, and strategies to achieve success in SSC CHSL exam with a full-time job. Let us look at this-
SSC CHSL exam: Preparation with a full-time job
Before heading to the tips and tricks, we want you to stick a few points in your mind.
- To clear the SSC CHSL exam, a candidate must devote a minimum of 4-5 hours per day to study all subjects and the involved topics.
- Hard work and confidence are the key to get success in any aspect of life also in this exam as well.
Now, let us move to the main points in a series to achieve the objective.
Assess your knowledge
It is the very first step before moving to the remaining steps. Assess your retained knowledge in all subjects including quantitative aptitude, reasoning, English comprehension and general knowledge to identify your weak and strong areas in these subjects. Online quizzes and mock tests are the best instruments to gather information about it as these quizzes will give you a proper understanding of difficulty level and proportionality of inquired questions.
Timetable
Before starting your study, it is necessary to prepare a practical timetable for your study. Beyond your office timings, you should study for 5 hours per day. Hence, prepare a timeline for studying each subject in each day as per your convenience. If someday you are not able to stick to this schedule, then compensate this time on other days especially on holidays.
Start your day with studying
Make a habit of rising early in the morning and make a plan of studying subjects in this duration. This is the time, which is more suitable for learning because whatever you read and study, it remains for a long time. It is proved scientifically that if you study between 4:30 AM and 6:00 AM, then it is more beneficial for your memory system because it improves the ability of the mind to associate learned facts with each other.
We suggest you to study at least 2 hours in the morning and cover the tough topics including the concepts, observations, and tough questions. Normally, any job starts from 10:00 AM in the morning. Therefore, plan your study between 6:00 AM to 8:00 AM and remaining 8:00 AM to 9:00 AM for regular activities of office preparation. It is strongly recommended to study at least 2 hours per day in the morning.
Attend weekend coaching classes
As SSC has dispensed the interview round from all its exams including SSC CHSL exam, therefore there will be a tough competition in this exam in future. There is a sharp increment of applying candidates in CHSL exam every year. Hence, it might not be possible for you to make notes and other preparation related activities including the collection of practice materials, shortcut tricks, and clearing doubts, in your daily routine along with the job. Therefore, we recommend you to join coaching classes on weekends. It will help you in clarifying the doubts and complex concepts easily. Most of the candidates generally presume that joining a coaching institute is time-consuming, expensive, and impractical to attend with a job. It is totally depends upon your past-experiences and attitude towards the coaching institutions.
Utilize your weekends
Weekends are the most important bounty for your SSC CHSL preparation. There are generally two weekends including Saturdays and Sundays in most of the organizations. While some organizations offers you only one weekend in their process. As there are 24 hours in a day, hence you should devote at least 8 hours a day on weekends. As per this approach, you will study for 16 hours in every week and 64 hours in a month. Now, with this strategy, we can assure you that studying on weekends in this way will definitely give your desired result in the examination.
Prepare weak areas first
There are always certain topics in every subject, which are very typical and complex. For example- mensuration, algebra, trigonometry, and geometry are considered the most difficult, time-consuming, and a majority of questions in SSC CHSL exam belongs to them. Similarly, puzzle test, data sufficiency, coded inequalities, and coding-decoding are such topics from reasoning section. Reading comprehension and paragraph completion is for English section.
Hence, it is advisable to focus more on such topics and learn shortcut tricks to overcome these problems. Shortcut tricks for the quant section may save a lot of time for you to solve other section's questions. Such shortcut tricks may not be for remaining subjects. Therefore, allocate more time for such subjects and practice as much as you can in the available time.
English is your friend
Most of the aspirants consider English language section as the most difficult one to handle in the examination hall, as it does not contain shortcut tricks. However, on the other hand, it is the most scoring and less time-taking section after the GK section. If you know the basics of English language and grammar including antonyms, synonyms, vocabulary, parts of speech, sentence correction, and sentence completion, then handling this subject will a child's play for you.
Hence, to achieve this standard, we recommend you to go through an English journal or a standard newspaper, or any Standard English book on literature and grammar. You can include "The Hindu" newspaper and "Wren and Martin" book in your daily routine.
Be positive
Be positive and optimistic about your preparation. Do not get demotivated by the tiredness and irregular study hours. If you are taking your preparation in right way, then success can be achieved surely. Therefore, preparation is all about balancing the agitation between internal and external factors.
We at www.jagranjosh.com, are dedicated to provide you all information regarding your SSC preparation. So, keep on coming to us for getting more updates.
All the Best!