IIM Ahmedabad gets a new Director-in-charge
IIM-A's Chairman Kumar Mangalam Birla has appointed new Director-in-charge of the institute. Find out more about the news addition to IIM Family here!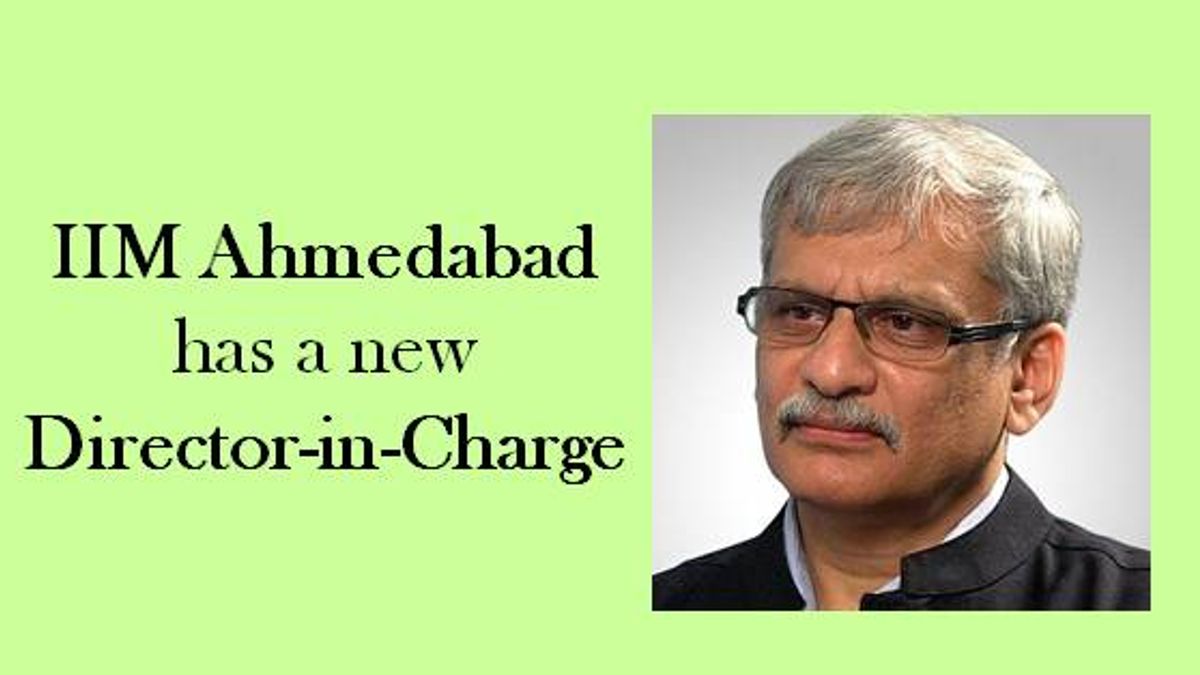 IIM AHMEDABAD DIRECTOR-IN-CHARGE
IIM Ahmadabad: In a recent news, Prof Errol D'Souza has been appointed as the new director-in-charge of the premier management institute i.e. IIM-Ahmedabad (IIM-A). The IIMA Society has taken a decision to appoint the Director-in-charge to run the operation of the institute. With this appointment, Prof Errol has replaced Prof Ashish Nanda, who had announced his resignation in April 2017. Nanda had stepped aside from the post one year before his five-year tenure was supposed to end in September 2018.
Prof D'Souza appointment as Director-in-charge was made official by Kumar Mangalam Birla, Chairman of the Board - IIMA Society. He will take the charge of his duties from effective September 2, 2017 onwards.
About Director-in-charge
Prof Errol D'Souza has a rich academic background which truly justifies his appointment as the director-in-charge of the institute. He studied Economics and Statistics at the University of Mumbai. During this period he was awarded the Kashinath Trimbak Telang gold medal for obtaining the first rank in his M.A. (Economics) degree. He has also earned his doctoral degree i.e. Ph.D. as a University Grants Commission National Research Fellow from the Jawaharlal Nehru University, New Delhi.
Prior to joining IIM-A in 2001, D'Souza, served as an expert in macroeconomics, development finance and public policy, was the IFCI Chair Professor at the Department of Economics, University of Mumbai. He was also a Visiting Scholar at Columbia University, New York, and a Visiting Senior Fellow at National University of Singapore.
In addition, he has also worked for the erstwhile Planning Commission and the Reserve Bank of India (RBI) in consulting roles.
Corporate Associations: He is also on the Academic Council of the Tata Institute of Social Sciences, the Institute for Human Development, Delhi, and on the Advisory Board of the International Centre for Development and Decent Work at Kassel, Germany.
Prof D'Souza's Term of Service
At present, in the faculty staff of 97 members' team, D'Souza (57 years) is the senior most faculty. He would complete 16 years at IIM-A on September 1, 2017. He joined IIM-Ahmedabad as a professor on September 2, 2001.
The new director in charge i.e. Prof. D'Souza will hold the charge of duties till the time IIM-A gets a full-time director. Other faculty members such as Rakesh Basant, Ravindra Dholakia and Arvind Sahay were also shortlisted for the position, but eventually D'Souza's name was finalised for the most sought after vacancy.
Hiring of the New Director for IIM-A
The institute has hired a placement agency, apart from issuing advertisements and inviting applications for the post of director. IIM-A has also instituted a search committee from among the BoG members to search for the director of the institute.
For more information about the MBA Institutes, keep visiting MBA section of jagranjosh.com. You can also subscribe to our free newsletter by registering with us.
Also Read...
IIM Ahmedabad announces CAT 2017 Cut-off
CAT 2017: Find Eligibility Criteria, Important dates, and Exam Pattern