IIM-B to implement reservations quotas for admission in FPM course
IIM-B has become the first IIM to implement reservations quota for admission in FPM course from 2018-19. Read on to find out the reaction of alumni network!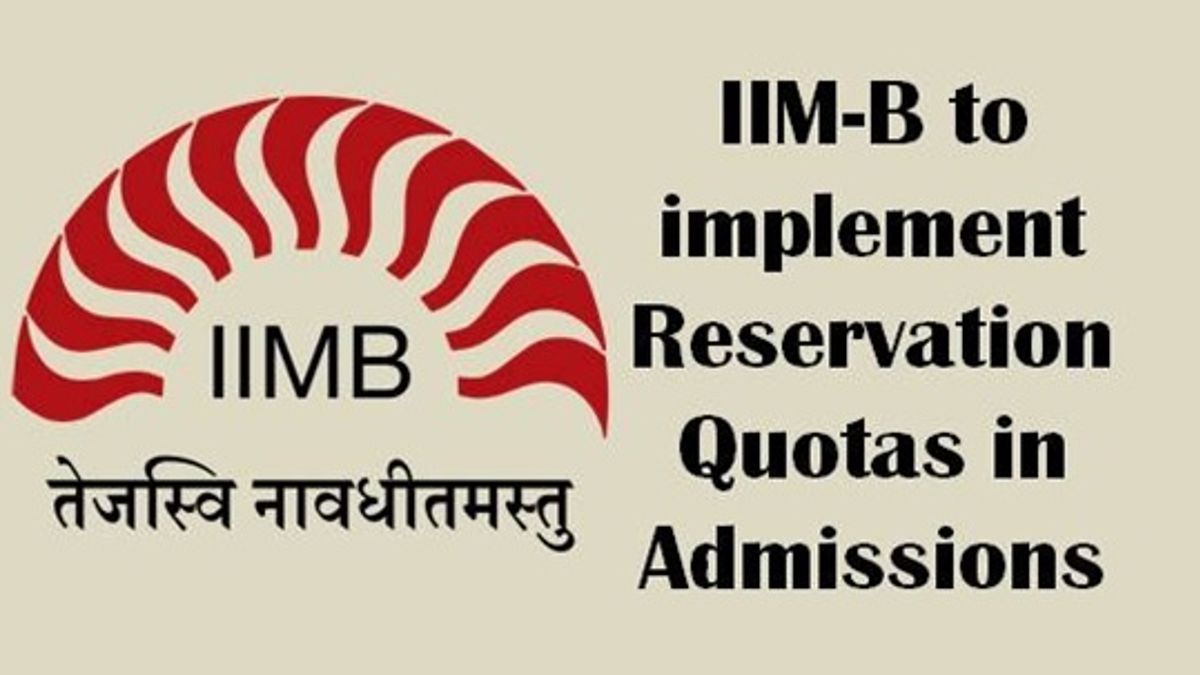 IIM-B to implement reservations quotas for admission in FPM course
Indian Institute of Management Bangalore (IIM-B), has become the first IIM to implement the government-mandated reservation for SC/ST and OBC candidates in admissions for Fellow Programme in Management (FPM) course from 2018-19. The Global IIM Alumni Network has applauded the decision and urged other IIMs to follow the league.
Reservation Quota for FMP Course
On Reservation Quota in FMP course, Prof. Rajendra K Bandi, Chairperson, Admissions, IIMB and Prof. Rejie George Pallathitta, Chairperson, FPM, IIMB, said that FPM 2018 has seats reserved for Indians belonging to certain categories. The categories and the extent of reservation effective for FPM 2018 are: 15% of the seats for Scheduled Caste, 7.5% for Scheduled Tribe candidates, 27% for Other Backward Classes candidates belonging to the 'Non-Creamy' layer (NC-OBC), and 5% for Persons with Disabilities (PWD).
Why Reservation Quota in IIMs
Our top MBA institutes, i.e. IIMs lack social diversity. Out of the 512 IIM faculty members only two belong to the SC group, and at present no faculty member hails from the ST group. Further, with only 13 OBC representations among the remaining 510 faculty members, IIMs draw its faculty members from the upper echelons of India's hierarchical society.
Where IIM says that lack of an adequately qualified applicants for the post of faculty members is the primary reason for lack of social diversity in their faculty composition, on the other hand, alumni supports the stand that be it faculty members or students, social diversity must be respected by all the IIMs equally and all the classes should have an access to this opportunity.
In-depth Analysis of the future of MBA in India
IIM Bangalore's take on Reservation
The professors of IIM Bangalore, in a joint statement, commented that the decision to implement reservation quota supports IIMB's strong commitment to be inclusive and providing admission to persons from different social and economic backgrounds. IIM-B has already implemented reservation in its two-year Post Graduate Programme in Management.
Global Alumni Support on Reservation
The alumni have exclusively highlighted that IIMs in Ahmedabad, Calcutta and Kozhikode are not giving admissions in concurrence with the guidelines mentioned in the Central Educational Institutions (Reservation in Admission) Act, 2006. They are upset with the unwillingness of other IIMs to follow the suit of IIM-Bangalore.
In a statement, they said that "We implore the leadership at these institutions to withdraw the existing notices and reissue them with reservation provisions as mandated by law. We would also urge other IIMs including IIM Lucknow and IIM Indore, which will be issuing admission notices for their doctoral programmes in the next few months, to follow the example of IIM Bangalore in taking the first step towards inclusion by implementing statutory reservations in the admission processes."
The initiative to support reservation quota by IIM-B has been welcomed by the alumni as well as academic experts. The social diversity parameter if implemented by all the IIMs will surely go a long way in bringing about diversity in the institute.
IIT Madras commences 2 year Executive MBA program
Supporting the move, the alumni commented that "This comes as a pleasant surprise after the Global IIM Alumni Network had recently called on all the IIMs to implement reservation in their respective FPM programs as one of the measures to deal with the appalling diversity deficit at both doctoral and faculty levels at all the IIMs. While commending the leadership at IIM Bangalore to be the first to comply with these statutory measures, we urge them to go beyond the letter of the provisions and take further steps to realize them in their spirit. These can include but may not be limited to putting in place an effective outreach initiative to publicize the admissions in all major institutions across the country, putting in place financial aid for those students who may have educational loan prohibiting them from pursuing a long-duration doctoral course and steps to foster an inclusive and welcoming academic environment for students from marginalized communities."
For more updates about the IIMs, keep visiting mba.jagranjosh.com. You can also subscribe to our newsletter by registering with us and get access to all the latest news directly in your inbox.
Also Read…
CAT 2017: Things to keep in mind before appearing for the final exam