Tips and Topics for Letter/Essay writing in SSC CGL Tier III Exam
In this article, we have covered up all essential information needed by you in terms of tips & strategies which are advisable to be opted along with the possible topics. keep on practicing these topics to ensure your selection. read more...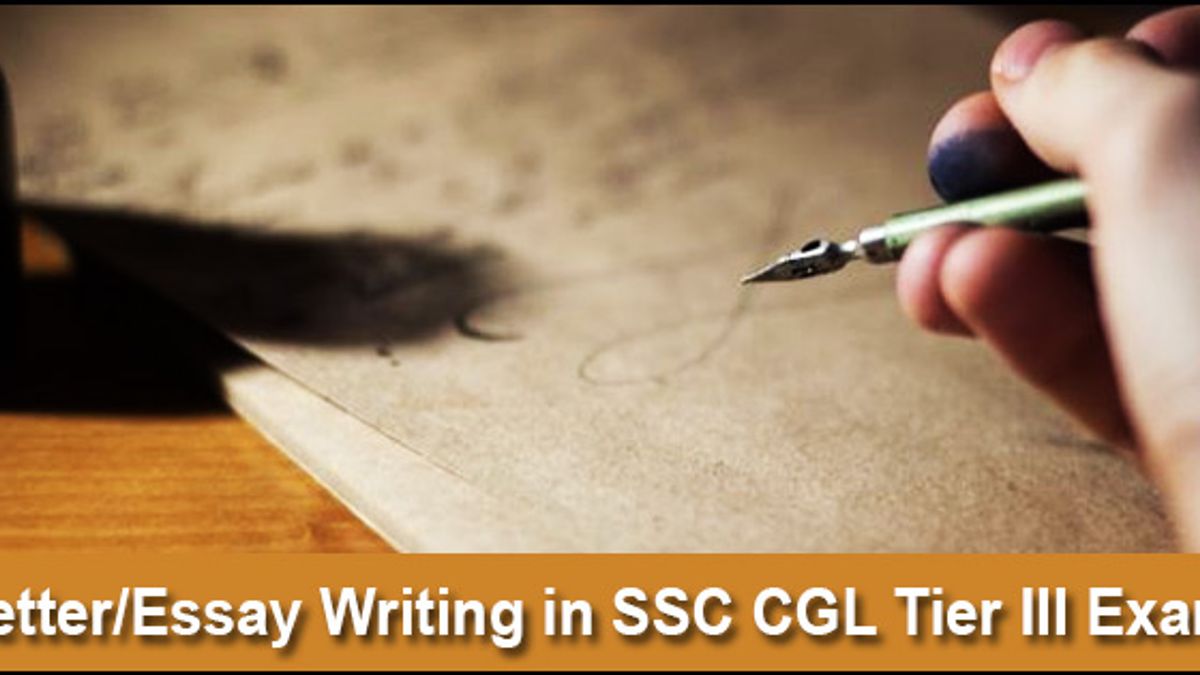 SSC CGL Tier-3 exam tips
SSC CGL Tier-II exam has conducted from 17 February 2018 to 22 February 2018; Whereas, the next stage i.e. the Tier-III exam is scheduled to be conducted on 31st March 2018. It is known to all that SSC is conducting this descriptive exam instead of normal interview. Hence, it is a new turf for all the candidates. You must be worried about your chances in the final selection especially after the results of Tier-II exam. As Tier-III is approaching, let us focus on this new system rather than harping on the usual procedure i.e. Tier-II.
SSC CGL Tier-III: What should be the strategy?
SSC CGL Tier-III is a new concept and it is very difficult to guess the way of assessment. However, after the evaluation of SSC CGL descriptive papers, everybody has an idea regarding the marking scheme of the commission. Based on that, let us find out the Do's and Don'ts for this stage of the exam-
Stop Overwriting
It is most likely that you have to write an essay of maximum 250 words. Stick to that limit because writing too much will not going to benefit you in anyway. You are not going to get any mark if you exceed the word limit by more than 10%. This is the first thing that you have to keep in mind while start your essay.
Consider relevant points
Taking a leaf from the first point, you have to use words economically. The best way is to jot down the points first and make a flow chart of the things on which you want to write. Now, you should start writing the essay.
Practice with Blocks on paper
In the CGL descriptive paper, you will find blocks in the paper and you are supposed to write the whole essay within the specified number of blocks. This may seem a bit different from the norm at present. That is why you need to be well versed with the actual type of paper.
Revised Salary of SSC CGL posts after 7th Pay Commission?
Content focused
With strict word limit, it is expected that you write only relevant things in the paper. For this, you need to have in-depth knowledge about a particular topic. Hence, start reading current affairs from daily newspapers along with editorial columns of 'The Hindu' on a regular basis.
Sentence formation
Do not go for very long sentences and keep track of the central idea of every sentence. This will help you in expressing your ideas in the most economical way.
Writing formats
For essay, you should go for introduction, explanation of various facets of an issue followed by a balanced conclusion. In case of formal letter, you should only use the correct format of writing the date, the name of the addressed and the addressee along with the start and finish the letter. If you are writing a précis, the most important thing is to choose the correct heading and then expressing the essence of the passage in the most effective and economical manner.
Start writing
Considering all these things, the most important thing to do now is to start writing essays, letters, and précis. In the beginning, you will definitely not get everything right but you will also find the right note at the end. There is a saying, "Practice makes a man perfect."
How SSC promotes their officers recruited through CGL entry?
Reference points
This is very important in the given context that you are offered a very limited space. For this, you should have the important and relevant points ready so that you will not forget a point or you will not over write on a particular point.
Grammar
Last but not the least; keep your grammar in check. Do not make any silly mistake while writing. The aim of this test is to check the writing skill of the candidates because you have to write plenty of letters, once you are on the job.
SSC CGL Tier-III: What are the expected topics?
SSC CGL Tier-III is coming nearly and therefore, we are bringing expected topics before you. You may practice these topics for the exam.
Essay
Demonetization and its effect on the Indian Economy
Swachh Bharat and its importance in Indian context
Brexit and its effect on India
Digital India: How to make it a success in the Indian context?
Disinvestment of Public Sector Enterprises: Is it the right step?
FDI limits in various sectors of the economy: Should there be limits at all?
NPA in banks: Do you think credit growth should be stalled?
Brain drain in the medical profession: What is the way out?
Make in India: Is it a jargon or actual initiative?
Namami Gange: What are the likely challenges to this?
8 Common mistakes exercised during SSC exams preparation
Letters
Letter to editor regarding sound pollution in your area
Letter to editor regarding the government's mission against Black money
Letter to the head of your department regarding corruption practiced by some of the staff, as a whistleblower
Letter to the Finance Ministry for release of fund for any programme administered by your department, as the Secretary of that Department
Letter to the CEO of BCCI regarding implementation of court mandated reforms in the board, as the main petitioner in the spot fixing scandal in IPL 2013
Letter to the Minister of your department regarding a note of dissent given by you in the implementation and sanction of funds for a particular scheme, as an additional secretary in the Ministry
Letter to the editor regarding the improved ranking of India in the Corruption Perception Index and its real significance for Indian public sector organizations
Letter to your insurance provider regarding the exclusion clauses put in your policy without your knowledge
Letter to your local tax department for wrongful notice of tax for your residential property considering it a commercial property
Letter to the Principal of the school of your child as a caring father regarding sexual harassment prevention measures for children in the school premises.
Daily timetable for preparing SSC CGL and CHSL exams
Descriptive writing is new way to evaluate candidates based on their writing skills. The marking scheme is going to be based on your ability to write on a point concisely and effectively. That is why the word limit is fixed. So, keep in mind the word limit before writing your essay or letter or précis.
All the best!!