5 signs that your colleagues are jealous of you
Jealous colleagues might be the reason for your downfall in office. Use these tips to understand who among your office colleagues are jealous of you and be wary of them.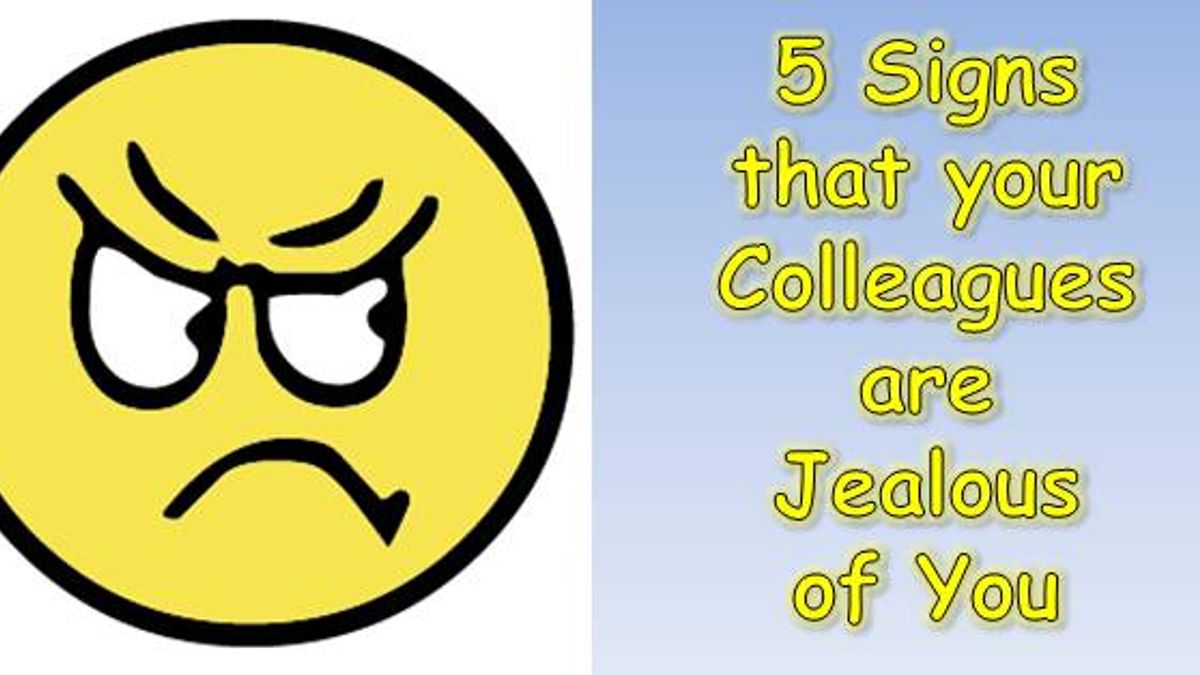 Jealous colleagues
Jealousy is one emotion that is not outright visible but it has huge repercussion on personal and professional growth of a person. Especially in office, where jealous colleagues can to be quite cunning and hamper your career growth.
So, if you are you worried about your jealous colleagues who might be the reason for your downfall in office? Well, before you do anything about it, it would be wise to identify the officemates who are actually jealous of you. Check for these signs among your office colleagues to figure out who if your friend and who is your foe in the office?
1. Those who flatter you
One of the most visible signs of a jealous colleague is that they will always have compliments for you. Be it your dressing sense, your choice of handbag or your work related achievements; they will be the first one to congratulate you with an overwhelming feeling. They will not leave a single chance to flatter you. They will make sure that among all the colleagues, you become the centre of attraction. At one point of time, it will be difficult for you to figure out if they are really jealous of you or not.
How to deal with them?
When you feel that fake compliments are going over the board, don't be stressed about it. It is easy to deal with such colleagues. Simply ignore their flattering comments and don't smile back at them when they mock you. You can even ask them to stop giving you fake compliments. It is better to be straight-forward with them. And soon before you know it, they will leave you alone.
2. Those who underestimate your success
Another visible sign of an envious colleague is their worrisome or apprehensive expression when you are appreciated in office. They will often give the credit for your success to luck than hard work. They will cry their heart out that they are not lucky enough to get such a wonderful boss. In other words, your success will mean nothing more than a factor of 'luck-by-chance' for them. They will take into account all other factors, such as favourable timing that helped you achieve targets, your good health and many more. In short, they will make others believe that your success was a fluke, nothing beyond that.
How to handle them?
When this happens, do not give explanations to anyone about the reasons that led to your success. They will soon give up on speaking against you.
Top 5 stress-inducing jobs that puts professional capacity to test
3. Those who celebrate your failure
If in case you fail to perform due to any XYZ reason, they will be the first one to attain sense of contentment. Jealous colleagues are among those handful people in the office who carry malice in heart. They enjoy the feeling when you suffer defeat. Hence, there is no need to be surprised when you find them celebrating your failure.
How to get over them?
In organisations, envious colleagues often belittle capable colleague. Hence, you should avoid getting along with them when you find them celebrating your failure. This expression might not be outright evident from their behaviour but they will not soothe you when you will be in pain. Quit their company at that time and find a solitary corner where you can focus on improving your lagging areas.
4. Those who compete against you
Gradually, you will find them competing with you. Whether it is the team targets or the personal life, they will make all possible attempts to stay ahead of you. Your jealous colleague will eventually take interest in your personal life as well and will try to imitate you in every aspect. If you go on a family vacation, they will suddenly find some occasion to go on family vacation. If you go on diet, they will also go on diet to lose weight.
How to control them?
In this case, ignore them and do not take interest in their stories. They will eventually give up on imitating or competing against you.
Keep work stress at bay with these easy Yoga techniques for office
5. Those who spread negative word of mouth against you
It can be said that jealous employees can be discreetly malicious for your growth. They often engage in gossiping against you behind your back. When you get to hear rumors about yourself, the first point of doubt is your so called close friend who has double standards to slender your image. Their level of enviousness can be so dangerous that they will invest their energy into tarnishing your image against your boss and teammates.
How to behave with them?
Don't sulk in a corner or get stressed with their inappropriate actions. Confront them! It is better to talk with your way out and ask them to stop their unjustified actions. You can also approach your manager or the HR personnel in person to sort out the matter gracefully.
Also Read…
5 alarming signs that it's time to switch your job
Share this article with your dear ones to save them from their jealous colleagues! You can also subscribe with us to get latest tips on managing personal life by filling the registration from provided on the page! Stay tuned with us @ https://www.jagranjosh.com/jobs